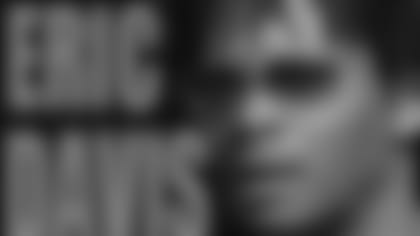 Eric Davis spent 13 years in coverage as an NFL cornerback. By joining the 49ers Broadcast Team in 2008, the formers 49ers will embark on a new sort of coverage. Catch up with Davis on Mondays throughout the season as he gives The Wrap Up of the team's Sunday performances. Below are his thoughts about the 49ers second preseason game against the Green Bay Packers. **
I said last week that I wanted to see someone win the quarterback job instead of being given the job. J.T. O'Sullivan is taking some strides towards winning the position, as he did make some throws, got the long ball down the field on time and scored some points.
Still, he did make another ill advised decision, completely lost sight of the coverage and threw a pick to set Green Bay up in the red zone. Those are some of the things we are going to have to deal with if he is the guy. You are going to have to take the good with the bad, and the other night, the good outweighed the bad.
Things weren't going well at first, but he did rebound from the interception and you saw him basically say "forget that," and show some confidence out there. That's great to see him step up and move on, instead of "Here we go again." Bad things are going to happen because they just do, but you can't go in the tank.
He does have the quicker release right now and the gunslinger mentality that you want. But, he is also going to throw the ball into triple coverage and take some chances that can hurt a team. If he ends up being the guy, I think those are things you are going to have to deal with.
Alex Smith still looks a step behind. He's not pulling the trigger. He's still waiting for his guy to be wide open, and for that extra second to read the coverage before he releases the ball. But he did do some good things. He hasn't turned the ball over yet, and what I like about Alex is that you know he's not going to make the killer mistakes. You know he'll play smart football. I think he needs to get some confidence and I would still like to see what he can do with that starting unit because he does have talent. If he could get out there with a solid supporting cast, he might get the confidence he needs to really be a solid player at the position.
Part of that supporting cast is going to be Josh Morgan. I liked him when I first saw him at practice, and he has not disappointed anyone. He's finding ways to get open, and he worked well against two top notch corners in Charles Woodson and Al Harris. He's hungry and he's out for playing time. He seems to have started his first ever training camp thinking he wants to be the best and that he's going to do whatever he can to make that happen.
So, there's no question Josh is going to make plays during the season. Isaac Bruce is going to make plays. Bryant Johnson is going to make plays. Right now Josh is on the field and he has the chemistry, but these guys are going to make plays. Bruce doesn't have a million catches simply because people forget about him or don't cover him. He's a playmaker, and you HAVE to throw the ball to him.
So I think there's a good supporting cast and I just think that could really help a guy like Alex. He just has to handle the confidence to let the ball go. Right now, that's the mentality that J.T. has, and he just lets it rip.
As for Shaun Hill, again extremely difficult to evaluate a guy in that situation with the third group. Coach has said he's not decided on who the guy is, but I think it's obvious who the guy isn't considering that Shaun continues to get the third-team reps
Outside of the QB position, I was also impressed with the offensive line, and the way they protected. There were some pretty good runs too. Every unit that went out there sustained drives. They were making blocks so runners could get free, and they were getting 5, 7, and 8-yard chunks on runs. And they did it against a good team.
Both sides of the ball played well against very good players on Green Bay. They are not a shabby team. They are not in a rebuilding mode. They are a solid club.
It was obvious that the defensive line played well but I was impressed with how the younger guy – Ray McDonald was playing. He had a good game, but the whole line was aggressive and constantly putting pressure on the quarterbacks and causing havoc in the backfield.
The defense opened up with six defensive backs and that absolutely shows you've got some quality depth in the secondary. The coaches have to have the confidence that they have that many players who can get the job done. And not just guys who can get the job done, but guys who are earning the right to be on the field. You call packages like that when you feel like you've got to find a way to get your playmakers on the field, because you know you have players who can help you win games if they are used right.
And guys were making plays all night on the defense.
Good d-line play is a product of good coverage, and good coverage is a product of good d-line play. They go hand in hand. There is a great secondary here in place and that allows the defensive coaches to be more aggressive, to run more stunts and blitzes and to tell the guys to pin their ears back and go and attack the quarterback because we can hold up the coverage. There were times when Aaron Rodgers simply had no one to throw the ball to, and that was not the case he had Monday night against Cincinnati.
The guys were extremely aggressive and it didn't look like a preseason game. It looked like these guys are ahead in their defensive installation, compared to Green Bay's offense. The defensive guys are really just fine-tuning things. They seem to know what they are doing, and it was a great job to prevent Green Bay from getting a TD after the interception. The defense was given a second chance – you don't want to see a guy get open like that, but they responded and kept them out of there.
I think that return by Allen Rossum showed exactly why they brought him here. He understands that this is his way to make the team and that he's got something to contribute. He's listed as a corner, but he's not going to be one of those guys. He's going to come in and return kicks and that's a major part of the game. He went out and did what the second leading active return guy can do – make guys miss, and follow his blocks. It's demoralizing when you get a kick returned on you and he definitely showed he's one of the best in league history to do it. That was a great pickup for the 49ers.
It's preseason but it's always a good sign when the offense comes out and scores three touchdowns, and a couple of field goals. Everyone says defense wins championships, but the team with the most points wins the game at the end of the day. When you have a defense like the one that is in place here – that is aggressive, gets turnovers, and makes the big play on 3rd down – you are going to get you opportunities as an offense and when you can take advantage of it and score points, that's a good sign that this team is taking steps in the right direction.
Lastly, you've got a nice little battle going on at fullback with Zak Keasey and Moran Norris, and in this offense, it's going to boil down for comfort zone for the coaches. Moran is a guy who was the lead blocker for the all-pro season that Frank had, and that carries some weight. But in this offense, do you need a guy to be that? In this offense, that guy has to be a lot of different things because Vernon Davis and Delanie Walker can do that. It's more of an h-back and less of a fullback, so it's a matter of which one of those guys does more? Which one is more valuable on special teams? That's important because after giving up some big returns, that unit is in need of some more playmakers.
If you want to win football games, you've got to be efficient in two out of three things. Right now, the coverage teams aren't playing at the level everyone is expecting. Defensively, things are going well. Offensively, it's still not where they need to be either, and so you've only got one out of three going right now. You've got to get your teams going, and between Keasey and Norris, which one adds more to the teams? Because neither of those guys is ever going to be a threat on this offense. I think this one will be a tough call.