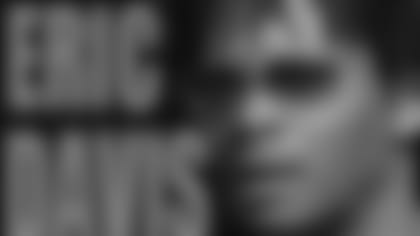 Catch up with former 49ers cornerback Eric Davis each week as he recaps the game. In this latest column, Davis discusses the 49ers loss to the Dallas Cowboys.**
To win games in the NFL a team has to take advantage of its hard work.
The 49ers learned that lesson first-hand last Sunday, when they were able to move the ball early against the Dallas Cowboys, but could not score touchdowns. Shaun Hill directed the offense down the field on several drives, but unfortunately, the 49ers offense could not move the ball once it got deep into Cowboys territory. Hill completed only one of his first seven passes in the red zone and essentially let Dallas off the hook. They settled for field goals and never got a comfortable lead in the game.
After two big plays by Dallas, the 49ers found themselves trailing 9-6 in a game in which worst case scenario should have been 14-3 in their favor. The momentum shifted and the Cowboys used the energy of their home field and their fans to pull away on the scoreboard.
There were some good things on offense in this loss to Dallas. Hill threw for over 300 yards and had several big plays including two touchdown passes. Once again, he also spread the ball around effectively and gave eight different receivers an opportunity to make plays.
Isaac Bruce took full advantage of his chances and had one of his best days with the 49ers, after compiling eight catches for 125 yards and a touchdown.
One bright spot on defense was Manny Lawson, who was very active for the 49ers. He had some big hits, a sack, and a great interception, which was actually a fumble recovery because it was on a backwards swing pass.
As a whole, the 49ers defense succeeded in making the Dallas offense one dimensional. Marion Barber was held in check and only accounted for 59 yards rushing on 19 carries.
The problem was that one dimension, and that dimension was Terrell Owens.
Surprisingly to me, the 49ers decided not to play tight press coverage on defense against the Dallas receivers. They chose to play them in space and react to receivers routes and throws by Tony Romo.
Granted this scheme was extremely effective for them against the St. Louis Rams and accounted for several turnovers, but why not play tight man-to-man coverage against Dallas and make their quarterback throw perfect balls?
Owens does not play well when he is pushed around early in games, plus their quarterback had a broken finger on his throwing hand. So, why give Owens the freedom to move through the 49ers defense for 213 yards untouched and unaltered?
I think the 49ers special teams were up and down. Joe Nedney had a decent day kicking, connecting on three of his four field goals. Delanie Walker subbed for an injured Allen Rossum and had a couple of nice returns to give the offense good field position. However, it can never be a good day for special teams if a punt is blocked for a safety.
The 49ers are playing more physical, but across the board, they have to play smarter.
The players need to understand and take advantage of first and goal situations on offense. On defense, the guys must know what routes the opposing receivers like to run and know how to take them away.
Against the Cowboys all the X's were not aligned with the O's, but that can be changed if the players learn to adjust on the field and make plays. The 49ers have not turned the corner, but some players of the future are starting to emerge.
Winning is a learned response. It becomes a culture, a part of you. I do believe that strides are being taken towards reestablishing that culture of the 49ers.
For the rest of the season we have to pay attention to the steps that are being taken, and players have to take advantage of the hard work and lessons learned.