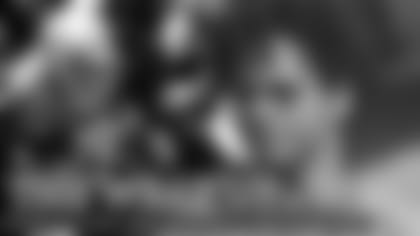 Eric Davis spent 13 years in the NFL as a cornerback. He's now in his second season as part of the 49ers broadcast team. After every 49ers game Davis will breakdown the game in his "Wrap Up" column. Here's Davis' third column of 2009.**
Against the Dallas Cowboys, the 49ers first-team offense wasn't clicking at the level that Coach Singletary wanted them to play at.  I'm sure he wanted to see a little more continuity and to see them pick up where they left off running the ball, especially versus Oakland.  That didn't happen. 
But, there's not a major need for concern because you saw them do exactly what they needed to do and that's keep the game under control and within reach.  Singletary said he wants a group of players who understand there are moments in a game you have to make the play.  There are certain drives, where offensively, you have to score.  The same goes for the other side of the ball. Defensively, you have to make the plays and get off the field. 
Mark Roman's interception changed the momentum of the game.  And then, the 49ers last drive right before half time, Shaun Hill took the team down the field and Joe Nedney was able to kick the field goal which allowed them to go in to the half down by seven. They got that taste out of their mouth and that's what you have to do if you want to give yourself a chance to win the game.  The 49ers took the momentum from Dallas right at that point and went in to halftime with the belief, okay we didn't play our best ball but we're still in the game.  That's important for any ball club to be able to do.  That part of it, I did like. 
Being 3-0 is a positive for this year's club.  Singletary took over a ball club that was in disarray.  And he's started them in a different direction.  That direction was to lay a foundation that was conducive to winning.  Every win counts, be it preseason or not.  Yes, they are going out and working on certain aspects of their game be it offensively or defensively.  But it's always better to work and achieve a win as opposed to working on those different items and losing.  I think it's very important for them to win these preseason games. 
One thing that stood out to me in the game was seeing the play of Parys Haralson back to form from last season.  He was slowed up by a hip injury early in camp, but against the Cowboys, he showed up on tape as soon as he hit the field.  In his first game back he was able to pressure the quarterback in to throwing a bad ball that Roman intercepted.
A lot is being said about the lack of the pass rush and that it should be a concern… Well, turnovers are more important than sacks!  If you continue to fluster a quarterback and get pressure on him, they can make bad throws and on the back end in the secondary, if they can be close enough to tell the quarterback to come off of his first read, then they have the opportunity to finish on a play and get an interception. With that being said, I think the defense will be alright.  They're getting turnovers because the guys are in position to make plays and they're actually finishing.  So, there are some good signs there.  You can always be more sound on the run.  You can always get there one step quicker and not give up as many yards between the 20s.  But, coming up with the big plays when they need to is very crucial at this stage of the preseason.
Offensively, I was impressed with Kory Sheets and Nate Davis.
Sheets has been performing at a level that has to catch everyone's eye, not just the 49ers coaching staff, but other teams around the league.  Whenever given the opportunity, he shows all kinds of slashing ability, he shows the burst, balance and vision that you want in a running back.  But, there are things he has to still learn about the game.  He's showing that he has the ability to pick up on those things and make plays in this league and it will be interesting to see if he makes the 53-man roster.
I think Davis showed some poise at the quarterback position.  He took a team that had to drive down and score and he did it.  I liked that he made proper reads and delivered the ball on time.  We've all seen his big arm during the preseason, but he showed touch against the Cowboys.
Earlier in training camp, he would throw behind guys or led them too far because he was trying to put it on the line and use that arm all of the time. Now, he's learning how to use the touch and allow balls to land softly in front of guys and let him run to it like the 34-yard pass you saw he completed to Micheal Spurlock. 
We all see the growth in the two rookies, and I think that both of those guys are definitely showing that they can play in this league. They are also making things difficult for the 49ers coaching staff because what do you do with guys like that?  Do you want to hide them on the practice squad and allow some other team to grab them from you? At the moment, I'd say probably not.