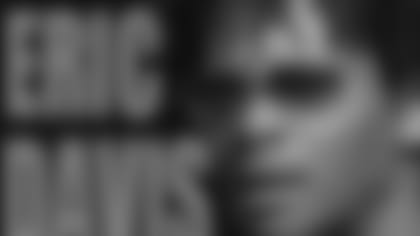 Eric Davis spent 13 years in coverage as an NFL cornerback. By joining the 49ers Broadcast Team in 2008, the formers 49ers will embark on a new sort of coverage. Catch up with Davis on Mondays throughout the season as he gives The Wrap Up of the team's Sunday performances, and enjoy his comments below about the 49ers third preseason game against the Chicago Bears. **
One of the things that I took from watching the 49ers defeat the Chicago Bears 37-30 was that you have to love the way Thomas Clayton performed. He's been given opportunities in the preseason and he's taken advantage of them. I thought he was able to make plays, run hard and moved himself up the ladder from being a guy who was just trying to make somebody's team. He's been playing well, and it looks like he took some steps to making this 49ers ball club.
Other highlights from the game were the young receivers. Because of the injuries at their position, guys like Dominique Zeigler and Jason Hill got a chance, and were making plays. They are making things extremely interesting at the receiver spot because we are approaching the last preseason game and you don't have Arnaz Battle, Bryant Johnson or Ashley Lelie on the field. These young receivers are no longer looking to just make the club; they're starting to make some plays to say, 'Hey, I want to be one of those guys in that rotation.'
The thing that makes you say 'Wow' was the glaring weaknesses in the coverage teams right now. The 49ers special teams units have been the consistent strong point of the team. To even give yourself a chance to win games, you have to be strong in two of the three phases of the game, that being offense, defense and special teams. You should be able to count on special teams at all times no matter what, and there are some glaring issues with the coverage teams.
In every game this year, there has been a long return. On top of giving up some long returns, they had two kicks that were blocked. You still have to give the guys credit for winning the game, because it's extremely difficult to win a game when you have two kicks blocked. But it's a problem that the 49ers have got to correct. On special teams, guys have to be where they're supposed to be in order for them to work and guys were not where they were supposed to be on Thursday night.
There were also some plays on defense that you know guys would like to get back, but you know those will be corrected. This is a veteran group in the 49ers secondary and they did have some blown coverages and some mental errors, but they'll get it straight.
In the quarterback competition, I thought JT O'Sullivan played well. He moved the offense efficiently, threw good passes and showed some things by scrambling. While on the run, he was looking downfield, not just tucking the ball and running. He showed me that his head is in the playbook and he's looking to move the chains. On his first touchdown pass, where he was out scrambling, he was still running the play in his mind and he found the open guy. That's really what 49ers fans should be looking for, is a guy who can make plays. He did that Thursday night.
Alex Smith had some good moments. The touchdown pass he threw was a very good ball. But Alex is still slow at pulling the trigger. His receivers still have to reach back and grab balls. He missed some open guys throwing balls behind them, because he's not letting it go. That hurts him, because this offense is based on its timing and it's based on the ball being delivered when the receiver comes out of his break and the ball is right there. The football has to be delivered accurately for things to run efficiently. It's a fast-break offense and you can't always wait for a guy to slow down, post-up and wait for the ball. He's still not doing enough of that.
Let me just say it this way: if you are afraid to make mistakes, you'll never make a play. That's just the way it is in the NFL.
Shaun Hill, again, you look at the timing involved in the offense, and he was able to lead his receivers to move the chains up the field. He wasn't throwing the 30-yard pass downfield, but he was keeping the chains moving forward.
But, back to JT. JT threw some great balls especially on the corner route he threw to Vernon Davis. It was a great throw down the field using his arm strength and touch. Alex had an opportunity to throw the same kind of pass to Vernon, who had gotten behind the defender but Alex couldn't get it there. You have to question the arm strength, because that's a route that's going to be in the offense. Alex is doing some good things, but I still think he's a step behind.
JT is going to let it fly, we've all seen that. The high risks bring high rewards, but you know you're going to have to live with some of his mistakes.
In this open competition, Mike Nolan said the three guys had a clean slate. So, you have to stack their good plays in one pile, and their bad plays in the other. By doing that, I think everyone has to agree with the decision to name O'Sullivan the quarterback today. JT did more good, moved the chains efficiently and played better within the offensive scheme than any other quarterback. If we're simply going off of what has been happening in practices and games, I agree with that decision. And I think anyone who has been watching the 49ers closely, has to agree. He is the guy that has earned the spot and has done the most good.
One great thing was that O'Sullivan didn't even have to throw the ball to put points on the scoreboard. On the first series, he threw only one five-yard pass to Isaac Bruce. It was nice to see the way the 49ers came out and established that they could move Chicago's defensive front with hard downhill running by Frank Gore. That set the tone that it was going to be a physical matchup. It also opened up opportunities to run any kind of play. The 49ers established the run and that is going to be important because having Gore run like that, will only help O'Sullivan to grow as a quarterback.
In addition to Gore, I was extremely impressed with the offensive line because they were able to come out and open holes throughout the entire game, for Gore in the first quarter all the way to the fourth for Clayton. I was even more impressed with the fact that it came from backups like Barry Sims and Brian de la Puente who were playing at a high level.
With all that said, there was still one play that drove me crazy – the last play of the game. All I can say to Reggie Smith is, "Knock it down Reggie – knock it down!" I know he wanted to make that play and he wanted to make that pick, but don't let them get that catch. It was a valuable lesson, one he will never forget. Some balls that you have the opportunity to make a play on, you make the pick. Some plays, you just have to get it on the ground.
Although I was unable to be in the booth for the Bears game, I'm looking forward to my last game this week against the Chargers. I hope people who are listening are enjoying the game and listening to me. I'm trying not to mess up too much, and learning from the guys around me – the directors, the guys in the truck, Keena Turner, Dennis O'Donnell.
I am really enjoying myself and wish that it was a season long gig. It's also been very fun to see guys like Jason Hill and Josh Morgan come in and say, 'OK, I want to play.' Even JT has done that. It's been fun watching the Ray McDonald's come in and say, 'I want to get on the field.' I can say that about a lot of guys and it's been nice being in the booth to see all of it. I'm going to enjoy my last game calling the San Diego game and then I'll enjoy sharing my perspectives here on 49ers.com throughout the season.