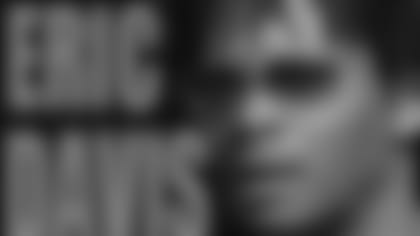 Catch up with former 49ers cornerback Eric Davis each week as he recaps the game. In this latest column, Davis discusses the 49ers win over the Bills.**
It was a good win up in Buffalo. The 49ers did what they had to do to win on the road. Number one, you can't turn the ball over. Number two, you have to pack your defense and special teams when you are on the road. If you get a productive offense on the road, it's a luxury because they have to deal with the crowd noise, the weather conditions.
Defensively, you don't have to worry about the crowd noise. You can go out and concentrate and make all of your calls. So, you always have to count on your defense and your special teams and the 49ers had those in Buffalo, and it gave them an opportunity to win, and they got it done.
Of course you want the offense to be a little more efficient, and get into the end zone more frequently, but again, they did enough to win. That first drive they started off really well, and ran the ball effectively with Frank Gore. With those kind of weather conditions, you expect them to want to grind the ball out with Frank and try to control it. It's not that he had a huge game, but he was able to keep them off-beat and off-pace. Frank getting touches is always going to be something that worries defenses, and you saw that.
There were some opportunities for some big plays on offense – the Vernon Davis play, or the Dominique Zeigler play for example. Guys just need to understand in those moments that it is a big play, and they have to find a way to make it. You can't allow the elements, the wet ball, the wind, any of those conditions to be factors. You just have to make those plays when they present themselves and as these guys understand that and grow as players, those big plays will be made.
In terms of the nullified touchdown by Davis, it has been good to see him getting into the game plan more as of late. Everyone wanted to see him make plays, and he's been doing that. He hasn't caught a lot of balls, but they've been significant catches. He had an opportunity to score a touchdown on another long ball, something everyone likes to see, but hey, he got a little overzealous and pushed the guy and got a PI. As he continues to grow as a receiver, he'll understand how to use his body position. He had complete control of the route. He just needs to slow down his speed and trap the guy on his back and only run fast enough to make the catch. He'll learn over time that there is no reason to push off on a guy like that when he has himself in the kind of great position that he was in. In the meantime, it's great to see him getting open and catching the ball and continuing to become an all-around player.
What I like about Shaun Hill is that he's playing within himself. Very seldom is he trying to do something that is completely out of the box or out of his skill set. He's not going to throw pretty balls, he's not going to throw the tight spiral, but he's throwing it to the right person and for the most part he's getting it out of his hands on time. That's the type of player everyone has said he is, and he's showing it. He does enough to keep the team moving forward, and that's what you want from that position on this team right now.
Defensively, they kept them out of the end zone, which was key for this game. Some games, it could be 35-31 and you have to knock down that last play. Some days, if they score one touchdown, you lose. This was one of those days and bottom line, they kept them out of the end zone.
The run defense has to be better. You can't allow someone to bleed you like that, but the main thing was that there were no big plays on the backend of the defense and that has been the Achilles' heel for this team lately. If the secondary does not allow guys to throw the ball over the top of their head, they give their team a chance to win. And when it was time to make plays, guys made them. Donald Strickland's play in the end zone, that's a big play. You knock that one down and you just took four points off the board. That's huge. That's what you have to have on your backend. As long as you are making them kick field goals, you are always in the game. That's what happened this week. The secondary did not give up balls down the field and they weren't getting gashed. Because more so than even the yardage on some of those big plays, is the fact that it deflates the huddle. If guys up front lose faith in the backend, it makes it extremely difficult to continue to pressure the quarterback, and they start to concern themselves with things they shouldn't. The guys on the backend for the 49ers are good enough to make those plays, and it was good to see them do it.
As always, there were individual guys who played well. You always expect Joe Staley to have a good game, and he did. But to see guys up front like Aubrayo Franklin or Ray McDonald making a play when you needed someone to make it, that's good to see. In a game that is filled with 70 - 80 plays, some are larger than others and guys have to understand the importance of certain plays and certain situations. You expect guys like Willis to play that way every single play and that's what makes a good team. Stars have to play like stars, but role guys have to understand their roles and know that they too have to step up and make a play rather than depending on the stars to make them all the time.
For instance, you look at Isaac Bruce on offense, doing his thing. He's ageless, perfect, and ran the shake route in the end zone to get himself open and he made it look easy, and then you had Shaun putting it right there. When the players who you count on do what they are supposed to do, they teach the other guys how it is supposed to be done. That's when you grow as a team and become a better unit.
So again, it was a good win. The 49ers beat a team that needed that win, and did so on the road. They played sound ball, overcame adversity offensively, and the defense stood up and did what they had to do. They kept the Bills out of the end zone and the 49ers in the game. Everyone is going to say "Well, if they had made those field goals, it would have been a different game." But, they didn't, and that's why you play the game.