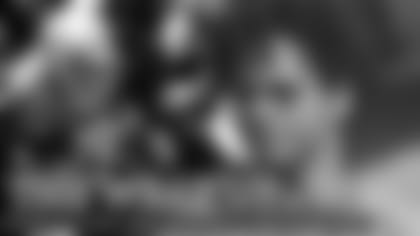 Eric Davis spent 13 years in the NFL as a cornerback. He's now in his second season as part of the 49ers broadcast team. After every 49ers game Davis will breakdown the game in his "Wrap Up" column. Here's Davis' fifth column of the 2009 regular season recapping the 49ers loss to the Atlanta Falcons.**
The 49ers are going to have to move on from a loss like this one to Atlanta in the same way they would move on from a win. You look at the film. You look at the things you did correctly. You correct the mistakes that you made. You go from there. Honestly, it's never as good you think it is and it's never as bad as it feels.
On film, the good, the bad, and the ugly; it all shows up.
From a player's standpoint, you don't get too high on the highs and you don't get too low on the lows. You understand the position that you're in. You're still on top of your division with all of your season goals still out in front of you.
In one of the key moments of the game, there was the fumble caused by Manny Lawson, recovered by Michael Lewis, and the offense took the field with a great opportunity to take the lead.
But the 49ers didn't do anything with that possession.
Not only did they not score with promising field position, but they left without a shot at a field goal. The offense went three-and-out while being knocked back out of field goal range. That opened the flood gates. From there it was downhill quickly. It snowballed on them. The guys didn't find a way after that to make that next play.
Even after Dre' Bly got the interception he fumbled it right back to them. Later, on a routine tackle that Nate Clements has been making all season long on a 10-yard curl route, he misses on Roddy White and it turned into a 90-yard touchdown.
Those were the type of plays that continued to happen for Atlanta. That little momentum swing proved how important every play and every possession is. That's the next step for this group to understand.
The bright spot from the game against Atlanta is not in the individual play from anyone. But, something was learned by everyone. The coaching staff is already talking about seeing the game differently and not being out-coached. The players understand that if you want to be a contender, then these are the type of team you are going to have to raise your level against.
You can't walk away without any points when you have that scoring situation. Defensively you can't allow a team to get in the red zone and score four out of five times. They are all things that are correctable. It's not about ability. It's about performance and consistency. These are both things that each and every coach and player should feel comfortable that it can be corrected. They have time to correct it and they're still in control of their own destiny.
Now you are going into an open week and you're getting a chance to not only stay ahead in your division but it gives the players time to heal. You get your best offensive weapon back in Frank Gore. You have a few weeks to get Michael Crabtree involved in the offense. Give him a chance to work with this quarterback and get him in the playbook.
All of those things are bright spots as well. You look at the situation that the 49ers are in right now and you have to feel good about it. If anyone said going into the bye week that these guys were going to be 3-2 leading and leading their division, everyone would feel comfortable with that.
They had a bad day against a good team. The 45-10 score was a result of when that happens. The 49ers are still a good football team. They just had a bad day.
Lastly, I want to address what Dre' Bly did Monday afternoon. He could have stayed to himself or apologized to a few teammates internally for what he did during the game. But, for him to go to his coach and say he wanted to apologize publicly, it showed me that not only does he have the respect for his teammates and coaches, but he believes in the philosophy that coach Mike Singletary is trying to put into place.
Singletary believes that if you do something a certain way there will be benefits down the road. And Bly wants to be a part of that. When you have a veteran player that has done things like Dre' Bly has done in this league, stand up and say 'I want to be a part of this and I believe in what you're saying, I see that my actions are not in line with the way that we do things around here, I apologize' – that says that these guys are moving in the right direction.
Before you can ever accomplish anything, before you can win in your division, before you can win a championship, before you can change the culture – guys have to say that there is a philosophy in place, a way of doing things that we believe in. What Dre' Bly did should show every 49ers fan that those guys believe in what they're doing.