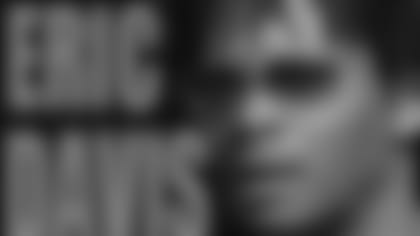 Catch up with former 49ers cornerback Eric Davis each week as he recaps the game. In this latest column, Davis discusses the 49ers road loss to the Dolphins.** 
I am normally not a moral victory guy, but Sunday's game versus the Dolphins was not a total loss. The coaching staff developed a great game plan that the players were nearly able to execute.
Once again the offense controlled the flow of the game and the time of possession. Shaun Hill led the team on three separate ten minute plus drives. He used eight different receivers and showed the same poise and confidence that was seen in the two previous wins. Isaac Bruce inched closer to the 1,000 career catch mark with 994 career receptions to date, moving the chains on several of his team leading seven catches. Vernon Davis continued to show that he is a capable receiver as well as an excellent blocker, and DeShaun Foster ran well filling in for an injured Frank Gore.
Holding a team to fourteen points, as the 49ers did in Miami, is normally a good day at the office. It is only a problem on the days that you need fifteen. The defense continued to play the trademark physical football that we have seen the last few weeks. The Dolphins were only one for seven on third down and had less than three hundred yards of total offense.
Manny Lawson played very well on Sunday. He was extremely active at the point of attack. Manny was excellent at the dirty work, forcing and spilling blocker. This is the type of play that does not show up in the stat book but is necessary for a defense to be effective.
Players were well prepared, highly motivated and eager to perform against the Miami Dolphins. The Dolphins were simply a better team on Sunday. They were able to execute and FINISH during the critical moments of the game.
The 49ers are still learning to identify and step-up during the big moments. This is the next step in building a new winning culture. Wanting to perform is not enough, doing it is what matters.
A well fought battle came down to one final fourth down play for the 49ers. Joey Porter was better than Barry Simms on that play. It happens. That's football. In the not so distant past a loss would have meant line-up changes, game plan questioning, and a new head coach discussion. To me - they just lost. The 49ers lost a game - not all hope. They fought hard but came up short. Next week we try again.