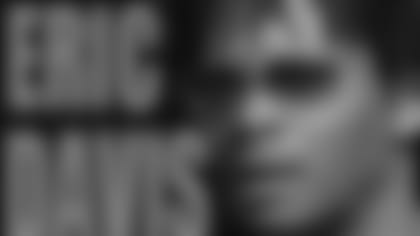 Catch up with former 49ers cornerback Eric Davis each week as he recaps the game. In this latest column, Davis discusses the 49ers second victory over the Rams.** 
One of the first steps to becoming a good ball club is understanding the games you are supposed to win, and then winning those games. The Niners didn't have their best day versus the Rams, but they did what they were supposed to do. They went on the road against a ball club they were better than, and found a way to win. As ugly as it may have been, it was a win and to me that's a step in the right direction.
There was a time not too long ago where doubt would have crept in and guys might have started thinking here we go again. Guys could have found a way to make a mistake as opposed to finding a way to make the play to win the game. So, that was big.
Running the ball didn't appear to be an emphasis this week as DeShaun Foster had only 12 carries. Foster ran hard last week in Miami, but the 49ers never really established the run against the Rams.
I don't know what Mike Martz saw on film from the Rams defense, but after starting the game off with a pair of runs, he went mostly to the air.
Unfortunately, Shaun Hill didn't have one of his better days at the quarterback position. He tried to make some plays and possibly tried to do too much early on. He got out of the box for him by trying to throw the ball downfield and he came up short. But what Shaun did do, was find a way to win the game. That's clearly his forte. It's not always pretty. Sometimes it might come out of his hand like a lame duck, but he gets it to where it's supposed to be and you can tell his teammates have the confidence in him that he's going to get it done. They are looking for the ball and they are making plays. You saw at the end of the game, Josh Morgan went after the ball and made the play. Shaun seems to have that belief in himself that somehow he's going to get it done and in looking at the numbers, he has.
On that last route where Jason Hill and Morgan were both there, simply put, I don't know who he was throwing it to or what routes they were supped to run. But the fact of the matter is, these guys believed they could make a play. Sometimes you just have to throw it up and give those guys an opportunity to show they are playmakers. That's what Hill did, and Morgan stepped up and made the play.
Last week against the Dolphins, there was a play in which Mark Roman did everything absolutely right. He was in perfect position, but the tight end just made the play. This weekend, the Niners made that play. Josh Morgan was better on the defenders on that play and he made it. A player has to come out and sometimes make a special play and that was one.
Congratulations to one of those special players, Isaac Bruce, who reached the 1,000 catch plateau. He's in a very elite group. He's a future Hall of Famer, and he's still able to get open and make plays. It was great for him to make those plays against his former team, and help win the game for the Niners. I also think it's great for the young guys on the team to see what it's like to be a true pro. He's a guy who continues to get things done, and who continues to push things forward and work to be a better player, and I think that rubs off to the other guys in the locker room.
Defensively, when you hold a team under 17 points, that's a good day.
The 30-yard touchdown was something that has happened at times to this defense and it was just blown coverage – miscommunication and improper technique. It's a mistake you don't ever want to see in the secondary because the moment you have that mistake, it can turn into a touchdown, and that's what happened.
The good news, the defense didn't get down and out because of it.
A lot has been said about the inability of the 49ers safeties to make plays, but watching the game, I thought Michael Lewis had an excellent day. He didn't have the interceptions and turnover plays where they were going to be talking him up, but the dirty work – showing up in his gaps, forcing the run, making things happen – he had an excellent day doing that. He was around the ball, he was hitting guys hard, and he showed up angry an awful lot in this game, and that's the way you have to have your safety play. I don't know if that touchdown fueled the fire, but he definitely showed up big for me on film.
I thought Manny Lawson again played well. The last month he's really picked up his play. He's flying around, moving around well and he does something every game where you say, 'Okay, this guy is definitely a player.' I think it's just a matter of that knee getting stronger and him hitting his stride.
The 49ers were extremely fortunate to be playing a bad ball club because you can't have that many turnovers on the road and expect to win the game. When you turn the ball over, you are fighting uphill all day long, and they 49ers were helped out tremendously by the Rams inability to get the ball in the end zone. A lot of credit has to be given to the Niners defense too, because as long as a team is kicking field goals, you can stay in a game. Even with the lopsided time of possession and the lopsided turnovers, it was still a dogfight because the Niners defense kept the Rams out of the end zone.
The 49ers won a game in the same fashion they lost a game the week before, because the defense stepped up and kept the opposing team out of the end zone. That kept the 49ers in the game, and the offense was able to get it done.
Still, turnovers have to be taken out of the equation if you want to beat a good football team.
The 49ers have one last game against the Redskins. Wouldn't it be nice to head into the offseason with a win?