When players are asked about what head coach Mike Singletary has brought to the team, the most common response is accountability. Singletary's mantra covers a range of areas including players being accountable for preparation, assignments, execution and to the team.
That should serve the defensive side of the ball well this weekend when they face the Miami Dolphins and their wildcat formation. The throwback attack puts running back Ronnie Brown back at quarterback with Ricky Williams in the backfield.
"For a team that's not disciplined, for a team that's not sound, it could cause a lot of problems because you just don't know who has the ball," said Singletary.
Several teams have attempted to duplicate the Dolphins success with the formation since they unveiled it in week three against the New England Patriots, scoring four touchdowns off of it. Even the 49ers have utilized it a few times this season with Michael Robinson and Frank Gore.
But no one has used it more frequently and with more productivity than Miami. The Dolphins have relied on the formation 76 times this year, which accounts for ten percent of their total plays.
"It's been hard to defend because you don't see it week-in and week-out," said linebacker Takeo Spikes. "Now, you're starting to see it. But to me, the Dolphins are the ones, who brought it back out of the closet. They're going to be the ones who have more passes, more running plays out of that formation. That's what makes it so hard. You don't see it. It's not a typical formation that you would see playing from week-to-week."
The Dolphins employ the wildcat all over the field, and have had three plays out of the formation produce touchdowns of 50 yards or more.
"We're definitely going to have to play assignment-sound defense and that goes for everybody," said cornerback Donald Strickland. "They've thrown a couple of passes off the Wildcat too, so it's very important for us in the secondary to keep our eyes on the receiver when try and fake stock block. They might try and take off and Ricky Williams or Ronnie Brown might throw the ball. It's just another changeup, that they might have and can use. We just have to be on our assignments."
Whether the Dolphins are in the wildcat or a more standard formation, the 49ers major assignment is to contain the Miami run game, period.
"That's our first goal, to stop the run," said the 49ers leading tackler Joe Staley. "And they have some good backs. Ricky Williams, who I've always been a big fan of, especially seeing him when he was in college and not really knowing much about him and being like 'wow, this guy is good.' Ronnie Brown, I know from playing against him in college, and then seeing him do the things he's done so far in the NFL, we're really going to have our work cut out for us. Two good, potentially great backs, who are going to give us a handful. So we're going to have to be ready to go."
Although the Dolphins are ranked four notches higher in the pass versus the run, it's the respect for the combined 1,312 rushing yards of Brown and Williams that have allowed the Miami offense to be so successful this season.
"Their run game fuels their offense," said outside linebacker Parys Haralson." When you have guys like Ricky Williams and Ronnie Brown back there running it, that's what we have to do, we have to stop the run."
With his running backs drawing most of the attention, Dolphins quarterback Chad Pennington has quietly been putting up solid numbers. Last week he surpassed the 3,000-yard passing mark, and similar to 49ers quarterback Shaun Hill, is an excellent "game manager."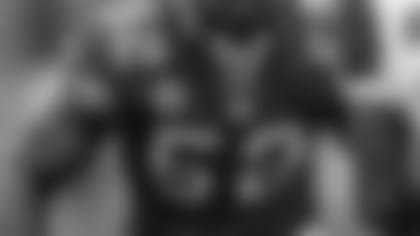 "I never thought about it like that, but you kind of hit the nail on the head," admitted Willis. "Chad and Shaun Hill are kind of similar in a lot of ways. They're not just a guy who is going to wow you, but they're the guys who do the right thing and do enough to keep the game where it's supposed to be. And even at times, surprise you. I love Shaun and what he does for our offense and I'm sure they feel the same about Chad. So they're going to try and protect him, we have to get to him and throw him off as much as possible."
Pennington has been sacked only 24 times on the year, and has very infrequently been forced into making mistakes with only six interceptions on the season.
"He has been throwing the ball well, making plays and not making many mistakes," said Strickland. "We're definitely going to have a challenge on our hands."
As an entire offensive unit, the Dolphins own a league low ten turnovers. Combined with the efforts of their defense, Miami boasts a league-best plus 12 turnover ratio.
"They haven't turned the ball over that much, but running to the ball, gang tackling, trying to punch the ball out, stripping at the ball, trying to cause interceptions, there's a bunch of things we have to do," said Haralson. "Re-routing the receivers, throwing them off their routes so that we can try and get an interception. It's a matter of being able to go in and play hard but also able to get a hat on the ball or anything you can do to strip it out."
With two solid weeks of defensive play under their belt, the 49ers are hungry for continued success.
"They have a good offense and we're going to look forward to it," said Willis. "We are out of the playoffs, but we can still finish the seasons strong. This is another game that's in the way of us doing what we want to do."
Thursday's Practice Notes:
Wide receiver Arnaz Battle missed his second day of practice after aggravating his foot injury in the win over the Jets, and is doubtful to play on Sunday, said head coach Mike Singletary.
Battle handled the punt return duties last week, a job that Singletary assumes Allen Rossum can resume after taking punts in Thursday's practice.
If Rossum does go, he won't be handling the kickoffs this Sunday. Singletary said the 49ers would leave that job to Michael Robinson and Delanie Walker.
Wide receiver Josh Morgan is expected to play this week after missing the last few weeks with a groin injury, but Bryant Johnson will remain the team's starter.
Singletary classified Frank Gore as questionable at this point. The team plans to take Thomas Clayton along for the trip to Miami regardless, and if they feel the need to activate him from the practice squad, it would likely be done on Saturday. Whether or not Clayton would actually see playing time in Sunday's game would depend on the flow of the game.
Singletary reiterated his desire to get linebacker Ahmad Brooks active for a game, but admitted that it won't be this Sunday.