Only six 49ers opponents this season kept Vernon Davis out of the end zone and that production earned the 49ers tight end his first invitation to the Pro Bowl. But Davis won't just play – he'll be the starting tight end for the NFC team.
"I'm really excited about him," head coach Mike Singletary said. "He's just taken one step after the next and just continued to go in the right direction, starting from the end of last season, continuing to have the right mindset going forward, doing all the right things.
"He was named a captain early on in the year because he exemplified what it's all about because he is an All-Pro, and he's just going to continue to get better."
It's certainly been a remarkable year for Davis.
He's already broken a pair of franchise records for the tight end position including 12 touchdown receptions and 876 receiving yards. Davis even caught touchdowns in four consecutive games from Week 11-14 while the 49ers remained in the playoff hunt.
Believe it or not, there are more records for the taking.
Davis can add a third tight end record to his credit with 11 catches this Sunday. Doing so would pass Eric Johnson for the most catches in a single season by a tight end in franchise history. Davis has 72 receptions through 15 games, 20 more than his career best set in 2007.
In the 2009 season finale, Davis will look to tie and potentially break the team's reception record by a tight end as well as the NFL's single-season tight end touchdown record. It stands at 13 – thanks to Antonio Gates' 2004 season with the San Diego Chargers.
Davis' chances of reaching those marks and surpassing them should be benefited this Sunday when he goes up against the secondary of the St. Louis Rams which ranks 27th against the pass.
But as Davis said, nothing comes easy in the NFL.
"We can't be easy on those guys, no matter what their record is. We have to play hard and just put it all together," he said. "Finishing up 8-8, that's good for us. It can be big."
The team's 2009 Len Eshmont Award Winner (voted on by teammates for inspirational play) caught three passes for 43 yards in the first meeting with St. Louis, including a 13-yard touchdown pass from then-starting quarterback Shaun Hill.
Davis caught three of his touchdowns from Hill, and nine more from Alex Smith since the former-No. 1 overall pick was inserted into the lineup in the second half of the Houston game.
Although it was in defeat, the duo connected for three second-half touchdowns against the Texans, nearly rallying the team back for a road victory. And that was just a glimpse fo what Smith and Davis could do together.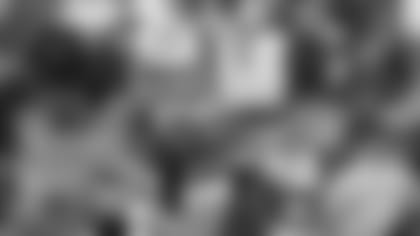 Every week, the 49ers top passing combination seems to get even stronger and the results have been evident.
"Our chemistry is building and that's what you want, you want to build a relationship and get things moving in the passing game. That's what we expect," Davis said. "Having quarterbacks who can throw me the ball, an offensive line who can pass protect and a great coaching staff, has helped me get to the point where I'm at today."
"Alex, he's an awesome quarterback. I look forward to continuing to build chemistry with him."
Smith shared equally positive comments when speaking of Davis' most recent achievement in a season full of firsts for the 49ers tight end.
"I'm happy for him. He's worked tremendously hard over the last few years to get to where he is today," Smith said. "People haven't always backed him. People haven't always been there for him and he's continued to work hard and not let that waiver him from where he wanted to go and he continued to work hard for it and now he is going to the Pro Bowl. It's a big achievement, so I'm extremely happy for him."
With Smith and Davis evolving in the 49ers offense, the tight end only sees more production in his future.
If Davis' Pro Bowl invite has raised his level of expectations for the coming future, he's just fine with that. Davis' work ethic will never leave him.
"I did [raise the bar] and that's what you have to expect. You have to set the bar really high," Davis said. "Coaches set the bar high for me, they expect the most out of me and that's what I'm going to give them.
"I work hard. The harder you work the more successful you become and I work hard in the offseason. I never stop. I work all year round. A lot of guys stop working out, but I don't. I might take a few days off, but then I get back right to it. As soon as the season is over I continue to work."
Bruce Back For At Least One More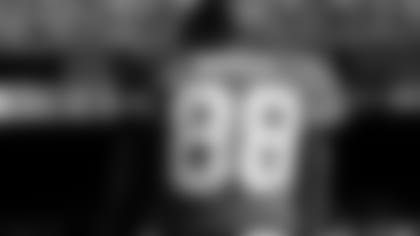 After being inactive since Week 12, future Hall of Fame wide receiver Isaac Bruce will return to action against his former team for what could be his final NFL game.
Bruce would not commit to retirement but said an announcement on his future would come soon. Asked what his NFL legacy is, Bruce said, "A man of no reputation."
But the humble wideout doesn't need to brag.
Bruce's reputation was cemented a long time ago as one of the NFL's all-time greats at the receiver position. In NFL history, he is second in receiving yards (15,208), fifth in receptions (1,024) and is ninth in touchdowns (91).
Bruce said he won't be emotional when he returns to St. Louis for what could be his final game.
"I won't cry. I mean, it will be fun," he said. "I've always liked playing in that dome for some reason. I'll be excited about it, but once the game starts, I'll be looking for the 49ers to win."
Quarterbacks Awarded For Professionalism
So how did quarterbacks Alex Smith and Shaun Hill handle being given the Gary Niver Award, an honor bestowed for professionalism?
Well, quite professionally.
Both players were taken back by the honor.
"Seriously?" Smith asked when the writers approached him. "Thank you very much."
Hill echoed the pleasantries, "Thank you we appreciate it."
The Niver Award was named after Gary Niver, a reporter for the San Mateo Times. Past winners include, Jerry Rice, Steve Young, Jeff Ulbrich, Julian Peterson, Frank Gore, and last year's winner, Eric Heitmann.