Angie Mack's phone blew up the moment Alfred Morris crossed the goal line. Morris scored twice during the Washington Redskins third preseason game against the Indianapolis Colts. After each touchdown, Morris strutted through the end zone at FedEx Field, tossed the ball up and swung his arms as if he were a baseball slugger crushing one out of the park.
It was the first time Morris had used the celebration, but his signature home run swing quickly became synonymous with his NFL profile. That particular touchdown didn't move the needle for many football fans. A vast majority of the country is indifferent towards the preseason.
However, there was a contingent of people back in Yorktown, Va., going ballistic. Angie celebrated with her two boys, Jonathan (then 14) and Nathaniel (then 10), as she thumbed through the text messages flooding in.
"Did you see that!? He did it!!" read one.
"That's our guy!" read another.
Then she decided to send Morris a text.
"Congratulations! We are so proud of you. The boys loved the celebration!" she told him.
Morris' response featured his trademark humility.
"Oh shucks. Thanks," Morris replied.
Angie recognized on that August night back in 2012 that her family's connection to Morris was more than just a happenstance encounter. The Macks built a relationship with Morris during his four seasons in Washington. Their bond strengthened during his two years with the Dallas Cowboys and continues to this day as Morris has begun a new chapter with the San Francisco 49ers.
The Mack family has seen Morris marry the love of his live, Lindsey, and become a father of two. Morris has also been there for the Macks. He's mentored Jonathan and Nathaniel and served as a support system for Angie through good times and bad.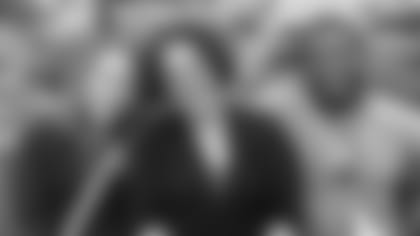 "I love this man like he's my son," Angie said proudly. "I think he's a phenomenal man."
Said Morris: "We're family. And that's not a word I take lightly. Thankfully I met them."
An exhausted Mack family arrived at the team hotel in Ashburn, Va., after baking all day in the Virginia humidity. Nathaniel and the rest of the York County 9/10 Little League All-Stars were in pursuit of a berth in the Little League World Series.
Angie had just endured a double-header and was desperate to get off her feet. She found a bench in the lobby occupied by one gentleman, and she kindly asked if he could scoot to one side.
"My dogs are barking," she told him as she plopped down next to him.
They made casual small talk. Angie introduced herself and pointed out her two boys in the lobby. She explained that she'd spent all day watching baseball in the hot summer sun.
"Nice to meet you, I'm Alfred," Morris responded, sharing that he was a rookie for the Redskins finishing up his first NFL offseason program.
Angie, a huge college football fan, wasn't huge on the pro game, but she appreciated the friendly conversation nonetheless. She told Morris that their team was having a potluck out by the pool later that evening and told him to come by if he was in the market for some free food.
"They invited me so I accepted," Morris said. "I didn't have anything else to do. I wasn't going to sit in my room staring at the wall. They invited me so I thought, 'Why not?'"
Morris hovered awkwardly around the pool at first similar to how a new kid at school would navigate the cafeteria during lunchtime. Angie noticed Morris and brought him over. She introduced him to some of the other parents on the team and made a plate for him. Morris, an outgoing person by nature, integrated quickly and wasted no time getting in the pool to play with the boys on the team.
Angie recalls Morris hanging out with the team for hours, throwing the boys around and executing synchronized jumps into the pool. She noticed an immediate big brother-esque connection. Towards the end of the function, the boys, understandably, were concerned that their new friend would forget about them.
Morris offered a suggestion.
"Why don't you guys help me come up with a touchdown celebration?" he asked them.
Morris scored 31 total touchdowns during his career at Florida Atlantic, but NCAA rules prohibited almost all forms of celebrating. He'd have to be prepared with something good if he ever scored in the NFL.
A brief brainstorm produced the perfect idea.
"You could pretend like you're hitting a home run," Jonathan suggested, followed by the immediate approval of the others.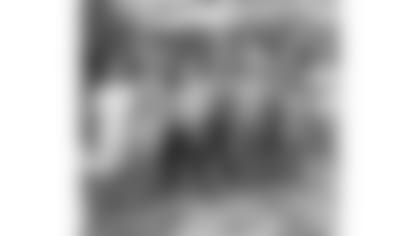 Morris agreed and took things a step further. The very next day, he hopped on the hotel shuttle along with the rest of the team and supported the little leaguers in person.
Think about that for a moment: A professional athlete trying to make an NFL roster as a sixth-round pick and yet, there he was supporting a group of 10-year-olds whom he'd just met less than 24 hours prior. Angie knew her family had stumbled upon a special human being.
"That's kind of how things came to be," Angie said. "I said to him, 'Whatever happens, just know that you have some friends in Virginia. If you're ever in the area, here's my number. Feel free to come see us anytime.'"
The Mack family kept close tabs on Morris' rookie season. They celebrated each of Morris' 13 home run swings as the running back helped lead Washington to an NFC East title and earned Pro Bowl honors.
The Macks were gathered around the dinner table the following summer when Angie's phone rang. It was Morris, asking permission to come visit on his way from Washington D.C. back to his home in Pensacola, Fla. They set dates, and Angie offered to set up hotel accommodations. He ended up staying with the Macks instead.
He rolled up in "The Bentley" – a lavish moniker for his beloved 1991 Mazda 626 that is still running to this day. Angie organized a team reunion so that all the boys could see Morris again. They played baseball in the backyard and had a nice picnic, complete with a cake for Morris. The guest of honor planned on staying just one night. He ended up staying for three.
Morris returned the favor and invited the Macks as his guests to Redskins training camp. What's wild, though, is that in all the time they've known Morris, they've never seen him play a game in person. That's because football isn't the priority of their relationship. Angie impressed upon her boys that the sport doesn't define Morris. Football is his job, but it's not who he is. The boys' respect for Morris should have nothing to do with his fame, she told them. They've never asked for an autograph, and Angie has never wanted Morris to pay for tickets to get them to a game.
"I wanted my entire family to know just how blessed we are to have him in our lives," Angie said.
That's something Morris values immensely. Professional athletes often lose the normalcy of life that many take for granted. People usually want something from athletes, whether they directly ask for it or not.
"It's just never been about football to them," Morris added. "They've always treated me as Alfred the person, not Alfred the football player. They'd rather come see me when there's no game. A lot of people want to come visit when there's a game involved, but getting people to visit us during the offseason is like pulling teeth."
Angie said she touches base with either Morris or his wife Lindsey at least once a week via text. They're usually able to meet in person once a year.
There was one summer when Morris accepted an invitation to watch Nathaniel's baseball team play in a tournament at the ESPN Wide World of Sports Complex. Several of the players were familiar faces as they were also on the same York County All-Star team. Morris delivered a pregame speech prior to the semi-final and sat in the dugout throughout the game. The team went on to win the tournament.
Morris wasn't able to attend Jonathan's high school graduation party. To make up for it, he surprised Jonathan shortly after on his way back to Pensacola. That was just one of Morris' several trips to visit the Macks in Yorktown.
Angie went to Dallas to spend a week with the Morris' following the birth of their second child.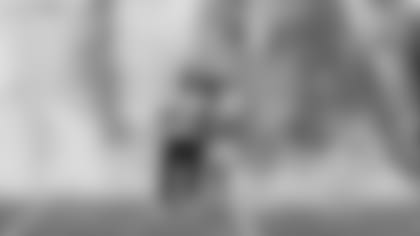 Nicknames have replaced given names. Morris calls Angie "Mama Mack." The boys have several monikers for Morris, such as "Thoroughbred Fred," "Fredo Sauce," and, when they need to be incognito in public, "D'Angelo." Angie had always used "Fred" until recently renaming him "Juice," which originated from Morris' comments this August about how much juice he had left in his legs.
Significant life moments – both solemn and celebratory – are shared with one another. Morris called Angie shortly after he proposed to Lindsey. Conversely, one of Angie's best friends died suddenly a few years back. Her first call? Alfred Morris. She found comfort in his warming demeanor and background as a devout Christian.
"That's family, man," Alfred put it simply. "That's what family does. You always have each other's back – in the good times or the bad. That was huge because she could have called anyone, but she called me and my wife."
Morris still serves as a big brother figure to Angie's boys – mentoring Jonathan through college and keeping tabs on Nathaniel's ongoing baseball career. Angie plans on making a trip out to the Bay Area in the near future.
She'll think back to that August night from time to time: sandwiched on the couch by her two sons, locked on the TV, hoping to see Morris reach the end zone, the elation of seeing him get there and the six-year's worth of memories that have followed.
You can bet the Macks were watching when Morris plunged into the end zone against the Kansas City Chiefs in Week 3 for what was his first touchdown as a member of the 49ers. The texts don't flood Angie's phone when Morris scores anymore – he's done so 33 times since entering the NFL.
It's just understood at this point. Each home run swing serves as a heartwarming reminder that there's no telling when and where you'll come across the people that make the biggest impact on your life.
"He is very much a dear and beloved member of our family," she said proudly. "He's been a godsend to us – a blessing."