Several months ago, names like Cody Ross, Dorell Wright and Troy Smith weren't on the minds of Bay Area sports fans. But that's why they play the games.
The recent successes of unheralded players for the San Francisco Giants, Golden State Warriors and San Francisco 49ers prove just how unpredictable professional sports can be.
Ross and Wright were talented players who found teams willing to harness their abilities, and the same goes for the 49ers new starting quarterback, who signed with the team back in September and spent seven weeks listed as the No. 3 signal caller before assuming starting duties in London.
Now, like his previously unknown Bay Area brethren, Smith isn't just in the conversation, he is the conversation.
In the last two weeks, he's completed 29-of-47 passes for 552 yards to go along with two passing touchdowns, one rushing touchdown and zero turnovers. Smith's breakout performances have made the fourth-year quarterback a hot commodity.
He's been featured as a guest on local television and radio shows, and this Friday he's pegged for a sit-down interview on ESPN's "Jim Rome is Burning."
All the attention is certainly well deserved.
Since he started in London, Smith has the highest yards per attempt in the NFL (11.74), and has the third highest quarterback rating at 116.6. He also became the first 49ers signal caller since Jeff Garcia in 2003 to post a quarterback rating of 115.0 or better in consecutive games.
But for all the added questions going Smith's way, he is sticking with his mantra of staying even-keeled on a weekly basis.
"When you start to think and worry about the things that happened to you in the past, you obviously take away from the things that can happen to you in the future," Smith explained on Wednesday. "I truly believe that every situation is different from every other one, so it has to be treated accordingly."
For all that Smith went through to get to this point – suffering from a severe case of tonsillitis that caused him to lose 40 pounds and miss out on a chance to compete for the Baltimore Ravens quarterback gig – he's even more appreciative of his opportunity to remain as the 49ers starting quarterback.
"Having the ability to breathe being taken away from you for however long it was definitely is scary," said Smith, re-telling the circumstance that derailed the early stages of his promising pro career.
Smith was too sick to quarterback in a 2008 preseason game, his second year with the Baltimore Ravens. He was too sick to speak, couldn't call plays and therefore spent the day at the team's hotel in St. Louis. Severe tonsillitis turned to severe chest pain and ultimately was classified as Lemierre's Syndrome, a rare and potentially fatal disease.
The low-point for Smith was not being able to breath for 2 1/2 weeks.
"It definitely put a new perspective on life and what life is really about, and even though we love this game, it's just that; it's still a game and life is so much more precious, there's so much more going on.
"It helped strengthen my faith. It helped strengthen a lot of things for me."
But now that he has a chance once again to lead an offensive huddle, Smith is making sure he's leaving no stone unturned.
"You wouldn't be able to see how appreciative I really am of the opportunity," he said. "I just have to take full advantage of it and hopefully that shows how important it is to me."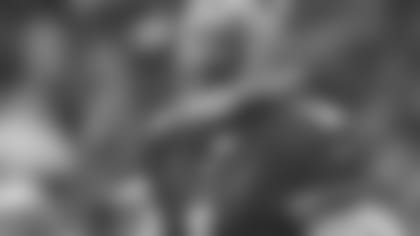 Smith's teammates see a confident player in the huddle, a player who will push them even after mistakes.
"He leads by example and by giving you encouragement," said rookie tight end Nate Byham. "After one of the sacks in the game against St. Louis, he went up to the o-line and said, 'We got this – don't worry about it. Let it go and we'll get them next time.'"
The 6-foot, 217-pound quarterback's rise this season from third-stringer to talk of the town doesn't surprise teammates like Byham.
"This day and age, everyone is so talented and athletic, even a guy who is a third-stringer can step in and be a starter and take care of things. It's unpredictable these days in sports because certain people can come out of nowhere and handle adversity."
Smith's college teammate at Ohio State and locker room neighbor at 49ers headquarters, tackle Alex Boone isn't shocked to see what his Heisman Trophy-winning teammate has done with the opportunity.
"If there's one person who can make anything happen, it's Troy. I've played with him for two years (2005-06) and he was an unbelievable leader. He puts the ball where he wants to and he has great confidence which makes him a great player.
"You have to wait for you chance and once it's there you have to shine. He's done a great job with that."
Notes and QuotesSmith received praise from his head coach on Wednesday as well as from Tampa Bay's head man. Back in 2007, Smith played in the Senior Bowl for a North team coached by the Buccaneers staff, including then defensive backs coach Raheem Morris.
Smith certainly made a lasting impression as judged by Morris raving about Smith in a morning conference call with local reporters. "He is dynamic, he lights up a room. He has all of those unique qualities that you love about a quarterback."
As much as he appreciated working with Morris, Smith said he's looking to continue passing the football against Morris' Tampa Bay squad. Smith said he has 99.9-percent of the 49ers playbook down and that he's looking to continue getting his playmakers involved. Smith only has one interception in 136 career pass attempts and none in his four career starts.
Smith's blindside protector has yet to be named according to Mike Singletary. The 49es will look at veteran linemen Barry Sims, Adam Snyder and Tony Wragge to line up at left tackle for the injured Joe Staley. But Singletary did say that guard Chilo Rachal will return to the starting lineup at right guard.
The reps at strong safety will continue to be split between rookie Taylor Mays and third-year defensive back Reggie Smith. "We'll let that work itself out," Singletary said. "We're trying to figure out the strengths and weaknesses of both of them."
An MRI on Joe Nedney's left knee revealed a strain and a bone bruise. Unlikely to play against Tampa Bay, the team signed kicker Shane Andrus, who spent this past training camp with the 49ers. Andrus had several workouts lined up this week but decided to return to the Bay Area. The kicker is eager to face a Tampa Bay team who we played for in 2009 and appeared in three games. "I felt like this was a good opportunity," Andrus said. "Coming here in training camp and getting work with them (punter Andy Lee and long snapper Brian Jennings) before-hand made coming out here easy. It's actually going to help out a lot."