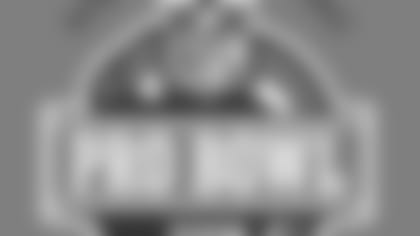 ](http://www.nfl.com/probowl/)Ah, the sun, the sand, the ocean…who wouldn't want to spend a week in Hawaii in February?
Those aren't bad motivators for professional football players trying to reach the Pro Bowl each winter after a long season that began with training camps the previous July and ended in the cold months of winter.
"I love the perks," said linebacker Takeo Spikes about his two Pro Bowl trips in 2003 and 2004 while with Buffalo.
Cornerback Nate Clements, another former Bills player who attended the 2004 Pro Bowl, took full advantage of those perks.
"I went whale watching," Clements said. "I had never seen a whale before. Being able to go to the Pro Bowl is a reward for being the best, and I definitely enjoyed it."
But there are clearly many more reasons for the players to make that visit to Hawaii than a few days on the beach or whale watching. As Clements summed up, it means your peers view you as one of the best.
"If you're voted in by your peers, it's a respect thing," Spikes said with a serious tone. "It shows you truly deserved it. It's definitely an honor to be voted in amongst your peers."
Spikes' comments were echoed by other 49ers players who have played in previous games.
"It's a peer award," said wide receiver Isaac Bruce, who was selected four times to the Pro Bowl while with the Rams (1996, 1999, 2000 and 2001). "I always believe that if you try to promote yourself it won't happen for you. But if you just go about your business and you leave that promotion to others it works out."
Bruce remembered the first of his four trips to Hawaii.
"The first time I was really, really excited about going," he said. "I remember getting over there and seeing all the guys who I had watched for years, and looking up in the huddle and I'm with Brett Favre, Barry Sanders, Cris Carter, Herman Moore and some of the best offensive linemen who played. I was having a great time. It was everything I dreamed."
And most players who have been fortunate to get there once, dream of going again.
"It was a lot of fun," linebacker Joe Staley said of playing in the game after his stellar 2007 rookie season. "You don't want to make the Pro Bowl one year and then not make it back the next. I want to go back. It just motivates you to keep working."
Keep working is exactly what Walt Harris did — year after year.
While Willis made the trip to Hawaii in his first NFL season, Harris had to wait a decade, until his first season with the 49ers in 2006, to earn a Pro Bowl berth.
"It was a good feeling just to be there," Harris said. "Just to be in that category of players felt really good."
While the respect factor was big for many 49ers who have played in the Pro Bowl, punter Andy Lee had a different point of view after being rewarded for his fantastic 2007 season in San Francisco.
"I was awestruck most of the week," Lee said. "I specifically remember the meeting we had the first night we were there. I looked around and all these guys who you look up to were sitting there. It was kind of eye-opening and great to meet them."
One of those guys who other first-timers may be awestruck to meet at the annual event in Hawaii for years to come is running back Frank Gore, who is considered one of the elite backs in the NFL. Gore made the Pro Bowl as a second-year player with the 49ers in 2006 after setting a franchise single-season record with 1,695 rushing yards, and is once again on pace to surpass the 1,000-yard rushing mark for the third consecutive season.
"It's a great honor," Gore said. "It says you had a great year and you're one of the top guys at your position."
Other 49ers players who have been selected for the game include safety Michael Lewis and return specialist Allen Rossum.
"It's hard to even describe because you're in awe of being around these other great guys," said Rossum, who made the team as a return specialist after his excellent 2004 season with the Falcons. "Being a fan of football and having the opportunity to meet some of the guys on the Pro Bowl team was an indescribable experience for me."
"It's a really good feeling," added Lewis, who represented the Eagles on the NFC roster, also in 2004. "You understand the people that voted you in are the people that are your peers and coaches."
And in recent years, the voting also falls to football enthusiasts as the NFL has opened up voting to fans on nfl.com. As well as having the opportunity to send their favorite players to the Pro Bowl, fans have the opportunity to win a trip to the 2009 Pro Bowl.