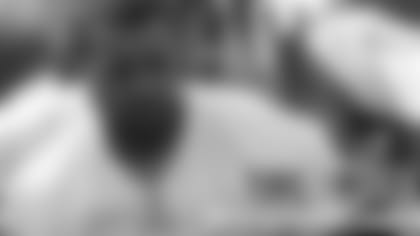 Defensive end Demetric ?Meat? Evans is the latest member of the 49ers to blog for 49ers.com. In his first entry of ?The Meat Zone,? Evans will let you know what the adjustment from Washington D.C. to the Bay Area has been like so far. He?ll also give you some insight on what he?s been up to since signing with the 49ers and his thoughts on what else? the meat/food served at the 49ers team facility.
What?s up 49ers fans? My name is Demetric Evans and this is the first installment of ?The Meat Zone,? my personal blog for 49ers.com.
You might be wondering why I named my blog ?The Meat Zone,? but this isn?t a blog about cooking, trust me. ?Meat,? was a nickname given to me by my teammates when I played high school football in Louisiana. With my name being Demetric, I guess it was just easy for them to call me ?Meat.? And the name has stuck with me over the years.
Since I?ve been with the 49ers and have moved from Washington D.C. to the Bay Area after playing with the Redskins for the past five seasons, the transition has been great. Other than leaving my wife behind, because she?s finishing her medical school residency at Georgetown; it?s been a fun experience being out in the Bay Area. We always seem to have great weather and you can?t beat that.
Being a part of a great franchise like the San Francisco 49ers is great too. We have such a famous winning tradition here, it?s inspiring to walk in the building and see the five Vince Lombardi trophies in the lobby. I?ve never won a Super Bowl before, but seeing those shiny trophies is the ultimate motivation. I want to help win the sixth one as soon as possible! In my humble opinion, it?s only a matter of time before this team gets back on track and starts playing like the glory days of the 49ers in the late 80s and early 90s.
Now that I?m in a new city and in a new time zone, I have to admit that I haven?t been able to do too much exploring of San Francisco and the rest of the Bay Area. My wife came down to visit me recently, and I took her out to a nice seafood dinner in San Francisco on the bay. It was a great time and she loved it. I think she might be a little jealous that I get to enjoy all this nice weather. But she thought this area was beautiful and I know she?s looking forward to coming back out, and I?m excited for her to be back out here too.
I want to do more now that I?m out here, but I?ve been focused on getting prepared for training camp and my first season with the 49ers. I have gone out to many restaurants on Santana Row close to our team headquarters in Santa Clara and those spots have been nice too.
As much as I?ve enjoyed the great restaurants in the Bay Area, really the weather has been my favorite part. Right now, it?s still cold in D.C, and I spent five years there freezing half the time. It?s nice being able to leave all the cold weather clothes back there. Justin Smith, who is one of my new teammates on the defensive line, told me it only rained twice during practice last year! So I?m definitely looking forward to that and of course, no shoveling snow!
I think it?s been great playing with Justin and the rest of the d-linemen. We really have a tight-knit group and they?ve accepted me with open arms. From the first day I got here, I noticed how the guys all work hard together and that goes for the entire defense. But they also laugh and enjoy each other?s company. That?s the kind of group I love being a part of. For me it was an easy transition joining this team because there aren?t any ?me-first,? guys. Our players are all unselfish and with our defensive line coach, Jim Tomsula, he orchestrates the group to play that way. He makes us all play together as one. I've also enjoyed working with our pass rushing coach Al Harris, he's a former player and has a lot of great tips for us too.
It?s great playing for coach Tomsula. He has a great personality and he knows a lot about football. But most importantly, he knows how to get the best out of his guys. I think as a player, that?s what you want from your position coach. You want a coach, who knows when to discipline you, but at the same time knows how far to take it. We are still men and most of us have families, so I really like the respect he and coach Harris shows us.
Now that I?ve been with the team for a few months, I feel like it?s a really good fit. But at the same time, it?s been hard work making a transition from playing the defensive end position in the 4-3 scheme to now playing end in our 3-4 defense. It?s still a learning process with the verbiage that we use and also understanding how offensive lines will block us. It?s a lot different than a 4-3, but I think it?s coming along for me well out on the practice field.
After our minicamps and OTAs I usually just go back to the hotel where a lot of the players who are from out of town stay at. The rookies stay there too. I haven?t had a chance to find a place to live yet, but I?m enjoying spending time over there with the guys and getting to know some of my new teammates and also the guys in our rookie class. When I?m back in my room, I like to mostly lounge and continuously read my playbook to make sure I?m ready for the next day of practice.
One thing I do a lot of is use Skype, which is a video phone service over the internet. That?s the best way I can see my wife when I talk to her on the phone, so I?m glad we have internet in our rooms. It?s nice to talk to her every night before I relax and get ready mentally for the next day.
We have a minicamp this weekend, then two more sessions of OTAs coming up and it seems like this offseason is going by fast. Pretty soon, we?ll be in training camp before you know it.
When I get the chance, I?m definitely going back to D.C. to spend time with my wife and enjoy her company. I also want to check in on my little brother. He?s going to be a senior in high school and that?s a big year for him. He?s going through the process of being recruited for football, so I want to be there for him and give him some advice so he makes the right decision on his future. Helping him through the process should be fun and it?s going to remind me of my experiences that ultimately led me to the University of Georgia.
I had fun updating you guys on what I?ve been doing here with the 49ers, but I can smell the barbecue just around the corner by the practice field here at the team facility. The grub here is really healthy and the team does a great job of making sure you put the right foods in your body so you can get ready for another day of practice. They always have grilled chicken, fish and steaks with lots of veggies. So with that being said, I?m going to grab nice plate of food and enjoy the rest of my day!