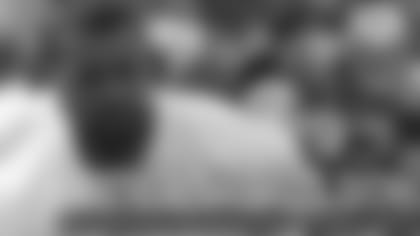 Defensive end Demetric 'Meat' Evans is the latest member of the 49ers to blog for 49ers.com. In his latest entry of 'The Meat Zone', Evans talks about his thoughts on the 49ers recent victory in Arizona, his plans for his 30th birthday and his relationships with the rest of the 49ers defensive linemen.**
It was great to win our first game out in Arizona. We played hard the whole way on both sides of the ball and it was great to see our hard work in training camp pay off. I've never been to that stadium either, so it was nice to be 1-0 in Arizona too.
I think our defense took a lot of criticism in the preseason, but when it came time for the big game, we came through when it mattered most. We have another big divisional game this week and it's our home opener, so it's a big game for us.
I know we get a lot of work out on the practice field, but during the season, I run for 30 minutes on the treadmill every day after practice. Call me crazy, but I just try to get that routine down and so I'm in the best shape. Especially with my legs, I have to get my legs ready to last for a long season.
As a team, we all got in really good shape from Coach Singletary's training camp. The camp was intense and it brought out the best in us. It was fun but it was hard. The guys made it a lot easier with the camaraderie. Just going at it every day and working together brought us together.
We would find stuff on the bright side to get us through. We always do one-on-ones but Singletary added a little more intensity with the nutcracker drills. It's one of those drills where you're just trying to win. I went up against Barry Sims and Joe Staley and they were good matchups.
As I'm writing this, Kentwan Balmer keeps interrupting me. So I figured I'd find a way to get him in this blog.
"Hey Balmer what's up? What time do you want to get a haircut later?"
Kentwan: "I can't man, I got to make it home."
"Man, don't even worry about it. I can't ever depend on you."
Kentwan: "Man, what are you talking about?"
"You told me you'd go with me to get a haircut later!"
Kentwan: "What? I said I could go around eight. What you going to be doing later? You won?t be doing much later anyway!"
"At eight o'clock, I'll call you man. Because you never call your boy!"
Sorry about that, where was I?
Well, I wanted to get a haircut because it was my birthday recently and I wanted to look nice for my birthday dinner with my wife. She just came into town to celebrate it with me which was nice. I turned the big 3-0. Hopefully Balmer will take me out to dinner too! That's the least he could do.
We have three other guys on the team that I know of who have birthdays in September. Ray McDonald, mine, Isaac Bruce and Justin Smith all have birthdays this month. I think it's funny because we all have similar personalities. As d-linemen, we all like to have fun together, laugh and joke around.
Every week I feel like I'm getting better in our 3-4 scheme. The key to going to a new defense is getting as many practice reps as you can because practice is pretty much the hard part. When you get in the game, you should already have a concept of how you are going to play certain plays based on the offense. I just try and get as many practice reps that I can. I also try and learn from the guys that were here last year by watching them play their positions.