He called it Santa Clause-like, the nearly two-inch beard he's been growing since Week 2.
And if indeed Aubrayo Franklin is channeling his inner Saint Nick, he was certainly in the giving mood on Sunday when the 49ers beat the Seattle Seahawks 40-21.
The 49ers nose tackle finished the game with humble stats, just three tackles, but his effort helped give his teammates one the best gifts any defender can ask for: an interception.
The picks began with Takeo Spikes' midway through the second quarter. Then came Reggie Smith's. Next Dashon Goldson got in on the action and returned his for a touchdown. Finally, Nate Clements all but sealed the 49ers victory when he intercepted Matt Hasselbeck in the end zone.
After the game they all deflected the praise. They said those turnovers came as a result of quality team defense, and that the opportunities wouldn't have been there without the guys up front applying pressure on the quarterback.
And as defensive coordinator Greg Manusky said last week, all of the pressure his unit generates begins with Franklin, the man in the middle.
"Well of course, it all starts with the nose," Manusky said. "I've been saying that since I got here. I think it's a vital part of the defense because it's the nuts and bolts of it and everything acts off of it."
While Franklin may not always be the one bringing the pressure himself, he's the one taking on the extra blockers and freeing up his teammates to do so. His presence may not show up on the stats sheet, and some people may overlook what he does, but turn on the film you can see how much of impact Franklin makes on every snap.
"Playing nose tackle is sort of like offensive line in the sense that if your name isn't said very much you're probably doing a good job," Franklin's backup Ricky Jean-Francois said.
Said Franklin: "It's a thankless job. I just go in there and do what I can to free up my teammates. I have some of the best people in the business around me, and I know if they get the chance they'll make the plays."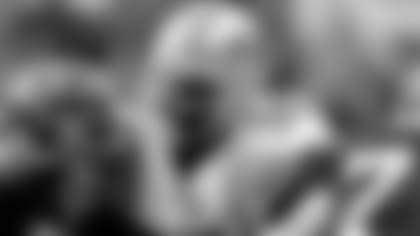 At 6-foot-1, 317 pounds, Franklin weighs about the same and is nearly three inches shorter than most of the offensive linemen he lines up against every week. So what allows him to regularly take on two of them at a time?
Technique, knowledge of the playbook and some veteran savvy.
Jean-Francois called Franklin the "Bruce Lee of nose tackles."  He said his mentor has nearly perfected the craft and that he hasn't seen anybody with better technique. Franklin's pad level is low, he fully extends his arms to strike the offensive linemen, and he knows exactly when and how to attack.
But all that technique would go for naught if Franklin wasn't aware of everything around him. As Manusky said, everything starts with the nose tackle, so Franklin has to be aware of which guys are his responsibility so his teammates can run free and make plays.
That isn't easy. Franklin has to know where all 11 defensive players are on every snap so he can direct the offensive linemen one way or another.
But the eight-year veteran doesn't mind the hours in the playbook and film room. That's what got him this far and that's how he's going to keep getting better.
"I've been doing it for so long, you just get used to it," he said. "When you get to the NFL everybody is good, so you have to put in the extra effort if you want to stand out."
And it's not just on the field where Franklin stands out. Jean-Francois said Franklin is "the best-dressed 300 pounder in the league," but the ever-humble Franklin said he's just wearing what he thinks looks good.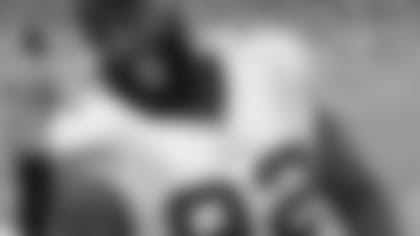 However, he couldn't help but flash a smile through his thick beard.
That's what you come to expect after spending time around Franklin. He has been playing the thankless position for so long he almost shies away from praise, but you can tell he appreciates it.
When asked to describe his play this season, he gave a typical Franklin answer – an unassuming "consistent." He added that he isn't focused on his individual play because right now all he cares about is winning.
But even if the 49ers can accomplish Franklin's goal – win out and make the playoffs –don't expect much self promotion.
While some players might revel in the moment, you'll likely find Franklin in the film room, working on his craft, sporting what one teammate called, "the best beard in the business."