It's hard not to eat everything in sight in the 49ers cafeteria. For one, you can always find cookies and brownies. Sometimes they even have Rice Krispies Treats with Oreo pieces inside. If that's not tempting enough, there's plenty of carbs to go around. The meals, available three times a day, are there to help players keep their weight consistent throughout the year. But the healthy options far outnumber the guilty pleasures. The never-ending salad bar, steamed vegetables, grilled chicken breasts and fish of the day option remain available on a daily basis.
Joe Staley has no problem navigating through the meal room. The two-time Pro Bowl left tackle maintains a disciplined approach. Staley, a former first-round draft pick, was once a 250-pound college tight end who ate everything in sight to become a 300-pound blue chip offensive line prospect. Staley could revert back to his days of eating heavy meals and keeping his body large and in charge like many of the linemen found in today's National Football League. But he doesn't. Staley prefers a complex and colorful lunch, much like his personality. It's a Friday afternoon in April and there are two pieces of grilled chicken covered with sliced avocados lying next to an assortment of vegetables – even brussels sprouts – on the plate. Talk about discipline. The 49ers blind-side protector isn't looking the other way when he's fueling his body during offseason workouts; he's carefully tailoring his meals to match his training habits.
"I eat this stuff every day," he says, digging into a leafy spinach salad to go with his protein plate.
Staley is smart on the field and puts just as much thought into the decisions he makes away from it. That, in a nutshell, is how Staley has grown into the player he is now entering his seventh season in San Francisco.
It's that thoughtfulness combined with one of the biggest personalities in the locker room that has turned him into one of the team's biggest leaders. Big, however, really isn't the appropriate word for it. Looking at the 6-foot-5 tackle, his appearance is nothing like it was years ago when he felt his body break down and foot speed diminish. Staley has since trimmed his weight, increased his strength and become a role model for aspiring offensive linemen. Why you ask? Because he can do it all.
Staley is as good at dropping anchor to neutralize bull-rushing defenders as he is at asking stupid questions to some teammates. The 49ers left tackle is one of a kind. And, he just so happens to be coming into his own. The athletic competitor is changing the game for left tackles in the NFL. Most of this year's top offensive tackle prospects want to be like him, too. Maybe not host a show on a web site like "The Joe Show," but they want to play the game just like him. They want to be tough, intelligent, consistent, nimble and passionate. That's No. 74 in a nutshell. And the nut that he is, is too good of a player to ignore.
SKINNY JOE SHOW / the 250-pound tight end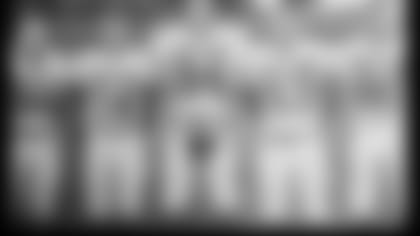 Rockford doesn't churn out Division I football prospects like other areas of Michigan. It did, however, produce Staley, the first, first-round draft pick in Central Michigan football history. Staley wasn't destined to be a first-rounder when he accepted a scholarship to play tight end for the Chippewas. Truth be told, he just wanted to play football for as long as possible following a football and track career at Rockford High School. The NFL was hardly in Staley's mind back in 2003 when he appeared in 11 games as a true freshman, catching 11 passes for 130 yards and one touchdown.
"It was never a goal," Staley says sitting upright at 49ers headquarters in Santa Clara. "It wasn't like I came to school saying, 'My goal is to become an NFL player.'"
That's precisely what happened though. After Central Michigan suffered a sixth-consecutive losing season, the coaching staff that recruited Staley was replaced by up-and-coming Grand Valley State coach, Brian Kelly. Central Michigan's program would enjoy its best years in the coming seasons, the very same years Staley switched from tight end to offensive tackle.
It was the collective idea of Kelly and line coach Jeff Quinn, who knew what they're doing on a football field. It also turned out best for all parties involved. Kelly has since moved on to head coaching stints at the University of Cincinnati and Notre Dame, where he led the Irish to the BCS title game in 2012. Quinn, the energetic offensive line coach, was hired as the University of Buffalo's head coach in 2010.
At first, it wasn't an easy sell. Staley would have to put aside his receiver gloves for padded blocking gloves. He also had to go on an uncomfortable weight-gaining spree. Staley considered the move for a few days and eventually accepted the challenge. If it would help the team, Staley was up for it. Even if the change meant waking up at 2 in the morning to drink 2,000-calorie weight-gaining milkshakes and lifting weights twice a day. Staley did those things in college and never lost his quickness along the way.
"It was a big step because No. 1 he was a very good tight end. He probably would be playing in the NFL as a tight end if he had stayed at that spot," says former CMU strength coach Paul Longo, the current strength and conditioning coach at Notre Dame. "We saw him as having the ability of being a great left tackle. Once he made up his mind, he never looked back."
Quinn, Staley's collegiate position coach, had a history of identifying athletic players at other positions and switching them to offensive linemen. Staley would be his latest and perhaps, greatest, experiment. "With a high-tempo system of offense, you need athletic offensive linemen," Quinn says. "We weren't just going to run power, we were going to run screens and pass pro. You needed guys with quick feet and good smarts. That's what I was looking for."
The Chippewa coaching staff recognized Staley's strong work ethic and adaptability; they also knew they were dealing with a team-first player who loved the game. Staley, however, had reservations. He felt like he was a liability as a blocker, so when the coaches approached him about moving to the line it was most perplexing.
"I was really confused with it," Staley recalls, "but they said put in a lot of hard work. I had the right mindset about it. I've always been about the team, doing what I could do to help the team. They sold me on that was the best position for me to help the team win, so I did it."
CMU was looking to rebuild its depleted offensive line depth and had a system that fit Staley's athletic talents. Quinn saw a gifted tight end in Staley, but he also saw a tall, lean, passionate kid. Quinn recalled the initial conversations involved a selling on his part. But Staley, the ultimate team guy, accepted the opportunity to help his school as a tackle. "When those things are both there along with the talent," says Longo, "you know you really have something."
The weight gain came easy – Staley put on 20 pounds the first offseason under Longo's workout and meal plan. Still, Quinn was apprehensive about how the converted tight end would physically and mentally adjust to the new position. But those concerns were put to rest early.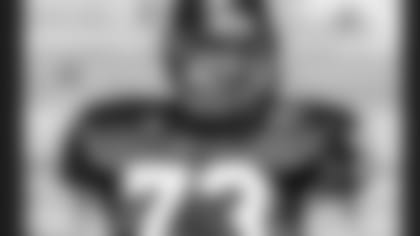 "Joe was maybe no more than 250 pounds soaking wet," Quinn recalls. "We had a tough practice one day and I remember Joe coming off and his face-mask was full of dirt. I looked at him and wondered is this guy really into it or not? I said, 'How you doing Joe?' and he grabs me, he says, 'I love this (expletive)!'"
He did, indeed. Staley started 11 games as a right tackle in 2004. He took his lumps early on but learned the techniques needed to excel in Division I football. The following year, Staley moved over to left tackle and didn't allow a single sack while recording 53 knockdowns in his first season as a blindside protector. By the start of 2006, NFL scouts flocked to CMU to learn about Staley. The Chippewas went 10-4 in Staley's senior year and won the Motor City Bowl, the first bowl victory in school history.
Staley was instrumental in that success. He also had a great time doing it. Was the future 49ers left tackle the very same outgoing player that fans see on "The Joe Show?" Yes. Very much so, according to coaches who laughed at his impersonations of teammates and coaches. Staley's personality has always been one of a kind. "The Joe Show" was always rolling; it just didn't have cameras to capture it. "That would be accurate," Longo says. "That hasn't changed. He just got bigger; it was a skinnier Joe Show back then."
Humor aside, Staley was all-business on the field. Quinn recalls Staley allowing one sack during his senior year and that didn't come against Big Ten opponents: Michigan, Michigan State or Penn State. Considering he went from 225 pounds in high school to 290 as a senior in college, Staley's rise on NFL draft boards was quite impressive to say the least. All the while, he maintained his speed. Staley's 40-yard dash clocked in at 4.7 seconds at his college pro day.
"He's one of the smartest and most knowledgeable players I've ever coached and is very sound with his fundamentals and techniques," Quinn recalls. "He finished. This guy played as hard as he could every snap. That was something we instilled in that group and they were rewarded, they won a MAC Championship Joe's senior year because of his leadership. The next thing you know, we go to a bowl game and he's drafted in the first round."
DIET RIOT / the anti-weight loss campaign
The 49ers not only drafted Staley in the first round of the 2007 draft, they traded a first-round selection in 2008 and a fourth-round pick in 2007 to the New England Patriots in exchange for the No. 28 overall pick to get him. Staley was their guy.
But it wasn't just San Francisco that tried to acquire his services. The Kansas City Chiefs were also in pursuit and were strongly considering making Staley their pick at No. 23. San Francisco's offensive line coach, Mike Solari, was a member of the Chiefs coaching staff in 2007 and remembers Staley nearly being Kansas City's choice.
"We also had him really high," Solari recalls. "It came down to the situation where we felt we needed a receiver, Kansas City chose Bowe, but Joe was right in the conversation on if we were going to take his card up."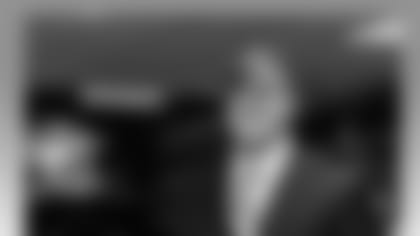 The longtime offensive line coach who was with the 49ers from 1992-96 and returned to the team in 2010 can still remember spending time with Staley before the draft. Solari also recalled why teams were enamored with the CMU prospect.  "Joe stood out just with his ability to run and move in his perimeter blocking," Solari says.
Staley began his professional career as a right tackle where he started all 16 games as rookie in 2007. The following year, Staley moved to the left side of the line and continued his heavy eating and lifting schedule. Staley got up to 325 pounds by the end of the 2009 season, but he also felt it was a detriment to his on-field success. In 2009 and 2010, Staley only started in 18 games, nine in each year. Injuries and slow foot-speed made Staley want to change back to his college playing weight.
"I was fat," the left tackle says looking back on his appearance. "Everybody would tell me you have to be a certain size to play in the NFL and I kept gaining weight. By my third season it was the first time I really felt like I lost all the foot speed that I had, the agility. I was sacrificing all of that just to put on weight. I didn't feel like I was a good player anymore. Then I started getting injured. After that fourth season I was about 320-325, I said to myself, 'My career is going to be over before it really begins.'"
Staley made a decision in 2010 to get back to his style of play and work towards achieving a leaner body. He worked out with teammates at San Jose State University during the NFL's offseason work stoppage and maintained his focus of adding strength and losing weight. It worked. By Staley's fifth season he reported to camp at 308 pounds and went on to make his first Pro Bowl.
The choices Staley made were well-received by his former coaches, too. Quinn credited it to Staley being an intelligent football player. "He's really true to what will make him most successful," Quinn says while taking a break in between Buffalo's spring practices. "He's tailor-made it into what fits him. It's not about the weight, it's about the body fat, the body composition, the ability to anchor and still have strength and power."
Staley's evolution also speaks to a trend in football at all levels. Offenses need quick linemen to neutralize the athletes on the other side of the ball. If defenses are more explosive, players like Staley have to compete with their foot speed. "You don't need to be 330 pounds to be an effective offensive lineman," Quinn says. "It's a myth. I was always looking for lean body types. For Joe, it's been cool to see what he's been able to do."
Staley kept the same mindful approach to his offseason workouts before the 2012 season and enjoyed the best year of his professional career. The 49ers won a second consecutive NFC West title and reached the franchise's sixth Super Bowl. The offensive line was recognized by several media outlets as the best in football, including by Hall of Fame coach John Madden who named them his "Most Valuable Protectors." Staley made his second consecutive Pro Bowl at his preferred playing weight.
To get there, however, the blindside blocker dealt with a shot to the system in Week 1 of what turned out to be a 19-game schedule. In the season opener against the Green Bay Packers, Staley faced another Pro Bowler, outside linebacker Clay Matthews. The Packers standout totaled 2.5 sacks in the game and left his mark on Staley.
After repeated collisions in the first quarter, the bridge of Staley's nose was cut from his own helmet rubbing down on his face. It was painful. Staley's white road jersey was covered in his own blood before San Francisco even made to the locker room inside of historic Lambeau Field. Not to be deterred, Staley produced an inspired second-half performance against one of the league's best edge rushers.
"I viewed it as he was being a tough guy, a team-guy first," 49ers co-offensive line coach Tim Drevno says. "He would find a way mentally to push through it. He's going to help us try to win the football game. At Green Bay, he was battling one of the best defensive rush guys in the league – it was courageous."
"Joe is a tough guy," Solari says, echoing Drevno's stance. "He's not just a hard worker, he'll compete and when his nose was busted open, he didn't want to come out. He got it cleaned up and he said, 'I'm ready to go.' He has accountability to his fellow offensive linemen. Those guys took a lot of pride in playing together and Joe sets the table in that aspect."
Staley dealt with the pain from his nose. In doing so, he battled in the run game against Matthews and opened lanes for Pro Bowl running back Frank Gore. San Francisco's balanced offense that day all but took the wind out of Green Bay's sails as they defeated the Packers on the road for the first time since 1990. Staley's college coaches took tremendous pride in seeing their former pupil succeed in challenging circumstances, too.
"You talk about mental and physical toughness, Joe represents that," Quinn says of Staley's gutsy performance in Green Bay. "That's what Joe's all about. In this game, your toughness will be revealed. A lot of guys can make excuses. That's not Joe Staley. His mindset is all about winning."
LUCKY 13 / passing the torch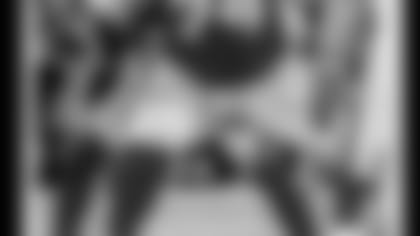 Staley is looking at the upcoming 2013 season the same way he viewed the past two years under Jim Harbaugh. He's eating smart and training harder. He's also showing his veteran wisdom even more than ever.
"You have to do what plays to your strengths," Staley says. "My strength has always been being quick, athletic and being able to move well. I don't want to sacrifice that just to be a certain size."
In Staley's mind when you get too light, the opposition tries to bull-rush you. Strength is crucial. That's been the emphasis of the left tackle's off-the-field training. "If I lose weight, I have to keep my strength up," he says. "Right now I feel stronger than I've ever been, while also being smaller I've ever been in my career."
The workouts, now being done at 49ers headquarters as part of the team's offseason strength program, remain important to Staley. That's why he continues to set the tone with the commitment needed in training. Drevno thinks of Staley as another coach in the o-line room. "He's one of the tireless, hardest workers," the offensive line coach says. "Football is important to him. It's a coach's dream to work with him because he's such a complete guy."
Besides asking the right questions in meetings during the season, Staley tirelessly studies opponents, with an eye on always looking for insight on the opposing pass-rusher's best moves. Those study nights won't take place for some time though. For now, the players are in the second week of offseason workouts to be followed by two weeks of on field instructions from the 49ers coaching staff. Then comes organized team activities and minicamps. Drevno can hardly contain his excitement. He can't work with the players just yet, but he'll be ready when the time comes.
"You're like a little kid in the candy store when the guys get back," the 49ers line coach says. "It's awesome to start working with them when the time comes for us to do that. Going on the field and being able to coach is your medicine. You can only do so much film-watching, you need to break the huddle, get down on the line, see the ball handed off to Frank Gore, or see Colin Kaepernick standing back there throwing a bullet to somebody… You get a new surge of energy for the year. And this is a good football team; all we can do is get better in what we do."
To get better, the 49ers will rely on leaders like Staley. Solari appreciates how his left tackle sets the example for the younger linemen on the roster, how he treats offseason workouts and practices like regular seasons games.
"It doesn't matter if it's an OTA, a minicamp, a training camp or during season, Joe's always going to give you all he has," Solari says. "He has great work ethic.* *The way he approaches the meetings, he's always prepared. He wants to know what's going on and he's very detailed."
Solari has worked with several athletic linemen during his coaching career. He also knows how those traits were stressed by legendary 49ers offensive line coach Bobb McKitrrick, an inspirational coach who passed away from cancer in 2000.
"Joe fits that standard," Solari explains. "Bobb always wanted athletic offensive linemen and Joe fits tradition of athletic offensive linemen being able to play low to the ground. Joe is right there with the Harris Barton-type of athlete."
Solari has enjoyed seeing Staley's maturity in the last three seasons he's worked as the 49ers offensive line coach. Solari appreciates how his left tackle continues to hone his craft and play with better technique, especially learning the best ways to use his hands to counteract aggressive pass-rushers.
As the offensive line coaches dig through this year's draft prospects, they couldn't help but notice several incoming rookies mention Staley as a source of inspiration. Top tackle prospects like Eric Fisher and Lane Johnson singled out Staley's as a role model for their own athletic play.
"Quite a few of them have been a tight end earlier in their careers because of the athleticism you're looking for and the foot speed," Solari says of the offensive line prospects he's studied in this year's draft. "Joe was able to develop and put the weight on properly, he was a leaner athlete. Being leaner, you're quicker and have more athleticism in your body, more of a quick-twitch. In this year's draft you're seeing former tight ends become tackles.
"The nice thing about Joe is that he can fit into any system because he is quick, he is explosive and he does a great job of playing with leverage. He's always got knee-bend. You appreciate Joe when you watch his athleticism and his ability to stay with defensive ends that are fleet-footed."
Staley, on the other hand, hasn't paid much attention to compliments he's receiving from incoming rookies. He does, however, appreciate Fisher's rise in prominence. The offensive tackle figures to be the next CMU prospect to be drafted in the first round and the highest ever in school history. The tackles spoke at Fisher's pro day, too. Staley has given back generously to his alma mater, all while supporting charities that look out for children. Staley always makes a point of making an offseason trek to his home state to check up on his family and school.
"When I go back there it reminds me of how long ago it was," Staley says. "I didn't have any aspirations of playing in the NFL when I got to college. I was just happy to be playing college football; it was something I was happy to do. It was the way my career went, becoming a draft prospect to someone who was drafted kind of high and here I am, working."
Staley might not want to dive too deep into his remarkable journey, but his former coaches love every moment of it.
"I have a ton of respect for Joe," Longo, the former strength coach says. "He's earned his success every step of the way. It's nice to see when you have a vision for the kid and the kid buys in and that comes true. In our business that's as good as it gets. It's a life-changer for the player."
Turns out, the weight shakes and double-day workouts were all worth it in the end.
"Joe is the epitome of what you can become through strength and conditioning," Longo adds. "To make such a big change like that and be at a small school and put on all that weight and take it all the way to a Super Bowl and two Pro Bowls, it's inspirational. I use him as an example to my young players. This is what you can be.
"He doesn't know it, but he inspires a lot of the young guys who are out there right now."
Quinn shares Staley's rise to NFL stardom to all of his linemen at Buffalo as well.
"It's a great story. He's a great example and a great man. We're all really proud."