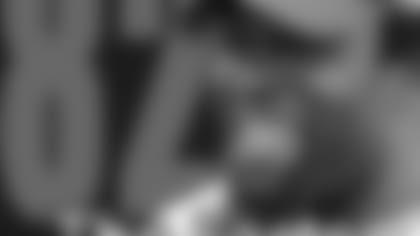 Veteran wide receiver Darrell Jackson joined the team via trade this April from the Seattle Seahawks. All season-long, #82 will trade off with CB Nate Clements to give you their thoughts on the upcoming game. He'es what DJack had to say about the Steelers.**
The first fact I'd like to talk about is that as a team we are 2-0. I know that everything doesn't always go right in a win and that people want you to win the way they think you should win, but at 2-0, we are right in stride in terms of where we want to be as a team.
As an offense, we are hairs away from making those big plays. We'll click on all cylinders as we go along, and I think across the unit, we'd rather be hitting our stride late and have our struggles early as we are right now. Our defense fortunately is holding us down, along with some help from special teams and they have bought us the time we need to get everything in working order. Of course, we want to go out and score 40 or 50 points a game but sometimes the game doesn't dictate that. Sometimes you have to play out your grudge matches, which is what we've done so far. I think we'll have our shootout games too this year. It's all just really about doing whatever it takes for us to get a W.
We've got a big game coming up against a Pittsburgh team that is really aggressive on all fronts, particularly on defense. The front seven and the back end all move around and really fly to the ball.
The biggest key for us on offense will be how well we handle their blitzes and coverages that they throw at us. They put in a lot of different wrinkles on defense, and they really blitz from everywhere, and at all positions. You aren't necessarily going to know where they come from so you have to know your assignments and be ready to make your blocks. You've got to get a hat on a hat and then it's just a matter of playing pass and catch with the open man because when they blitz, someone will be open. When they blitz, they tend to play more zone and cover off and then sit in the areas where they think the ball will go so we have to pick the blitz up to give Alex time to find someone. As receivers, we've got to run correct routes, get open and make the catch so we can gash them and make them come out of that blitz. Blitzing is their comfort zone and what they pride themselves on, so if you hit one of those big plays and you can get them into something they aren't comfortable in doing.
We also need more big runs from Frank Gore, like the one he popped last week. Anytime they put 9 down there, we've really got to stay on our blocks as receivers because if our back makes a guy miss, we can really aid him in getting those long runs in the rushing attack. Once you hit big plays on either the run or the pass, you really gain momentum as an offense, and that's what we like. That wins football games.
In the Steelers secondary which is what I look at the most during the week, Troy Polamalu is obviously a great threat out there. He flies around and makes a lot of plays. He's their anchor and they use him in a lot of different positions. They walk him up on the line, they drop him, they just really utilize him in various ways to allow him a chance to use his athletic ability. He's also an inspiration for them, and he's going to make his plays but we also need to capitalize when they make mistakes and make ours.
Deshea Townsend is a veteran corner and he knows what he can get away with and what he can't. He's very disciplined in his scheme and how he plays things, so you really have to use good technique to beat him.
Ike Taylor does like to gamble out there, so he's a guy you need to really beat when he does and try to make him uncomfortable.
Ryan Clark and Anthony Smith both see time opposite Polamalu at safety and they are big hitting safeties. They play deep and like to knock the ball out. They are physical and they can run and cover a lot of the field. They really use those guys more to make sure nobody gets deep on them when they run all of those funky blitzes.
On offense, they are a run first team, although they are putting it up in the air a little more this year. It's working for them. When we get the ball, we need to try and control the clock and be efficient and keep the ball so that we can help out our defense. They've done an excellent job for us, but we can make their task easy by having better time of possession on offense.
It will be a good test for us going into an away stadium on the east coast and see where we are at as a team. Hopefully we can put something together for four quarters and not have to win on the last drive but if that's the case again, we're ready for the task and what waits ahead of us. We plan to go out and handle whatever they throw at us so we can come home 3-0.