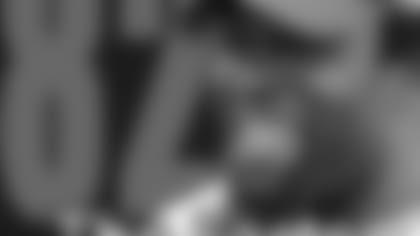 Veteran wide receiver Darrell Jackson previews Sunday's game against the New Orleans Saints. Get a little bit of a scouting report and find out what he thinks some of the keys to getting a W are for this Sunday!**
The guys on the Saints defense have played together for a little while for the most part, although they have added bits and pieces each year it seems.
I know from playing them last year when I was in Seattle that they are a solid group – their defense as a whole is a sold group, they aren't too many big name players on that team, but that means you've got a lot of guys who work hard with high motors. They all contribute and get the job done.
They have two great defensive ends in Charles Grant and Will Smith Grant is the man who makes them go. Our offensive line definitely has to be aware of the pass rush. We've given up a lot of sacks this year and they are going to try to do the same thing that the last few teams have done to us and that's blitz and get pressure on our quarterback. That defensive line plays hard and we've got to be at our best to give Alex Smith the time he needs to get the ball out.
It will be good to have Alex back out there.  Last week Dilfer made some great throws and we made some plays here and there but the turnovers really broke our back. We ended up in a large hole in terms of the points they put up off of our mistakes and you can't get down that far because it just makes it harder to do anything on offense. When defenses get up on you they know you are going to pass so they can really start teeing off on your and they can afford to take more gambles.
As for the secondary that we have to attack, I'll start with Mike McKenzie, who is the most experienced corner on their roster. He's a smart corner and he really plays great technique and doesn't give up the big plays too much.
Jason David is a guy I haven't seen too much of this year since he's been hurt. I think he's an excellent cornerback. He came over from Indy where they ran a lot of Cover 2. I'd like to see if he comes back how he fits into their scheme of three deep and a little man to man press that they use.
Jason Craft is smart, aggressive corner, and he's starting in place of David. He likes to gamble and try to reroute corners. I think he's a little undersized but he gets the job done and it'll be a great match up for us as receivers.
Roman Harper is a safety they like to keep down in the box a lot. He's probably the best tackler. He's a guy who can get the job done and he likes to mix it up and hit and he's a very good strong safety in this league.
Josh Bullocks is a guy who also plays his position well. He's not out of place too many times. I haven't seen too many balls go deep over their head in the secondary.
They've got a lot of playmakers on offense, a lot of playmakers on defense and we need to try to keep their big plays to a minimum and get some turnovers from our defense to keep giving us more chances.
I'm a little gimped right now with a quad injury, but I'll keep pushing so I can be out there and be productive whenever I'm called upon. If I can't go I know all the other guys will take up the slack because it is a team game.
New Orleans had a lot of success last year and although they started off struggling, they've built up some momentum with two big wins. They have a lot of pride and a good coach in Sean Payton. Last year was a great inspirational year for them and I think they are still feeding off some of that motivation, and they are definitely not a team that is going to quit when things get rough.
I think they had some turnovers early on in those losses, but they've shored that up and on both sides of the ball they know what it takes to get it done. They know how to pull games out, which is why they had so much success last year in the playoffs. They are looking for their third straight win right now, but we've dropped four and we are really looking to break that. I think it's a game between two teams at 2-4 trying to find their way and we'll fight tooth and nail to be the ones to get the win.