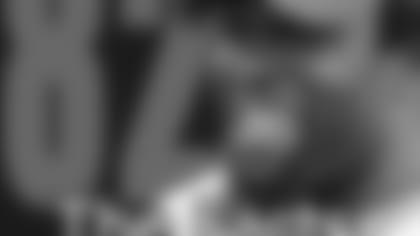 Veteran wide receiver Darrell Jackson joined the team via trade this April from the Seattle Seahawks. All season-long, Jackson will trade off with CB Nate Clements to give you their previews of the upcoming game. Since Jackson already has a good feel for the NFC West Division, he's up first to break down Monday night's game against the Arizona Cardinals. **
Starting off with the Cardinals defense which is what the focus is for me on offense, they are a bunch of guys who like to fly around. They are very physical. They are very young, very talented and they like to fly around and compete. As a whole, they are fast and aggressive, and they fly to the ball – any ball thrown or any run play you'll see all 11 going to the ball. They are very hungry and they like to make plays and they like to compete. They are a good defense and will be a good test for our offense. They'll bring it on Monday and we'll have to be ready. It should be fun coming out on Monday night to compete against guys who enjoy competing just as much as we do.
Obviously as a receiver, I pay the most attention to the secondary. Safety Adrian Wilson is the catalyst back there, he gets everything going, but that secondary likes to make things happen.
Terrence Holt is a good safety, he's got great range. He's very athletic and he knows what he's doing. It's hard to get the ball over his head deep but we're looking forward to the match-up and we definitely respect his skills.
Roderick Hood is a guy who likes to bump a lot. He's very comfortable with his bump skills and very confident in his man to man skills. He likes to compete and gets after it.
Again, I've watched Wilson progress into his Pro Bowl form. He's got great athletic ability, he runs like a corner but he comes in the box and likes to hit. They use him to stop the run, and they use him to stop the big plays.
I think Eric Green is another nice corner. He's a very physical guy. He likes to play over the top and he knows what he's doing over there.
They'll likely try to stop Frank Gore first by stacking the box, so we'll have our chances at one-on-one coverage on the outside. Any time you get a one on one match-up you have got to win it. You don't see those too much so any time you get one, it's a call for you to win your battle, and a chance to make a big play and get YAC. Any time you see man to man, you are licking your chops for that.
Our defense needs to stay disciplined. We know what they like to do and their tendencies and we've got to play our game, and be assignment correct. I know Nate Clements, Walt Harris, and all of those guys are going to look to get a bunch of big plays for us to get the ball right back.
They've got some weapons on offense. Their receivers make all of the catches. Anquan Boldin is great catching the ball and running with it and Larry Fitzgerald is a great leaper who makes a lot of acrobatic catches and Johnson is coming along as a deep threat and they've got a nice three-way combination.
Matt Leinart had a lot of success in college and he's a great young prospect. The sky is the limit for him. He likes to sit in the pocket and he's got a nice feel for the game in terms of where to go with it, and when to go with it.
We've got to stop Edgerrin James and the run game, force them into throwing the ball and get the game into more of a one-dimensional game for them and so we can blitz more and get some big plays in the secondary.
The number one thing for us is not to beat ourselves. Penalties and turnovers can really cost you.
I think it's going to be a scoring match and we just have to capitalize and get it in there for TDs. I think we'll both move the ball, but that it will come down to whoever makes the least mistakes and really capitalizes on our opportunities the most.
The Monday night game is a big thing for this team which hasn't had a Monday night game in a few years. The young players especially need this experience of playing in a big game on a national level. It gives us a chance to go win in memory of Bill Walsh and set the tone for the season, and get on track for our playoff goals week one. It also means you get to enjoy taking phone calls the next day from all of your friends and family who will get to watch the game!