Quintin had been waiting for this all weekend.  With every passing day he became more anxious.
The 12-year-old from Modesto knew the 49ers Youth Football Camp was going to be fun, but he had no idea just how amazing it would be.
"When we drove up and saw the 49ers building I knew it was going to be awesome," Quintin said. "This has been so much fun. It's probably the coolest camp ever."
Quintin was just one of 150 boys and girls who felt the same way when they arrived at the 49ers Santa Clara practice facility Monday morning.
The three-day camp was open to kids between 7 and 14 years old, and no matter the age, everybody had a great time. The campers learned the fundamentals of every position, they listened as 49ers players and coaches talked to them about the importance of staying disciplined, and they got autographs from some of their favorite 49ers.
"It's hard to pick just one favorite part," 10-year-old Elena said. "We did so much and it has all been so much fun."
Ensuring that every camper learned to play every position was very important to the 49ers. The goal of the camp was to expose the kids to all aspects of the game so they will have a well-rounded football background.
"As the kids start getting older, football often becomes very specialized – you pick a position and stick with it," said Jared Muela, 49ers youth football coordinator. "We just wanted to give the athletes the opportunity to experience all of it. We want them to get a feel for what they like, what they dislike and what they're naturally good at."
The first day of the camp was spent focusing on the fundamentals. The campers were divided into four groups and they spent the day going from station to station learning how to play the different positions – quarterback, running back, wide receiver, offensive line, defensive line, linebacker and defensive back.
Day two was spent in a similar manner, but there were several special surprises in store for the campers.
Several members of the 49ers 2010 rookie class spent the morning coaching the campers and showing them the skills necessary to play in the NFL. Then just before lunch, safety Taylor Mays sat all the campers down and talked to them about the importance of having fun with football and respecting their coaches, parents and teachers.
During lunch, running backs coach and former 49ers Super Bowl champion Tom Rathman spoke to the kids about making the right choices both on and off the field.
"His message was not only great for sports, it was great for any little boy or girl growing up," said Robby Solomon, who was at the camp watching his son participate and play. "This [camp] is fantastic. They teach them about so much more than just football."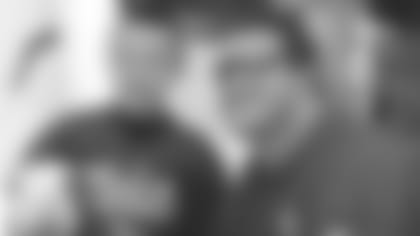 The lunch time festivities continued with a visit from left tackle Joe Staley, who answered some questions from the campers before signing autographs for all 150 kids.
"When I was younger, I actually never went to a football camp," Staley said. "But I really wish I had gone to a football camp after being here because this is fun. These kids are having a great time.
"I think that's what it is all about when you're young. Playing sports is all about just getting outside, being active and being with your friends."
On the final day of camp the kids got to implement all the skills they had learned.
They lined up offenses complete with a quarterback, running backs, wide receivers and an offensive line and executed the plays they practiced all week. And as they had throughout the camp, everyone got to play every position.
"It was just really fun," said 7-year-old camper Nico. "If you want to come here next year that would be a great idea if you are a 49ers fan."