The San Francisco 49ers Charlie Wedemeyer Memorial Coach of the Week award presented by the California National Guard for week ten goes to Michael Johnson of King's Academy High School in Sunnyvale, Ca.
A high school football coach has roughly a two-year window of opportunity and commitment with an individual athlete to instill the cultures of the game and the discipline which corresponds. Each coach has their own method of preparation, training, fundamentals, and core principals they wish to bestow in their young men, which, if you've ever spoken with a collegiate or professional athlete, could have an everlasting influence on the direction in which they live their lives.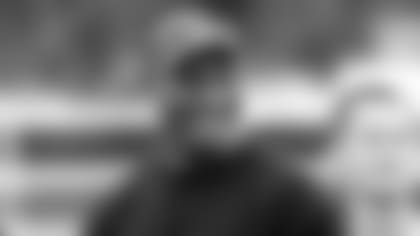 High school football coaches are also given the unique situation of annually educating a new group of young men that had never played football in an organized setting prior to their freshman year, combined with seasoned athletes. Introducing a sport which demands discipline, a new level of physical exertion, as well the learned aspect of playing for the next man- is a skill. A skill that many coaches aspire to have, but few truly attain.
Head Coach Michael "MJ" Johnson of The King's Academy High School has compiled an exceptional coaching resume throughout the years, trusting that part of his purpose has been to guide and inspire young men using his long time passion and expertise—the game of football. Coach Johnson's dedication and devotion to the Knights has earned recognition by the 49ers as week ten's Coach of the Week.
As the King's Academy approached the end of the regular season with only a couple games left, the Knights trounced on the road against Carlmont High with a win that will keep spirits high for playoffs, but also solidifies their seat as Peninsula-Lake league champions. In one of their final games, the Knights registered 47-14 victory taking them one step closer to the title.
"Our guys have continued to stay strong all season," explains Coach Johnson. "They came together that game and played well."
Often asked how coaching in the NFL has translated into coaching high school football, Johnson explains that fundamentally, there is an advantage as far as his well-earned background goes. Having been a wide receivers' coach, quarterbacks' coach, and offensive coordinator for Oregon State, UCLA, the San Diego Chargers, Atlanta Falcons, Baltimore Ravens, and San Francisco 49ers (under Mike Singletary), Coach Johnson has accumulated a wealth of knowledge, totaling 11 years in the NFL and 4 years in the Pac 12. As of late, Coach Johnson has been the Player Personnel Director for the 2014 Semper Fi High School All-American Bowl Game. In partnership with the United States Marine Corps, Coach Johnson strongly trusts and implements on his team the 14 Core Leadership Traits learned by his experience with the Marine Corps: Justice, Judgment, Dependability, Initiative, Decisiveness, Tact, Integrity, Enthusiasm, Bearing, Unselfishness, Courage, Knowledge, Loyalty and Endurance.   
 "The King's Academy is a little different," explains Coach Johnson, "We focus on building the entire person, which includes the way they play but mostly how they behave outside of football."  
The game of football has the ability to broaden a developing player into more than just an athlete on the field. The core principal the Knights coaching staff believes is imperative to their young men is FAMILY, which serves a double meaning as a special acronym unique to their team: "Forget About Me, I Love You." This idiom has built a bonding philosophy among the players, staff, and parents. Harnessing the Knights community and 2014 squad together, Coach Johnson has molded an incredible leading role throughout his first season at the King's Academy. Treating this contract no different than any other coaching position, Coach Johnson has fully immersed himself into the Knights' family with passion for coaching and the game. With this he has built a team with incredible character, skill, and opportunity beyond their time at the King's Academy.
For being named Coach of the Week, Michael Johnson and the King's Academy football program will receive $1,000 grant from the 49ers Foundation. Coach Johnson will also be featured on Cal-Hi sports and receive two tickets to a 49ers home game where he will be recognized on the field prior to kick-off.  In the weeks leading up to the on-field recognition, Coach Johnson will be invited to visit the 49ers SAP Performance Facility in Santa Clara to watch a private practice and receive a certificate from 49ers Head Coach Jim Harbaugh.
Congratulations Coach Michael 'MJ' Johnson and the Knights!