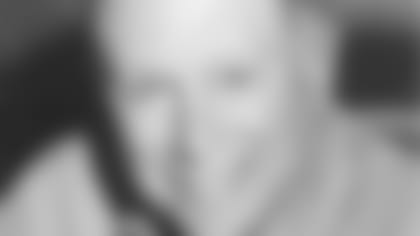 Martin Jacobs has been an advanced collector of 49ers memorabilia for nearly 54 years. He has established himself in the hobby as a respected market authority in virtually all major areas of the advanced sector. He continues to collect to enhance his 49ers collection and welcomes any comments and desires any 49ers memorabilia to purchase. He also offers free appraisals. He can be reached by email: ****MJacobs784@aol.com***  
Helmets are great items to add to your sports memorabilia collection. I have received several questions regarding some of the 49ers helmets, and I hope that my answers will help some of you out as you go about collecting them!
I've seen some 49ers helmets from the late 1950s and the early '60s, and they're silver instead of gold. Knowing that they have gold helmets now, did they ever have gold helmets at all during the team's inception in the late '40s or anytime during the '50s? If not, when did they finally turn gold? --E.C. Daly City, CA
Dear E.C:
The following is a recap of the early 49ers helmet styles:
1946.....................Solid White (leather)
1947 -- 1949......... Gold with Red "suspension pattern" trim (leather)
1950 -- 1952..........Solid Gold
1953 -- 1955..........Red with Silver center stripe
1956.....................Solid White
1957 --1959...........Solid Gold
1960 --1961...........Silver with (3) Red Stripes
1962 --1963...........Silver with (2) Red side stripes (1) White center - stripe and "SF" logos
(note - in 1964 the helmet color changed to gold and the striping and logos remained unchanged)
I understand the 49ers disbanded clear Lucite face masks in the late 1950s because they were found to occasionally shatter on impact. Was there a reason why? ---D.L. Manteca, CA
In 1954 Joe "The Jet" Perry of the 49ers was one of the first players to wear the clear Lucite facemask to help protect his broken jaw. I am not aware of any notable instances of this type of facemask shattering during play and considering how many different players wore this type of facemask in the late 1950s, including Y.A.. Tittle, John Henry Johnson, Bob St. Clair and Bob Toneff, it makes one wonder if the Lucite facemask was actually more durable than it was reported to be. **
I have noticed in numerous pictures that the Gold helmets of the 49ers looks different, is this just lighting or did they change shades? Do they have a name like 49er Gold? When and why did they change?
--J.J. Rohnert Park, CA
The 49ers changed the style and color shade of their helmet in 1996. The main reason was the team liked the shade of gold painted on top of a gray helmet shell, rather than painted on top of a sunflower gold shell that was used prior to '96. The resulting helmet is now a darker shade of gold and the contrasting trim color has also changed from plain red to dark red. The color of the paint is referenced by a number code according to Riddell All American who paints the helmets for the team. The logos and striping design were also slightly modified.
In many photos from the 1950s, you can see that some players wore facemasks and others didn't. Was this left up to each player or did the teams make the decisions regarding the use of a mask? -- O.L. DeMoines, IA.
In 1954 the National Football League made it mandatory that all players wear some type of face protection. Within that decision was the provision that players already in the league could continue to play without a mask if they chose to do so. For the players entering the league and those choosing to wear a mask, the options were limited. Each player chose his own mask.
What type of helmet did receiver Billy Wilson wear during his 1959 season with the 49ers? --M.B. Calistoga, CA
Billy wore this Riddell model "TK-5" in 1959 and 1960. It features a six-point suspension webbing, concussion padding accessory, painted on stripes and had a stamped "9" to reflect its 1959 manufacturing date. The helmet was previously painted blue for his 1959 Pro Bowl appearance (the Eastern Conference helmets were painted red) then reconditioned for the 1960 season by repainting silver. The 49ers predominately wore Wilson helmets during the 1950s but Billy disliked the Wilson helmet because he felt it was too flimsy and insisted on wearing a Riddell.