A "Turkey Bowl" game in Kettering, Ohio. A Brian Urlacher workout DVD found on Google. A love for Wisconsin football in all forms. A disdain for the Ohio State Buckeyes.
What do these things have in common?
All of them helped Chris Borland become a starting inside linebacker for the San Francisco 49ers.
Sounds a little crazy, right? Well, the previously listed things will make a lot more sense after we share the findings of two recent conversations. The first was with the rookie linebacker's older brother, Joe, who took time from his work as a prosecutor for the U.S. Army Jag Corps. in Clarksville, Tenn., to speak with us. The second was with Chris' high school football coach Ed Domsitz, who is preparing this week for the semifinal round of Ohio's state championships.
The Borland clan grew up in Kettering, although it wasn't your typical family in the football-loving hotbed of Ohio. Jeff Borland, the patriarch of the bunch, raised his six boys and one daughter to appreciate all things Wisconsin-sports-related. That's not the norm in Buckeye country. But as Joe explained it, Jeff's father, Hank Borland, was a proud alum of the University of Wisconsin.
The Borland boys often watched Badger games. They wore a lot of Green Bay Packers jerseys, too.
Chris, the second-youngest of six boys, played football with his brothers; he also tried to keep pace with them in other ways. Joe, 13 years older than his NFL-playing brother, remembered Chris running around their home with two-pound weights in each hand. The story gets better. Chris used to do that in the winter time… as a 4-year-old.
"He's always been the type of person where if he said he would do something, he would do it," Joe said. "He was always all-out, always hard-working. I think that's somewhat innate."
It makes sense then that Chris became a decorated college linebacker and is now a
two-time NFL Rookie of the Week winner, plus an NFC Defensive Player of the Week honoree.
Joe, Chris and the rest of the Borland kids played a lot of backyard football. Chris didn't play organized football until he reached high school. Jeff opted to have his sons play soccer before football. He made Chris wait until the ninth grade to put on his first pair of shoulder pads. Coach Domsitz recognized that the brotherly household competitions brought out the best in Chris when it was his time to play football. "It's not surprising considering the family," the tenured football coach at Archbishop Alter High School said. "The brothers were all very competitive."
Chris made his football debut as a freshman at Alter. He earned first-team all-state and conference player of the year honors by the time he was a senior. But in order to get to that level in the Midwestern football mecca, Borland had to make sacrifices. He had to eat the right food. He also had to work out after track and field practices.
Joe was there to make sure that Chris had guidance in the weight room. The older brother recognized that Chris' college future would hinge on whether or not Chris could play linebacker. So Chris focused on the positon more than playing tailback. Joe helped coach Chris' track and field team and devised a plan that would get his brother ready for his senior season.
He went directly to the Internet.
There, Joe discovered the Urlacher workout program.
"It was a happenstance of using Google," Joe said. "He happened to be an All-Pro at that time. We appreciated his talent, but I wouldn't say we were a fan of the Chicago Bears or him specifically."
No, the Borland's loved all-things Wisconsin. So much so that Chris used the former NFL star's training regimen as a way to add body mass and explosiveness to his football arsenal. By the time Chris' senior year came around, the young linebacker weighed 217 pounds. That year, he recorded 72 tackles, one interception, one forced fumble and two fumble recoveries on his way to being named team MVP and Defensive Player of the Year by Ohiovarsity.com. He was also a punter for the Knights. Despite all the improvements and dedication to his craft, Chris was a two-star recruit.
He did, however, earn Domsitz' respect. That mean that the respected coach was eager to pitch Chris to college coaches. "When it came time to talk to people on the next level about Chris," said Domsitz, who is in his 23rd season at Alter, "it was a pretty easy sell because he really had all the qualities that you want whether it was athletic or personality, character, work ethic and all of those things."
Chris was never offered a scholarship to Ohio State. It didn't matter. He didn't want to go there. Bret Bielema, Wisconsin's then head coach, offered Chris a scholarship as an "athlete." The Badgers coaching staff didn't know where they'd play Chris initially. They just knew he could play.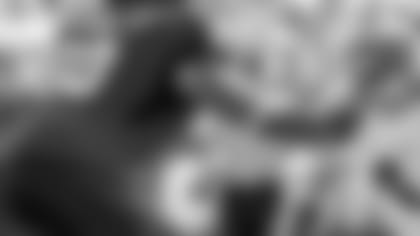 Chris arrived to Madison, Wis., in 2009. He instantly made an impact on special teams, according to 49ers cornerback Marcus Cromartie, a former Badger and a current member of San Francisco's practice squad. "He caused fumbles and made every tackle on special teams," Cromartie said.
Chris redshirted as a sophomore due to an injured left shoulder that required surgery. When he returned to the field, he earned a starting role on defense and created a lasting legacy of big defensive plays for a perennial power in the Big Ten Conference.
"It was pretty awesome to see him play for a team we all cheered for growing up," Joe said. "I think he learned the linebacker position during his course of time there. As a freshman, it was all about flying around and flying to the ball. But I think he later became fundamentally sound by the time he left there."
Chris started 48 games on three Rose Bowl teams at Wisconsin, including the '11 squad that featured Russell Wilson as the starting quarterback. More on him later. As for Chris, his statistics and trophies were as impressive as anybody else's in the country. He totaled 420 tackles, 50 tackles for loss, 17 sacks, 15 forced fumbles, eight fumble recoveries and 18 pass breakups. Chris left campus as the school's sixth-most prolific tackler. He was also a first-team All-American as a senior and the Big Ten's Defensive Player of the Year.
All the kids back in Kettering became Badger fans by the time Chris' career had concluded. General managers in the National Football League, however, weren't as high on Chris' future in football. The 5-foot-11, 248-pound linebacker ran a 4.83-second, 40-yard dash at the 2014 NFL Scouting Combine.
Chris's scouting profile on NFL.com included this passage in the "weaknesses" section:
"Is short with Tyrannosaurus rex arms -- too easily neutralized (struggles to disengage). Eclipsed by larger offensive linemen. Can do a better job protecting his legs. Average explosion, tackle strength and pop on contact. Lets runners escape his grasp. Exposed in space. Has man-coverage limitations, especially against tight ends (lacks length to match up). Durability could be an issue."
Domsitz was aware of the critiques. But as a football coach, he knew it was hard to measure Chris' best talents: heart and hustle.
"You're watching his film and you see an aggressive player," Domsitz said. "He looks a lot faster than someone who is tentative. Chris just gets after it when you watch him. You knock him down and he gets back up."
Chris' draft status got knocked down in the weeks heading into the draft. Even so, the Borland family remained upbeat about his ascension into professional football. The family watched the second day of the draft from a restaurant in Kettering. When Chris received a call informing him he'd been selected 77th overall by San Francisco, the room erupted with applause.
Joe felt like it was a great fit with the franchise's proud winning tradition. Domsitz noted that Chris would have been an excellent choice for the Packers if Green Bay had gone in that direction in the second round. The Packers later picked eight selections after Borland's ultimate third-round landing spot. "He could have been the governor of Wisconsin one day," the coach said. "People just loved him."
It took seven or eight weeks into the '14 season for Bay Area football fans to really love Chris' on-field contributions. The rookie linebacker made his initial impact on special teams. Behind the scenes, he wowed teammates with his penchant for practice interceptions. So when star linebacker Joe Staley was lost for the season with a toe injury, Chris' inclusion into the starting lineup was met with anticipation from his veteran teammates. They wanted to see if his practice skills would carry over onto gameday.
Chris currently leads the 49ers with 88 tackles, according to the count of San Francisco's coaching staff. He posted 15 tackles in his first start on the road against Peyton Manning and the Denver Broncos.
"That was quite a start, Peyton Manning on basically, 'Peyton Manning Day' where he was set to break an NFL record for most touchdown passes," Joe quipped. "It was trial by fire for him, but we were excited for him. He's improved since that game and each subsequent week. I guess you might as well start with one of the best of all time."
Chris followed that performance with 69 tackles in his next four starts. The five-game stint as a starter included a clutch overtime fumble recovery to help the 49ers beat the New Orleans Saints in Week 10. Domsitz had the game on before a coach's meeting in Kettering. As soon as Drew Brees lost control of the ball, the high school coach couldn't locate Chris. "He wasn't even on the screen," Domsitz said. "He was knocked down and when the ball was on the ground, Chris wasn't even on the TV screen, but he was over there recovering the fumble."
The following week, Chris intercepted Eli Manning twice to go along with his 13 tackles in a road win over the New York Giants. Joe, who talks with his younger brother weekly, was in attendance to watch Chris play in what turned out to be his first NFC Defensive Player of the Week performance.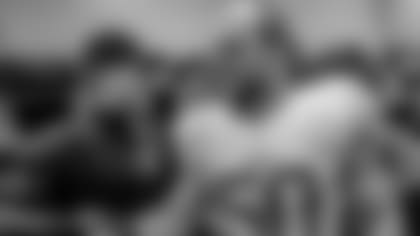 "The guys in front of him have opened a lot for him," Joe said. "And the coaches have prepared him well. I was just glad when he had the opportunity he took advantage of it and made some plays. I also know that he's appreciative of accolades, but he won't let that go to his head. He'll just keep on preparing as he always has for the next game."
The next game is on a familiar day for the Borland family: Thanksgiving. Although Chris hasn't played in a "Turkey Bowl" game since his high school days, he has a pretty good memory of that battle. Just like any other group of family and friends who gather to play recreational football games hours before a Thanksgiving meal, the Borland's were no different. Only, their game was a little more physical than most neighborhood contests.
In the last "Borland Turkey Bowl," Chris caught the game-winning touchdown pass from Joe, earning the right to hoist a trophy topped with a plastic turkey head. Chris earned the hardware, too. He collided with a sapling tree and bloodied his forehead as he caught the winning pass. But as Joe tells it, Chris wasn't even the toughest player in the yard that day. Sarah Borland, the only female sibling of the bunch, suffered a dislocated shoulder in the game. What did she do after the injury? Oh, she just popped her shoulder back into place and kept playing.
"She's probably the toughest of any of us," Joe said.
Chris will look to channel Sarah's strength in Thursday's game against Wilson, his former college teammate. The primetime Thanksgiving game that will have 13 Borland family members at Levi's® Stadium will pit San Francisco against one of its biggest rivals, the Seattle Seahawks. Wilson told reporters this week how much he respects the 49ers linebacker.
"A lot of people said he was too short, too," the Seattle signal-caller said. "But he can make a lot of plays. You see it on film, too. He's getting to the quarterback; he's racking up those tackles and just making plays. He's a star player."