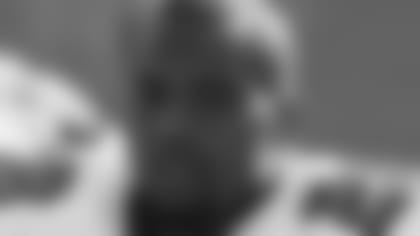 CLICK HERE to watch some of the players talk about their favorite Thanksgiving foods!
The 49ers used an earlier meeting and practice schedule on Thursday to allow players to spend the Thanksgiving holiday with their families.
For Sacramento born and raised safety Keith Lewis, that meant just enough time to head north for his turkey dinner.
"My mom, my uncle and I, all live within five houses of each other, so all of our family is close. We alternate for our get-togethers, but usually, we're at my house, because I have a pool table."
Now in his fifth season with the 49ers, Lewis counts his blessings that his NFL job has kept him so close to home.
"I'm definitely fortunate to be so close to my family, and to get to spend time with them, as opposed to a lot of my teammates, who are from the East Coast and what not," said Lewis. "They don't get to go home for holidays like Thanksgiving."
Such is the case for tight end Sean Ryan, whose wife and daughter will be back east with her family.
"I'll guess I'll figure it out, I have no idea," said Ryan. "I saw a little sign over at the Hyatt, they're having lunch from 3:30 to 7:30, and I might go over there. You can find good food anywhere, but being without your family is tough. You just make the best of it. Every year can't be a great year, some people have to work on Thanksgiving, and we're one of those groups. You take it for what it is."
As for good food, here's what a few of our players said is their most favorite dish. (Note that some players couldn't stop with naming just one.)
"Macaroni and cheese, collard greens, turkey, potato salad, some rice, and sweet potato pie." - Frank Gore
"Turkey, mash potatoes and gravy and corn all mixed up together." – Joe Staley
"I love the stuffing, you can't go wrong with that. As long as my mom makes that, I'm there, on time." – Keith Lewis
"Stuffing and cranberry sauce." – Reggie Smith
"Turkey, dressing, gravy, yams, dinner rolls, sweet potato pie and pound cake." – Arnaz Battle
"I'm a wild game man. I grew up in the South. You guys might not be able to stick with me on this, but I like to eat everything from deer to… I eat almost everything that's on a hog. You're talking about bacon, tenderloins, hog chitlins' – that's my favorite too, barbecued raccoon. I mix it up pretty good." – Takeo Spikes
"Pumpkin pie is my favorite. Yeah, I try not to go too crazy, because we are in football season. I'll cut it down to maybe one big slice and one scoop of ice cream." – Billy Bajema
"My grandma makes the best Thanksgiving I ever had, including a string bean casserole that's off the chain. I'm looking forward to that." – Delanie Walker
Thanksgiving Memories that Stand Out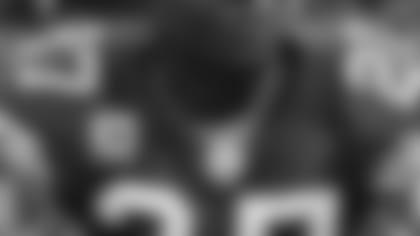 "When I was like 10, we had this green bean casserole. It has just come out of the oven but he didn't know so he picked it up and it was really hot so he yelled and threw it. It spilled all over the food, everything." – Staley
"Playing on Thursday night's Thanksgiving game against the Lions and Barry Sanders when I was with the Bears. And unfortunately, not doing well against him or their team overall." – Walt Harris
"My first Thanksgiving with my wife's family because I was in college and I guess we had been dating for awhile. For me to go home it was like an hour and a half drive, but she was like 15 minutes away from where I went to school, so we went to her house. Everybody treated me good and I felt like a real part of the family. That made me feel real good how they accepted me without knowing me that much. I got to meet her whole family and I guess that was a special Thanksgiving. We're still together now. I don't know if that played a part or not." – Atiyyah Ellison
"It's a great story of my rookie year. I came out here to practice, it was a little overcast, muggy. I had a hard practice, just was getting beat up and I wasn't making any great blocks. I put a lot of pressure on myself as a player, but I think that practice, a lot of that year I had to fill in a lot of the reps for the ones and do the scout team stuff. I was exhausted, practice ends, and for some reason I had this bright idea, to ask Coach Nolan to let me say something to the team. And I got up there, pulled everyone together and said, 'I'm sorry for my performance today. I didn't do well today.' And stupidly I said, 'I ruined Thanksgiving.' Yeah I said that, I'll admit it. I said, 'I'm sorry I ruined Thanksgiving.' And pretty much everyone started laughing at me. It's never gone away since, so even Adam Snyder today, we're running out on the field and he said, 'Hey Dave, try not to ruin Thanksgiving this year.' It's still four years going strong that everybody pretty much thinks I'm going to ruin Thanksgiving, because as an idiot rookie I said that I ruined Thanksgiving for everybody because I had a bad practice." - David Baas