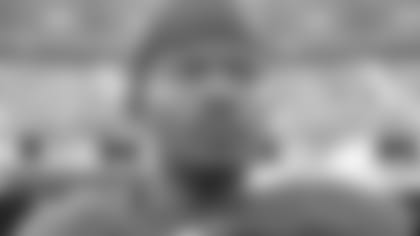 In this week's Teams Talk column, wide receiver Dominique Zeigler shares his thoughts on the special teams aspect of the 49ers upcoming game against the Denver Broncos in London.**When I go out there for special teams, I don't think of myself as a wide receiver. I just see myself as a football player who needs to go down there and make a tackle. I like kickoff coverage. Most people wouldn't think someone of my stature (6-foot-3, 185 pounds) would like it, but I do. When I first started doing it in the NFL I wasn't quite sure what to expect, but now I just go down there as a football player and make plays.
I just want to help the team any way possible, and right now I'm helping the most through special teams. I'm getting some catches on offense, but when I'm not catching passes I'm trying to make tackles on special teams.
As a special teams unit, I think we have been getting better and better each week. We have a new coach in Kurt Schottenheimer, and we have been learning the details of his schemes and how he wants things done. So I think we'll just keep getting better.
When you look at Denver's special teams, they're a hard-working group. They have a couple of guys in particular who run pretty fast and come around the edge pretty well. They will present us with some challenges.
One of those guys is corner back Perrish Cox. He's a couple years younger than me, but I've been playing against him for a long time now. We're both Big 12 guys, me playing at Baylor and him going to Oklahoma State. And before that we played against each other in high school. We've had some good matchups. I actually was a quarterback in high school, and I never threw an interception to him. So I'd say I've gotten the best of him.
Cox is also one of the many different returners the Broncos have used this year. Besides him they've also used cornerback Syd'Quan Thompson and wide receivers Eddie Royal and Demaryius Thomas. So you never know what you're going to get because every guy is slightly different. A couple of them are kind of like jitterbugs, like Eddie Royal. And then you have a guy like Perrish who just hits the hole and goes. So you have to take different angles to get to each guy.
The Broncos also have a pretty good kicker in Matt Prater. He has a big leg and he's already made a 54 yarder and a 59 yarder this season. He's only missed one kick all year. Their punter, Britton Colquitt, is good too. He's averaging more than 46 yards per punt on the season.
But I'll take our guys, Joe Nedney and Andy Lee, over just about anybody in the NFL. No disrespect to anybody else, but Joe and Andy are proven veterans who are on top of their game.
It's supposed to be rainy in Wembley Stadium on Sunday, so it will be interesting to see if that or the wind play a factor in the kicking game. But I don't have to worry about that. I just have to run down the field, attack the defense and make plays. As a group, as long as we do that I think we'll do well on Sunday.