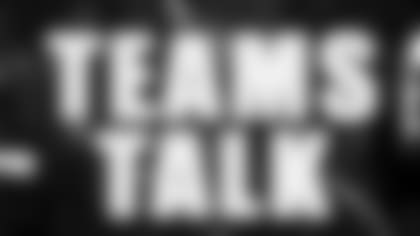 A sometimes overlooked aspect of the game is special teams, but not this season, and not on 49ers.com. Each week, we'll feature Teams Talk, a column dedicated to special teams and those who play on them. These teamers will share their breakdowns of the upcoming opponent and give you some insight on some aspects of special teams you might not be too familiar with. A versatile player on five out of the six special teams units, Brandon Moore shares his thoughts going into this week's contest against the Bengals. **
There isn't that much that changes from week to week in terms of how we prepare for a field goal kicker. Shayne Graham approaches the ball similarly to just about every other guy. The main concentration that we're going to have will be on our own field goal block unit. We've done a lot of film work on their offensive line and hopefully we can win that match-up.
Their punter is Kyle Larson and he's pretty good. He kicks the ball to our left usually, and their cover unit is good as well. We take pride in our return unit so it's just going to come down to who wins the one-on-one match-ups.
They are a very athletic and defensive oriented special teams group. They're physical and play with a lot of toughness. They are very similar to Arizona's special teams in terms of some of the things that they do. We're going to approach it like we do every week and try to get better and be the best.
Their main punt returner is Antonio Chatman. He's quicker than he is fast. He's very explosive and changes direction very well. He tries to set you up and he can either bounce the ball outside or take it up the middle. We're going to have to rally to him.
Since we don't play Cincinnati every year, we don't have that familiarity with them that we have with the teams in your division. That's not really an advantage or disadvantage for us because it works both ways. You can only learn so much by watching film. When you play teams in your division, a lot of times you know things about them that you've picked up just by playing them.
I'll be starting on five out of our six special teams units this week. I just want to contribute in any way I can in order to help the team win. The special teams units are doing very well and that's definitely something I take pride in.
You also don't normally see a linebacker on the field goal unit. The position that I play (wing) is normally played by a tight end or sometimes a running back. People associate the field goal unit with being able to block, and so it's such on offensive-minded group. Sometimes you'll see a defensive tackle out there just because they are so big. I think I'm a pretty strong guy so I like to think I am able to do a pretty good job.
In this business, the more things you can do the more valuable you are. I'm just trying to do as much as a can and be good at everything I do. At the end of the day, I just want to contribute and be able to keep my job.
I've been playing on special teams for several years now and it's great to see everybody come together this year and play at a high level. We'd put our special teams units up against any other in the league. We just have that mentality that we're going to win that phase of the game every week. I think it's a credit to Al Coach Everest and Coach Jeff Rodgers and the job they're doing. It's not just the techniques that they teach us, but they make everyone accountable for their roles out there, and they have helped everyone get better. Considering how the year has gone for us as a team, I think it's great that we can find some solace in the play of our special teams.
We have fun out there and that is a result of how we play. It's fun to play and be successful. If you're not successful, it's not going to be much fun. We believe if we keep taking steps in a positive direction and having success, we'll continue having fun.