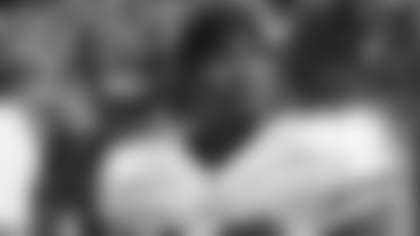 In this week's Teams Talk, rookie punt and kick returner Kyle Williams  shares his thoughts on the special teams aspect of the 49ers upcoming game against the Atlanta Falcons.**Last week was my first regular season NFL game and it was great to get out there. I wasn't nervous or anything like that, but after sitting for several weeks with an injury I was definitely a little anxious to play my first game as a member of the 49ers. The main thing last week was that I wanted to make sure I did my job right – no mistakes. Plus, I wanted to spark a big play. And even though I didn't get that big return last week, I'm trying to improve every game.
When I look at other special teams, I find myself watching their returners and taking notes on what those guys do. It's important to do that because you're always striving to get better, so any little thing you can take from someone else's game will help. When I looked at Eric Weems on the Falcons, who does both kick and punt returns, I noticed how quickly he starts to get down the field. The second he catches the ball he begins moving north to south, which is something I think I need to work on.
Atlanta does a pretty good job of opening holes for Weems, and once those holes are there he hits them pretty well. This is a guy who had more than 1,000 kick return yards last season, but I know if we can play smart and stick to our assignments we should be able to contain him.
Atlanta's kicker, Matt Bryant, is a pretty good player. He hit a game-winner against the Saints last week, but personally, I'm more concerned with what he does on the kickoffs. Bryant and their punter Michael Koenen do a god job of putting some air under the ball, so I have to make sure I look it all the way in.
One thing I have to be more aware of this week, especially on punts, is feeling the people coming towards me. I think I did pretty well with that last week, but I know I can do better.
Anytime you play in a dome it definitely has an impact on special teams.
I've never been in the Georgia Dome, but with any dome, the top can throw you off a little bit. When you're in a regular stadium you have weather conditions that can come into play, and obviously not having to deal with those will help, but now I have to be aware of the lights and the top of the dome. There's not much you can do to prepare for that; it's just one of those things I'll have to really focus on during pregame warm-ups.
Although I can't prepare for the dome, I feel I am prepared for just about anything else an opponent can do. You see, we have two of the best specialists in the game in punter Andy Lee and kicker Joe Nedney, so after practicing against them all week I feel like I am ready. When game time comes, you know you've seen it before. You've practiced against all sorts of kicks and punts, so that's definitely a benefit.
But going back to the Falcons, everything I have seen from them looks pretty good. They fly around on special teams and they make plays. They're going to make it difficult for us, but once again, it's a matter of us executing and getting our jobs done. I'm confident we'll make plays.
When you look at our special teams overall, I think we are really close to being where we need to be. We've had some chances to make some big plays, and I want to get that going this weekend. Like I said, Atlanta has a good special teams unit, but if we take care of business on our end we'll be fine. It's there, we just have to finish.