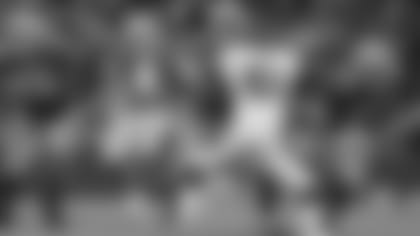 In this week's Teams Talk column, fifth-year tight end Delanie Walker shares his thoughts on the special teams aspect of the 49ers upcoming game against the Tampa Bay Buccaneers. **Overall, we're a pretty young special teams group, most of the guys out there are rookies and second-year players. So for me being in my fifth year, I'm the veteran of the group and I feel like it's on me to show those young guys the right way to do things.
Even though my role on the offense has been expanding, I still have to go all out on special teams. I tell people all the time that I'm a complete football player, so if I go hard on offense and not on special teams then I'm not the complete player I say I am. I want those young guys to see that I'm fighting for everything when I step onto that field and that I always give 100-percent. I want those guys to see that and play the same way.
This week, we're heading into the game against Tampa Bay without our kicker Joe Nedney, who is sidelined with a knee injury. Joe is a big asset to our special teams; he is one of the best kickers in the NFL. So him being down is a little bit of a setback, but we brought in Shane Andrus, who was with the team at the end of last year and throughout training camp. I think Shane is a great kicker too.
When a player like Joe goes down, you just have to believe in the coaches to make the right decision on who to bring in, and I think they did that. Shane has worked with Andy Lee and Brian Jennings before, so it should be a smooth transition there. Plus, we have a nice kickoff team and some good guys blocking on the field goals, so we'll help out Shane as much as we can.
One area I feel like we need to improve is in our return units. We really haven't given Ted Ginn Jr. the opportunity to bust any big ones the last couple of games, and we need to do that. That big return is something we all want, so we're just going to keep practicing hard and game-planning for our opponent the best we can. I'm confident we'll bust one loose pretty soon.
Their returner is a guy we know pretty well, Micheal Spurlock. Spurlock was here with the 49ers for the first couple of games last year, and he's a great player. He has nice footwork and doesn't go down easily. He has a big motor, he's just going to keep going and going no matter what. He plays hard, so we're going to have to get after him.
One thing every opposing kicker knows is that there is crazy wind at Candlestick Park, and I think that's an advantage for us because our guys know how to kick there so well. That wind could cause the Bucs some problems this weekend because they have a rookie punter and a third-year kicker, and I don't know if either of those guys have kicked at Candlestick before. Those two will probably get out to the stadium early to get some extra kicks in, but if they have a bad kick during the game that wind could be the reason.
But all of that other stuff aside, I think this week, like every week, special teams comes down to heart and effort. You just have to go out there and win every battle. When you run down there on special teams you get singled out as a player – you either get blocked or make the play.
The guy who wants it more usually wins, and I can tell you that as a special teams unit I don't think there is any other team that wants it more than we do.