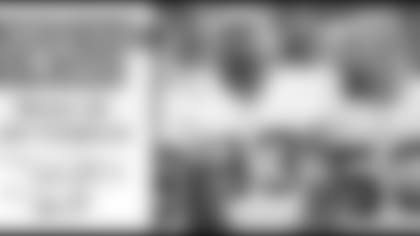 Each week 49ers.com will feature a column dedicated to special teams and those who play on them. These teamers will share their breakdowns of the upcoming opponent and give you some insight on some aspects of special teams you might not be too familiar with. In the fourth Teams Talk installment of the 2009 season, linebacker Jeff Ulbrich shares his thoughts on Sunday's first matchup with the St. Louis Rams.**
Our special teams coordinator Al Everest has the same message for us every week. It doesn't change, it's fairly the same. He tells us that we should worry more about what we do than what our opponent will do. We're not a team that comes up with elaborate plans or schemes for each game.
We have a system that we put in during training camp and we believe in it. We'll tweak it here and there, but for the most part, we just have to focus on our own assignments.
From my experience playing against the Rams, they always have strong special teams units. But now, I think they might be in a bit of a transition. They have a new returner and at times that can be tough for a team. Not only was Danny Amendola not their returner to start the season, he wasn't even with the team in the preseason. So, it can be tough for them. But at the same time, it also can be beneficial. If a returner doesn't know how his blockers will block for him, he's going to hit the hole at full-speed just to pick as many yards as he can.
Sometimes that can be very dangerous.
I think we have an idea of what kind of returner he is based on watching some of his preseason tape with the Philadelphia Eagles and based on what the Rams have done with their blocking in the past.
In my opinion, the strength of St. Louis' teams units are their kickers. Josh Brown converts a lot of field goals every year and Donnie Jones gives them great field position with his punts. He's a great directional punter too. Whenever you have a guy who is great at placing the ball, it cuts the field in half and it helps your coverage guys out tremendously. It makes thing a whole lot easier, so he's really an effective punter.
Last week we were able to have a huge momentum swing because of a field goal block that we returned for a touchdown. Ray McDonald did a great job of finding an opening and I pushed him through to block the kick.
I wasn't able to see him block the kick because of how low I had to get to push him, but I could certainly hear the sound of him blocking it. All I could hear was a loud thump and then the sound of the crowd going crazy. It was a great feeling. A blocked field goal is one of the biggest plays in football.
I think this week the biggest key for us is to bounce back from the 101-yard kickoff return for a touchdown we gave up to Percy Harvin. Our coverage units have been strong other than that one return. But we have to build on the success we had up until that point.
We watched that Harvin play over and over again this week. That's one thing that is great about Coach Al. He's showing us what the other teams are looking at. Obviously they're looking at that play like it's something they can expose on us. It's something that we have to fix and you can't fix it without watching it. As painful as it is, you've got to watch the film to fix the problem.
Return-wise, I think we've struggled and we take a lot of pride in being successful with that. I think all of us are a little embarrassed with the way we've performed. We expect more out of ourselves and we're excited to turn that around starting this Sunday.