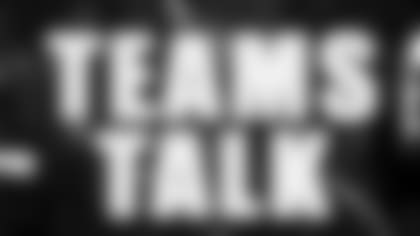 A sometimes overlooked aspect of the game is special teams, but not this season, and not on 49ers.com. Each week, we'll feature Teams Talk, a column dedicated to special teams and those who play on them. These teamers will share their breakdowns of the upcoming opponent and give fans an idea of what to look for on gamedays. Here's a breakdown of Sunday's game against the Rams from linebacker Jeff Ulbrich and receiver Brandon Williams.**
LB JEFF ULBRICH, CORE SPECIAL TEAMS PLAYER
Everyone is asking about my mohawk, so what happened was that Keith Lewis came out with the red one a couple of days prior to the game and he was ribbing me and trying to get me to get one as well. So, I told him if he got more tackles than me in the game on special teams that I would do it, and he ended up getting all of the tackles.
Special teams has really given me life this year. It's a continual learning process with me. Coach Everest always talks about having a tool box and he's constantly giving you skills to beat every scenario and that's been very helpful. Hopefully I can keep sharpening my skills but for sure, special teams is a lot of fun.
I want to give Joe Nedney some credit because one of the things that I've done is work on kicking field goals because just look at the Jaguars last week. They lost their kicker in pregame and they ended up losing that game by the potential field goals they could have had. If anything were to happen to Joe, I just try to stay sharp, just in case. I think I can hit from 40, but I think they'd probably only let me kick extra points.
At any rate, kicking field goals is tough all the time, but it's even tougher in a game scenario when it's on the line so I give Joe a ton of credit for that. I think most days you want to be Joe, sitting around in the hot tub and not in long meetings but in those final seconds of the game when it's all on the line, I don't know that I'd want to be him so much.
The one thing that I think is cool about special teams though is that most of the time it's young guys who are extremely hungry. Not to say guys on offense and defense aren't hungry, but for a lot of these guys this is their first taste of the NFL and there's just something energizing about that to me.
We get a point total every week from our coach and the best guy at the end of the year will get the Top Gun award and we are all vying for that. It's extremely competitive but it's very friendly and we are all pushing for each other and as long as we do well as a unit we'll be happy.
Going against the Rams, the first thing that is obvious from a special teams perspective is Dante Hall. The last time we faced Dante was in Kansas City and he returned a punt for a touchdown against us, so he's definitely a guy you have to be aware of and you always have to be play the right technique and your assignment correctly. You always have to do that obviously, but even more so against this guys because he can really exploit any break down.
He can beat teams on his own, but I'm pretty confident in our unit and that when we do what we've been coached to do that we'll be successful against him. I would have said he was probably easier to get down on KOR versus PR but he returned a kickoff 84 yards and looked extremely dangerous so he's tough in either arena.
They did well last week in their coverage, and on kickoff return coverage are one of the few teams that ranked better than us last week, so hopefully that is something we can remedy. One thing that I'd like to point out is that blocking on special teams is a lot harder than you might think. On offense and defense the amount of space involved with blocking is feet if not inches. It's a very small space. On special teams, it's 50 or 60 yards of space you are dealing with so to make some of these blocks is extremely difficult. Plus, most of the time you are going against guys who are really athletic and can move so to make the proper block is very tough at times. Coach Everest always tells us go to the next level, if you can't get your guy, go to someone else. Don't be that guy who chases a guy too long and ends up blocking them in the back because that is a costly penalty.
I actually look for us to hopefully break one this week. We are always trying to do that and that's a huge goal of mine. I'd love to be part of a unit that scored on special teams. For that matter, I'd also like to be part of a big turnover in our coverage units. That would be big too.
Now on to the guy who could break one for us…
St. Louis has a pretty good punter, Donnie Jones. He's more of a directional punter. He likes to kick it to my right when he gets very deep. He has a very strong leg and is very consistent. Hopefully he runs a 5.0 flat in the 40-yard dash so he won't be able to track me down if I break one. He's pretty good for a younger guy though in the league and he's doing a very good job. I think he averages around a 44 yard net so that's very good.
As far as the gunners go, #20 is Jonathan Wade who is a rookie. The other one was #26, Tye Hill who is a good friend of mine. Tye hurt his back in practice so I don't know who will be out there necessarily. Jonathan runs a 4.2 and so we'll need to get some blocks on him because I don't exactly run a 4.2. They're pretty good, but they are a little smaller. We have some pretty big gunners ourselves who are terminators on the outside so hopefully they can terminate Wade and whoever else is in there.
When I first catch the ball, I'm going to try to get 10-12 yards right off the bat by getting up the field as fast as possible. Once I get the 10-12 yards, if I'm still up, I'll try to catch a block from somebody and hit a lane and that's it, I'm on the punter and my goal is to get to the punter as fast as possible.
That changes a little bit when I'm backed up deep in my own end. I'm a little more conservative, and when I'm backed up I have to catch EVERY ball that is kicked. Obviously, if it's behind the 10 yard line though I'll let it go and hope it gets into the end zone. Those are pretty much the rules for that area. Anything that I can catch, I need to hold onto it, make smart decisions about when to fair catch and just really pay attention to everything that's going on.
This week in St. Louis we'll be playing in a dome which is always pretty fun because the turf plays so fast and it's easy to locate the ball. There's no wind, no rain, and no elements to mess with the ball.
I was inactive last year for the game up there so this is going to be my first time playing in my hometown since 2002 when we played in the state championship. I just want to get back there and put on a show for my family because there are going to be a lot of people watching. I have a lot of love in the city of St. Louis so I'm excited about this game and hope that I can do something big to help my team out.