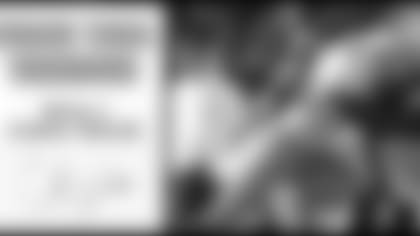 Each week 49ers.com will feature a column dedicated to special teams and those who play on them. These teamers will share their breakdowns of the upcoming opponent and give you some insight on some aspects of special teams you might not be too familiar with. In the eighth Teams Talk installment of the 2009 season, rookie safety Curtis Taylor shares his thoughts on Sunday's matchup with the Tennessee Titans.**
In our special teams meetings this week, we've watched film from our last game against the Colts and learned a lot from it in our film study.
We saw on film that we did a great job with our punt and kickoff coverage teams. Marcus Hudson made four tackles on special teams and it seemed like he or Michael Robinson was always in on the tackle.
As a team, we always emphasize having great coverage units. That's something we always do and it's something our coordinator Al Everest stresses to us. Containing the opposing returner is something we take a lot of pride in. It's always something that's going to be emphasized by our coaching staff.
I'm lucky to have my locker next to guys like Hud and Reggie Smith because they're great at helping me with special teams. They've helped me out a lot because special teams are really like defense or offense. You have to study film; you have to learn their personnel and their tendencies the same way.
Those guys help me out a lot, but really everyone helps me. It's a real big motivator knowing that these guys are great about giving me tips and showing me the best way to do things.
Coach Al has told us to be ready for the Tennessee Titans because records aside; those guys have great players across the board. From what we've seen, they're an aggressive team. And they play starters on their special teams and that tells me that they take pride in it. If you're willing to risk losing a starter from offense or defense on special teams, that just shows how important it is to them. We're just going to have to match their intensity.
Another thing we've notice about the Titans is how they've rotated returners in both the punt and kickoff return game.
Anytime you're not 100 percent sure who will be fielding kicks or punts, you just have be ready for whoever they put out there and make sure you stick to your assignment. If the Titans are putting that player out there, it's because they believe in his abilities. And really, he's in the NFL, so he's getting paid to do his job. Whoever it is must be doing something right.
There are so many keys to this game for our special teams. We can impact the game with giving our offense great field position or doing other things like downing punts inside the 10-yard line or by having great coverage on punts and kickoffs. Everything is going to big, because you need great special teams to win in the NFL too. We're emphasizing everything this week.
For me, it's just an honor to be a part of our special teams units this year. Not a lot of people have the opportunity to play in the NFL and I'm blessed to be one of the lucky ones who are able to play the game. I'm just thankful to have the opportunity to go out and help our team by making plays on special teams for us.
I'm enjoying every day of it.
Even at practice, guys see me at practice with a big smile on my face all of the time, because I'm enjoying it all. You can't beat it.