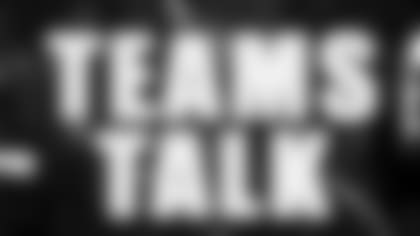 A sometimes overlooked aspect of the game is special teams, but not this season, and not on 49ers.com. Each week, we'll feature Teams Talk, a column dedicated to special teams and those who play on them. These teamers will share their breakdowns of the upcoming opponent and give you some insight on some aspects of special teams you might not be too familiar with. In this week's column, rookie cornerback Tarell Brown is our featured special teams player.**
I played on just about every special teams unit when I was in college, returning kicks and I think my experiences helped me to transition to this level. Our coached at Texas made us accountable for everything that we did, and special teams were very important for us and changed a lot of games that we played. Every starter was on special teams. From Nathan Vasher, to Roy Williams, to Aaron Ross, to Cedric Griffin, to Michael Griffin, to Michael Huff, everybody played special teams. The only one who didn't play special teams was Vince Young because it was more important that he do other things for us. So, I came into the NFL understanding that special teams can win or lose a game for you.
I think that it's important for all young guys to learn how to play special teams when they come into the NFL. Everybody says they've played special teams but it's important to learn HOW to play special teams. Those are two different things. There's an art to playing special teams and there's a lot of technique to it. You see all sorts of tricks that guys use out there to get an edge so I try to learn from them and take a little from each person's game and put them into mine.
I'll explain some of my specific roles on the various special teams unit and try to give you an idea of what that entails.
I'm the zero on punt return and that's the guy that tries to hold the opposing gunner up on the outside. You're just man to man with him the whole time and you're trying to keep him off the punt returner. One of the challenges at that position is just being disciplined so that you can keep your leverage. You have to know and be mindful of which direction the return is going, be it left, right or up the middle.
You obviously have to have some type of foot speed and be quick so that you can help yourself to get a good jam at the line of scrimmage. That's also very important. If you get a jam off the line, 95 percent of the time you'll win that battle.
I'm also the gunner on our punt team. That's one of the hardest positions on the punt team because you're going against a double team just about every time. You have to be relentless. It's 2 on 1 so you have to be a gunner who never gives up and gives great effort. Same as when you are on the other side of it as I am on the punt coverage team, you need to be fast and physical so that you are able to beat a jam. If you manage to do all of that, you still have to be able to make a tackle on the run.
On the kickoff team, I play either as the safety or the containment guy. If you are the containment guy, you really want to be physical and get a good start off the line and be running before the ball is kicked and then you sprint down the field. From there you just have to read the play and attack it and try to force the play toward your help.
When you are playing the safety position, you want to lay back and make sure there aren't any holes in the coverage. If someone breaks towards you, it's up to you to make a play because otherwise he could take it to the house.
The one thing you have to make sure of every time you play special teams is crack-backs. That's where you get blindsided by one of the guys on the other team. If you get a crack-back, that's going to hurt, so you have to keep your head on a swivel.
I think it's important to be disciplined and watch a lot of film because a lot of teams are scheming so hard against our special teams units. That's a compliment to the way we've been playing, but that also means we have to keep performing at a high level. Coach Al stays on top of us about being ready and being aggressive.
Since I play both gunner and the zero, it helps me out a lot because I always understand what the guy across from me is trying to do. Because of that, I'm able to counterpunch a guy. It's all about having knowledge of the game. Everybody at this level is athletic and you play against the best of the best every day. It all comes down to technique and who watches film the hardest and who works the hardest in the off-season. Understanding your opponent and understanding what you have to get done helps you out so much.
With that said, I have watched a lot of film on the Arizona gunners and they are very aggressive. They are also very strong and they have good speed. If we play our game and we do what we do best, and that's being physical and running around and hitting, I think we'll be successful on special teams this week.
I will be seeing a lot of their returner Steve Breaston and he's very explosive. I played against him in college and I know first-hand that he's very smart when he has the ball in his hands. He has good speed, good quickness and a good change of direction. He's very aggressive and he's looking for the big play every time and that's what good returners do. If you want to be a great returner, you have to be looking to break one every time you touch the ball to help give your team a spark. He does a good job back there.
We had one very nice punt return last week where Michael Lewis handed off to Nate Clements and it went for over 40 yards. I wasn't on the field for that play, but it was amazing. We had been working on that for a while, just trying to get our timing down. It was special to see the handoff and the fake go perfectly. I told Nate, "Man, you have to score!" So Nate, if you're reading this, YOU SHOULD HAVE SCORED!!!" Ha ha!
The one thing we didn't do well on special teams last week was ball security. We had two fumbles and we were very lucky to be able to recover them both. Coach Nolan said that sometimes those things tend to go your way when you're playing well and I think that's because he understands that we're an aggressive unit. We're not passive and we're not going to let someone else dictate what we do or dictate the tone of the game. We're always going to come out and take it to you. You're going to have things like those fumbles happen in games from time to time, but coach wants us to go all out all the time. We believe if we're doing that, nothing but positives can come from it.