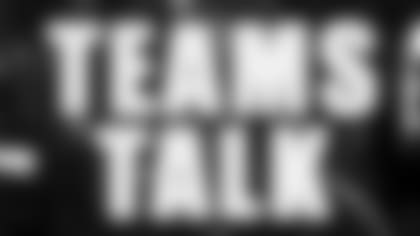 For the second year in a row, we'll feature Teams Talk, a 49ers.com column dedicated to special teams and those who play on them. These teamers will share their breakdowns of the upcoming opponent and give you some insight on some aspects of special teams you might not be too familiar with. This week, one of our special teams standouts, Dashon Goldson, checks in to share details about this weekend's game against Seattle.** 
Seattle signed a new punter this week, Jon Ryan. He's a guy who we faced in the preseason when he was on the Green Bay Packers. He's more of a directional kicker, so we expect his punts to go more towards the hash marks.
They have two kickers on their roster in veteran Olindo Mare and rookie Brandon Coutu. I'm not sure how they will be used but we will prepare for both.
With all of their injuries at wide receiver, Nate Burleson, who was their punt returner last year won't play this game. They signed Samie Parker, who did some returns for the Panthers. They could use him, or Seneca Wallace, who is their backup quarterback. Wallace did it last week when Burleson left the game early, and he's one of the most athletic players on their team and we expect him to be back there. If it's not him, we're still going to do our job, get down the field and cover the punts. It doesn't matter who they got back there, it won't change what we're going to do.
Their kick returner, Josh Wilson brings a lot of speed. He's quick. Our job is to get hats on him. Last year he put the ball on the ground a couple of times, so everybody has to swarm to him. We can't let him use his speed and get in the open field.
Seattle has pretty good coverage teams as well. I faced some of the guys last year, and they all get down the field pretty fast. A guy who I'll probably be facing is D.D. Lewis, who is more of a big linebacker-type. Another guy to look out for is C.J. Wallace, my former teammate at the University of Washington. He's a speed guy, but he'll press you.
With our special teams unit, we've been going over the mistakes from last week, mainly the pooch kick that we fumbled. We work on special teams every day, and we know they should be a strong point for us.
After watching the tape from week one, there wasn't any major mistakes that we saw. There were little subtle things that we can change, like a couple of blocks we needed to make. I believe we'll get that fixed for Seattle.
I think our tackling did improve a lot from the preseason to week one against the Cardinals. You always have to make good progress in special teams or as a team in general. So when we come out against Seattle, we'll make sure to make all the tackles we can.
I think special teams has a big impact on every game, and this Sunday should be no different. We take special teams very seriously, we don't take it lightly, and we also take a lot of pride in our special teams play. That's how field position in the game is determined. If we can get our kickoffs in the end zone and our punts inside the 10-yard line, that's good. It allows our defense to get out there and keep them in their own territory.
We expect to help set the tone on special teams and be a positive impact in Sunday's outcome.