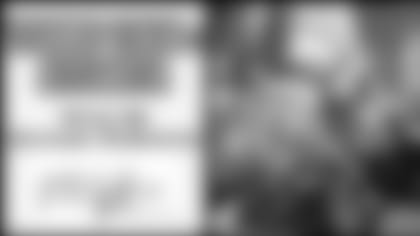 Each week 49ers.com will feature a column dedicated to special teams and those who play on them. These teamers will share their breakdowns of the upcoming opponent and give you some insight on some aspects of special teams you might not be too familiar with. In the fifth Teams Talk installment of the 2009 season, running back Michael Robinson shares his thoughts on Sunday's matchup with the Atlanta Falcons.**From what we've heard from our special teams coordinator Al Everest, Atlanta has a lot of speed on their special teams units.
But, they don't just fly down the field and take themselves out of the play, they play very disciplined football. We have to be ready for this matchup because we know they're going to show up and be ready to make a major impact on Sunday's game.
I've watched quite a bit of film on them and I can see that they're fast, faster than most teams. They're constantly flowing to the ball and they rally around the ball. They pretty much play like us special teams-wise. Really, if you look at that whole NFC South division, they all have great special teams because they fly to the ball while still playing disciplined.
What really sets Atlanta apart is that they have starters on their special teams. And while they're not the big name guys, they are guys who have played a lot of football. Overall, the Falcons are smart on special teams, but play very aggressive.
Atlanta's kicker Jason Elam has been limited in practice with a hamstring, but if he's able to go, he's a reliable asset for them. He's been kicking since I was little, so I know what he's accomplished in his career. And I know he can make clutch kicks.
The Falcons have a fast returner in running back Jerious Norwood, but he's had a few concussions so we're not sure if he'll be up. If he is, he's very explosive in the open field. We played him in 2007 and I remember that he would initially take it inside, but really he wanted to take it outside. That's his strength.
With that said our perimeter guys will have to be a force for us this week.
We've had back-to-back games with touchdowns scored by our special teams and that's something we'd like to continue this week. Our goal is to score every play we're out on the field. If we can make it happen, we'd love to. I'm not sure we've ever had three straight games with a special teams touchdown, but that's a goal to shoot for.
For us this week, we really need to focus on what we're being coached to do. We don't need to try and do too much, just play within our scheme and within each individual's role. If we stay patient, good things will happen.
Obviously, our return game is something we need to improve on. It's definitely something we need to get better at. I think if we had only a block here or a block there, our numbers could be totally different.
We just have to have everyone do their jobs, finish their blocks and I think we'll be able to set our offense up with better field position.