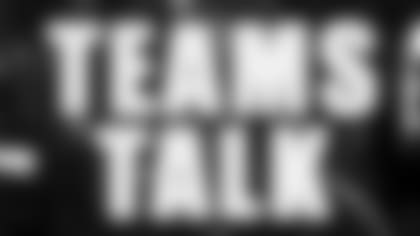 For the second year in a row, we'll feature Teams Talk, a 49ers.com column dedicated to special teams and those who play on them. This week, veteran return specialist Allen Rossum, checks in to share details about the first matchup of the 2008 season against the St. Louis Rams. **
The Rams have a seasoned kicker in Josh Brown. If you look at what he accomplished earlier in his career when he was in Seattle, you have to respect that. If he can kick in that wind, he can probably kick anywhere. He probably loves that he's now kicking indoors in St. Louis.
Brown's kickoffs usually reach the goal line, so that should allow us to have some return opportunities. What St. Louis has is a prototypical kickoff team. They have linebackers and defensive backs, who do a great job of getting down the field. And once they get down there, they're good at reading returns as well. With Brown's deep kicks, they'll be coming down extremely fast and we'll have to get on our blocks right away.
St. Louis also has a reliable leg in punter Donnie Jones. He has a very strong leg and his punts have good hang time on them too. The biggest thing about him having a strong leg is that his gunners make plays for him, even when he kicks it 50 yards down the field. He really does a great job of kicking it high, which forces most returners to make a fair catch.
The core guys on the Rams coverage units are strong safety Todd Johnson, middle linebacker Gary Stills, cornerback Jonathan Wade and linebacker David Vobora, who was "Mr. Irrelevant," otherwise known as the last player selected in the 2008 NFL Draft. I think he's not irrelevant anymore.
Because Dante Hall was put on Injured Reserve earlier in the season, the Rams have been using wide receiver Derek Stanley to handle both punt and kick return duties. I think Stanley's doing a solid job for them back there. It's kind of hard to follow a legend like Dante, but I think Stanley has been doing a good job.
In our own return game, we'd like to build off the success we had on Monday night, when I returned the opening kick 104 yards for a touchdown. It was really just a perfect play, how we drew it up and being able to execute it like that. Once it happened, everything was in line, kind of like a lunar eclipse, it won't happen as perfect as that for another 20 years.
I never lost my stride, and Michael Robinson was able to make the final two blocks. I outran the last guy and surprisingly, their kicker Neil Rackers, was not down there. Normally, he's down there trying to get in on the tackle, but this time he wasn't. For some reason, he read the play. I saw it on film, he was pointing to where we were running, but he just couldn't get over there soon enough.
I think there are a number of keys to the game for this week. First, we have to create great field position for our offense and put their offense in bad spots on the field. The probability of us scoring goes way up if we have good field position. Next, we have to have total ball security, and we have to make some big plays. Hopefully, two or three big plays. If we do those things and we secure the ball, I think we'll be fine.