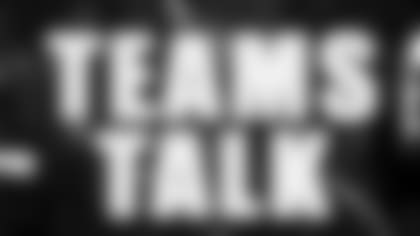 A sometimes overlooked aspect of the game is special teams, but not this season, and not on 49ers.com. Each week, we'll feature Teams Talk, a column dedicated to special teams and those who play on them. These teamers will share their breakdowns of the upcoming opponent and give you some insight on some aspects of special teams you might not be too familiar with. This week, tight end Billy Bajema and newly named Pro Bowl punter Andy Lee chip in their thoughts about Sunday's game against the Bucs!**
TE Billy Bajema, Core Special Teams Player
Tampa Bay's punter, Josh Bidwell, is a solid punter. We're going to have to be able to put some pressure on him and just rely on having solid returns. Hopefully Michael Lewis can have some big returns for us, and it will be a solid part of our game this Sunday.
Their kicker is Matt Bryant. He's going to keep the ball in play on kickoffs and it will be returnable. I feel like we have a good game plan going in. We're just going to have to go out and execute and hopefully we'll continue to have some good returns and maybe break some big ones.
Micheal Spurlock returns punts for them and he has good speed. He brought one back for a touchdown last week, so he'll present a challenge for us, but we've faced good returners all year. It's nothing new. We have to do the same things that we've been doing all season long in order to continue our success this week.
As a special teams unit, we've been playing with a swagger all year. We take some pride in trying to be the best in the league in all phases of special teams. When we play a team like Tampa Bay that has some momentum after the kick return last week, we look at it as a challenge that we have to step up and meet.
It's awesome that Andy Lee was named to the Pro Bowl. I've been pulling for him all year and he's a good friend. I'm so happy for him. He deserved it because he had an incredible year.
That's a credit to the whole punt team as well because his net punt average has been great this season. A lot of it has to do with his outstanding punts, but the other part of it is the guys who get down there, make plays and limit the yards on the returns.
Being named to the Pro Bowl is definitely an honor and it's also an honor to play alongside all the other guys on the punt team. Brian Jennings is a great long snapper for me, and we have great guys who just fly down the field and make plays. As a whole, we've done a really good job of covering the ball this year.
Right now, I'm just trying to go out there and help us win. I'm really trying not to think or get caught up in all the Pro Bowl stuff. I just want to go out and kick the ball and do my part to help us win our last home game of the season.
I have been getting more media attention than I'm typically used to, but that just comes with the job. When you do well, you get some attention put on you. I try to take it like anything else. You still have to go out there and do your job and not worry about any of the distractions.
I try not to think about the net punting average record which I know is attainable. It's been brought up a lot but I don't want to talk about it. I just want to go out there and do my best. If it's supposed to happen, it's supposed to happen. There's nothing that I can do about it besides go out there and prepare to the best of my ability and try to help us win.
It's great to have a good season, no matter where you're playing, but to do it in a place that hasn't been kind to kickers and punters, is really a blessing. Monster Park is not an easy place to kick the ball because of the winds, but thankfully it hasn't been a problem.
Hopefully we can close out our final game at Monster Park this season with a win. The goal is to go out there and play a great game of football and give ourselves an early Christmas present.