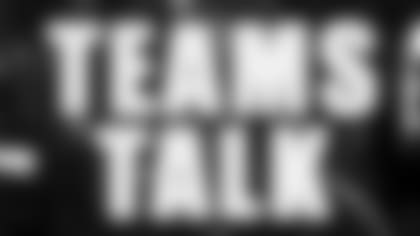 For the second year in a row, we'll feature Teams Talk, a 49ers.com column dedicated to special teams and those who play on them. These teamers will share their breakdowns of the upcoming opponent and give you some insight on some aspects of special teams you might not be too familiar with. This week, our special teams captain, Michael Robinson, checks in to share details about this weekend's game against the Detroit Lions. **
If you talk about Detroit's special teams, you have to start with kicker Jason Hanson. He's in his 17th year in the National Football League and he's one of the best kickers in the League. He has a strong leg and still kicks the ball very deep on kickoffs.
I think they know that we have a pretty good return scheme, a great returner in Allen Rossum and they know that we block well on kickoff returns. With that said, I'm expecting some really deep kicks from Hanson this Sunday, so they can slow down our return game. If they see that the ball is not getting as deep as they'd like because of wind or whatever, I expect them to make somebody else field the ball. I stay back deep with Rossum, but they probably won't kick it to me. If the ball isn't really deep, or out of bounds, they'll kick it to someone else who isn't familiar with returning the ball.
Allen and I are constantly communicating with each other on the field when the ball is in his hand. It's his job to read my blocks. It's sort of like I'm his fullback. He does a great job of following me and reading how I'm trying to block the other team. That's how it is on kick return, the up-back is usually the lead blocker.
Usually after Rossum gets tackled, he and I are immediately talking about how we could have blocked differently or broken a bigger return. We're always one or two blocks away from breaking a big return and that's the hard thing about kick or punt return. It's one of the toughest plays in all of football, because you don't know where the ball is going.
Detroit's punter, Nick Harris is also a veteran and he does a great job of placing the ball in the corners of the field. He's a great directional kicker, and he has a great coverage team. They're really fast and the more hang time that Harris provides, the better their group will be.
Their coverage groups are built more around speed. They have a lot of linebackers, but they are my size, and so they are definitely a speed group.
The guy who I look forward to facing on Sunday is number 24, cornerback Kalvin Pearson. He's a good coverage guy, especially on kickoffs. I'm looking forward to that matchup.
The Lions have a solid return game with Brandon Middleton as their kick returner. Mike Furrey, their punt returner, is big on stretching the field and then getting back up the field. He likes to run outside and then cut up the field. We just have to stay in our lanes and make tackles when we get the chance.
Their returners as a whole are pretty good, so we're going to have to limit their returns as best as we can.
Overall, I think the biggest key to this game is winning one-on-one matchups. Guys can't get blocked on-one-one. We have to win those battles if we want to get an advantage in the special teams matchup. Field position and tackling is always important, but winning those man-on-man battles in special teams will make the difference in Sunday's game.