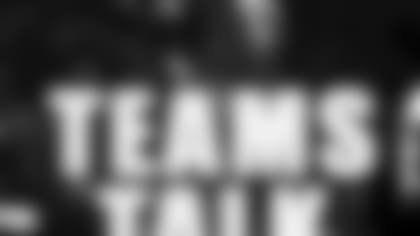 A sometimes overlooked aspect of the game is special teams, but not this season, and not on 49ers.com. Each week, we'll feature Teams Talk, a column dedicated to special teams and those who play on them. These teamers will share their breakdowns of the upcoming opponent and give you some insight on some aspects of special teams you might not be too familiar with.  In this week's column, punt return specialist Michael Lewis shares his insights on his former team, the New Orleans Saints.**
PUNT RETURNER MICHAEL LEWIS 
Their special teams coach, John Bonamego, is a very hyper guy just like most special teams coaches. He's a lot like our coach Al Everest in that they are both very enthusiastic about what goes on. If someone makes a big play, you see those guys running out on the field, jumping up and down and trying to fire up the guys on the field. Bonamego has a lot of energy.
They have two different guys doing kickoffs for them, but I don't think that's going to affect what we do on the kickoff returns. Olindo Mare has the ability to kick the ball deep and he tries to get a lot of touchbacks. That's why they brought him in. He's been hurt a little bit so they have also used their punter Steve Weatherford to handle kickoffs. I played with Steve the last couple of years. He doesn't kick the ball as deep as Mare so there is the potential to get some decent returns depending on who is kicking off this week.
Some of the guys on the coverage units are the same guys who I played with when I was there. Those guys are going to do exactly what they need to do in order to stop the return. As far as the gunners go, they have Terrance Copper and Usama Young. Copper is a big guy and he's very strong. He's not all that fast, but it takes two guys for the most part to cover him because he can force his way through the block.
On the other side is Young, who is a rookie. He has a completely different style than Copper but he's doing a good job too. Jason Craft also plays as a gunner so they have weapons out there. We just have to go out there and do what we have to do to stop those guys.
Reggie Bush is a great guy, and every once in a while they use him as a punt returner. When he's out there as a returner, he's our there for a reason. They think they have a good chance to score any time he touches the ball, and he definitely has that mentality which is essential for a returner. When you're back there, in your mind you can score every time. He brings a different element to the return game because everybody knows that he has the ability to escape tackles.
With a guy as fast as Reggie, you have to remember not to try to do more than you have to on coverage. If he's back there, it doesn't mean anything different. We have to get down there and wrap him up and make solid tackles. Don't go out there and think, "Well he's fast so I have to be in this position." Just go out there and do your job. That's why there are ten other guys out on the field with you. You have to know that if everybody does their job, you'll be successful no matter who you're going up against.
It probably won't be an issue because for the most part, Lance Moore is handling their punt returns. I think with Deuce McAllister being out, they can't really afford to lose Bush and so they've haven't been using him the past few weeks. As for Lance, most guys tend to overlook his speed, but he does a very good job and he can get it done as well.
Pierre Thomas is a young guy and he returns kickoffs. He can pound the ball and he's a guy who you have to tackle well or he can beat you.
I'm going to be happy to see those guys after everything that we went through last few years. We went through Hurricane Katrina together where we had to play in Baton Rouge and then returned last year to play in the Superdome, and went on to the NFC championship game. It's going to be great to see those guys on the other side of the field, but once I step in between those lines all that goes out the window. I want to win!
It will be fun to play against them, and a challenge to because they know what I can do. Those guys know who I am and I know they're going to go all out to stop the things they know I can do. It's going to be fabulous if I can get in the end zone. That's what I'm trying to do every time I touch the ball, but I'm just hoping I can go out and have a solid game.