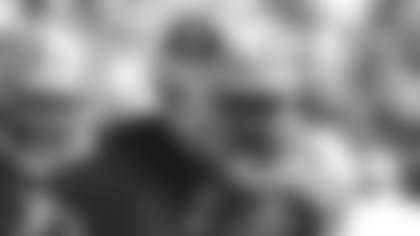 Each week 49ers.com will feature a column dedicated to special teams and those who play on them. These special teamers will share their breakdowns of the upcoming opponent and give you some insight on some aspects of special teams you might not be too familiar with. In the third Teams Talk installment of the 2010 season, defensive tackle Ray McDonald shares his thoughts on the 49ers upcoming matchup against the Kansas City Chiefs.**Last week showed just how valuable special teams can be. We played an entire game, and it came down to a last-second special teams play that gave New Orleans the win. That's about the toughest way to lose, especially since I got my hand on the ball and tipped it.
I really thought I blocked it cleanly. But there was so much velocity on the ball, it ricocheted off my hand and went in. I wish I had gotten more of it.
Blocking kicks is something we work on every day in practice. We really focus on the technique, and we know practice makes perfect. Since we practiced it so many times throughout the week, we knew we could do it in a game. We actually had pretty good push on both of New Orleans' field goals, and I think we can continue that throughout the season. We have some pretty big guys getting that push, and I feel like defensive end Justin Smith, linebacker Manny Lawson or I get close to blocking a lot of kicks.
Our work should pay off over the course of the season. We just have to work on our technique every day in practice and perfect our craft. In order to have that perfect technique, the big thing is getting low at the start of the play.
You always have to be in a low position, have those legs burning and those arms bent. That way you can fire off into your man and get good leverage on him. Then you can get a good push on him and move him back. If you do that then you have a real chance to get a hand up there and block one.
The Chiefs have a pretty good kicker in Ryan Succop, he hasn't missed a field goal yet this year. But you know we're going to try to push those guys back and block one.
I think we improved a lot on special teams from Week 1 to Week 2, and I expect us to do the same in this upcoming game against Kansas City.
Last week we did a pretty good job on our coverage, although Reggie Bush did have one big punt return. But he is a great player, and great players make big plays in this league. This week we are facing two good, young returners in Javier Arenas and Dexter McCluster.
I'm not on the coverage units so I haven't watch much special teams film on those guys, but I watched them on "Monday Night Football" in Week 1 and they looked fast. McCluster had a 94-yard punt return in that game and I think he's really good at what he does.
But our special teams coaches Kurt Schottenheimer and Dave Fipp do a good job of preparing for our opponents, and if we can execute we should be able to contain those two guys.
Our kickoff returns were pretty good last week even without Ted Ginn Jr., who missed the game with an injury. We actually had a tight end, Delanie Walker, back there. I don't know of too many tight ends who are fast enough to return kicks, but he did a really good job. Ginn and our other returner Kyle Williams are still day-to-day, but I'm confident in whoever the coaches put back there.
When you look at our specialists, I think Joe Nedney and Andy Lee are two of the best in the game. I mean, Andy was a Pro Bowler last year and he's doing a great job again this season. Joe, he's as reliable as they come. He's only attempted two field goals so far this year, but he made them both. So you feel confident with those two guys knowing they'll get their jobs done.