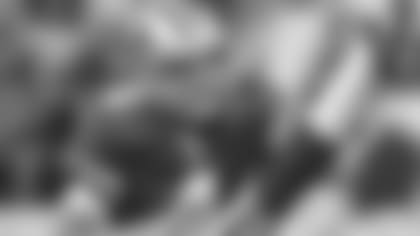 Each week 49ers.com will feature a column dedicated to special teams and those who play on them. These special teamers will share their breakdowns of the upcoming opponent and give you some insight on some aspects of special teams you might not be too familiar with. In the first Teams Talk installment of the 2010 season, Pro Bowl punter Andy Lee shares his thoughts on the 49ers season-opening matchup against the Seattle Seahawks.**As a punter, any time we travel to an outdoor stadium I'm going to be concerned with the wind. Some places are horrible to kick at because they have swirling winds and you never know exactly where the ball is going to go after it leaves your foot. But Seattle isn't one of those places. It can get bad there in the winter when it's raining cats and dogs and the wind is 30 miles per hour, but there is supposed to be good weather there this week. It could get windy, but like I said, it's not swirly. So as long as you hit the ball well you'll be fine.
For the Seahawks, Olindo Mare is a solid kicker. He's been in the NFL for a long time, just as long as Joe Nedney. So he's a veteran guy who is dependable. You know what he is going to do out there with his kickoffs and field goals. Their punter, Jon Ryan, he's got five years in the NFL. He has a great leg and he hits the ball well, so our guys are going to have to try to get after him.
But besides those guys, we don't really know who all will be on their special teams because of the roster and coaching turnover. We saw the people they put out there in preseason, but you can't know 100-percent until Week 1. They had a couple of different guys returning kicks and punts, and they all looked solid. So a little bit of it is up in the air. One thing we do know is that the Seahawks signed our former teammate Michael Robinson, so that's definitely a point of emphasis for us because we know how great of a special teams player he was here.
The main things is that we just have to go out there and do what we need to do, plan for as much as we can without knowing 100-percent what they're going to do.
However, I do know they will be well coached because their assistant special teams coach is our former teammate, Jeff Ulbrich. He was a special teams standout over the years, and I know he learned a lot because he always knew the plays and he always did everything right. I don't know their special teams coach Brian Schneider very well, but I'm sure he's good too. I do know that Ulbrich knows what he's doing, so they're going to be a well-coached special teams unit that will come out and give us their best. Plus, in my eyes, Ulbrich will give them some swagger, and every special teams group needs that.
But if we execute and do what we need to do we will be fine.
As far as our coverage units are concerned, our young guys are getting after it. We have done a lot of work on special teams this offseason, but as a group we're not where we need to be, myself included. I always think about what I could do better because I always want to be better. I think all of the guys feel that way. But I believe we have the right guys here, now we just have to go out there and do our best and put some effort out there and get our jobs done.
If we do that, we will be fine. The talent we have is amazing. The speed we have is amazing. But we have some guys playing special teams for the first time in an actual NFL game, so the big thing for them will be staying relaxed and knowing their assignments.
I'm excited about our returners this year too. We have Ted Ginn Jr. who will be doing a lot of the kickoffs, and he has great speed. And we have several young guys who looked good in the punt-return game in the preseason. As long as we open up some holes for them I think we are going to do really well in that aspect too.