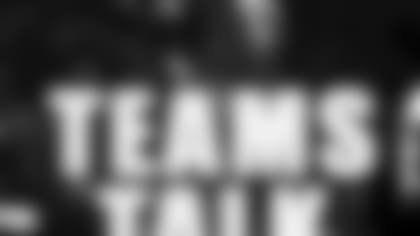 In this week's Teams Talk, Pro Bowl alternate punter Andy Lee checks in to share details about the road matchup against the St. Louis Rams as it relates to special teams.**
For a punter, I'd say playing in a dome is definitely a fun thing. The stadiums that are in places like St. Louis, Atlanta and New Orleans, are stadiums that have pressurized domes that don't have hardtops. That means the ball flies a lot better in those places. Plus, you don't have to worry about wind. When you get to kick the ball without having to worry about the elements, it makes things a lot easier.
I've had pretty good success there in St. Louis, and I'm definitely looking forward to kicking there. I think any kicker or punter would.
Donnie Jones, the punter for St. Louis is very disciplined in his steps. He takes good short steps and gets through the ball well. That's probably why he's averaging 50 yards per punt, and as you can see he's hitting the ball very well. He's got a strong leg. We came into the NFL at the same time, so we've talked every now and then on the phone. He's a buddy of mine and I'm happy that he's having a great year. He's just a good, solid punter.
They have a veteran kicker in Josh Brown, who I think is just a great all-around kicker. He puts up great numbers. He makes his kicks and has good hang time on his kickoffs, which is very important.
St. Louis lost their punt and kick returner when Derek Stanley got injured last week. We think they'll be using Kenneth Darby as the kick returner, but I think you can't worry too much who is back there. No matter who it is, your coverage shouldn't change. You should get to the ball as fast as you can and wrap up the returner and bring them to the ground.
Anybody in this league has skills. So if one guy goes down, it's not like they're putting in a guy who can't do the job. We just have to be on our game and play every coverage situation the same because every guy in this league is dangerous and talented. If they weren't, then they wouldn't be here. The same things apply for Dane Looker who has taken over the punt return duties for the Rams.
To be honest, I don't know too much about St. Louis' core guys on special teams. All I do is catch the ball and punt it. If I'm worried about another guy on the other team, then I'm not doing my job. I don't have to worry about anything but punting the ball, catching Brian Jennings' snaps and holding the ball for Joe Nedney when he kicks field goals or PAT's. My job as a punter is really to put the ball in the best position for our guys to make the necessary plays.
While I'm not focused on them directly, I know they play hard. They do a good job, but I think we have a good game plan and hopefully we can do some positive things this Sunday.
In our return game, we definitely have confidence in whoever is returning kicks. It looks like Allen Rossum should be back this week, but last week I thought Dominique Zeigler did a great job returning punts. It was his first time ever returning punts period. He never did it in college or the pros, so it was impressive to see, especially with how windy it was in Miami. The ball was moving all over the place, but he showed that he has good hands and can do the job.
And Delanie Walker is the backup kickoff returner for us. He's been returning kicks ever since last year in preseason. He has some experience with that and he'll continue to do a good job for us if Rossum can't go.
There are two keys to the game this week. One is field position. That's huge in special teams, because that's what we do. When they are punting to us, we want to help make field position even better for the offense with a positive return. When we have to punt, we want to pin them back as far as we can.
The second is making a big play, either causing a fumble or breaking a big return for a touchdown. Plays like that are always huge in turning a game around. It really changes the demeanor of a game if you're able to score on special teams.