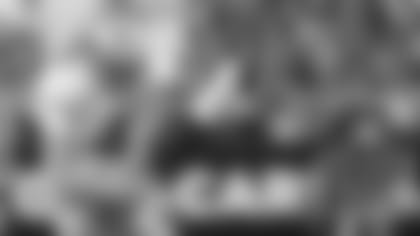 Each week 49ers.com will feature a column dedicated to special teams and those who play on them. These teamers will share their breakdowns of the upcoming opponent and give you some insight on some aspects of special teams you might not be too familiar with. In the final Teams Talk installment of the 2009 season, Pro Bowl punter Andy Lee shares his thoughts on the 49ers final game of the year against the St. Louis Rams.**Making it to my second Pro Bowl has a great honor, but not just for me, but for my teammates as well. It means a lot especially to our punt team. They've worked extremely hard all year and it's kind of a joint honor.
Without them, I couldn't do my job.
I think I owe this honor just as much to them as I do to my own abilities. Without Brian Jennings snapping the ball and making me feel comfortable back there, I couldn't go out and focus on what I have to do. Without the confidence of my coverage guys, I couldn't just go out there and punt the ball. I'd be worried about how the other team might return the ball. But having total confidence in those guys allows me to do go out and do what I can do.
Going to the Pro Bowl in 2007 I think helped my cause to get in this year and also the place I punt at is not an easy place to punt the ball. I think getting a second invitation does say a little bit about how people in the league look at me.
The last time I went, Joe Staley was there with me and I think this year it will be even better to have Vernon Davis down there with us. I look forward to going out there and having a good time with my teammates.
One of my memories of my last Pro Bowl game was that I never ended up punting, I just ran a fake. Hopefully I won't have to punt too much. Hopefully we win. But I expect to punt probably one or two balls in the actual game down there.
Working on my technique has helped me get better as the years have gone on. It helps to work on your timing with everything you do out on the field. If you're going to use more directional kicks for example, it's good to work on those different situations in practice. Inside the 20 punts, we work on every week. And we work with the gunners on having them down balls inside the 20-yard line and that's paid off.
I think every year I've gotten better at that since I've been here and sometimes you have opportunities to pin them deep and you have to take advantage of it.
It's not something you can just go out on the field and do. You have to definitely work at it.
I was just happy that you could only hear his side of the conversation.
I'm not going to let the good news distract me from doing my job this Sunday. I look forward to playing in St. Louis; it's a great place to punt. It's a dome, which helps the ball fly the best. We want to finish the season 8-8. I want to help this team go out with a win in whatever way I can. And I want to finish this season on a positive note.