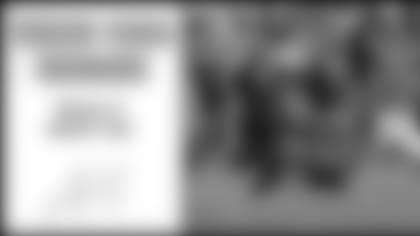 Each week 49ers.com will feature a column dedicated to special teams and those who play on them. These teamers will share their breakdowns of the upcoming opponent and give you some insight on some aspects of special teams you might not be too familiar with. In the ninth Teams Talk installment of the 2009 season, punter Andy Lee shares his thoughts on the 49ers Thursday night home matchup against the Chicago Bears.**This week we have a good challenge going against the Chicago Bears. Devin Hester is a great punt returner and he has the ability to score touchdowns. We're aware of his talents and we'll need our best coverage efforts to stop him. The same goes for Danieal Manning who returns their kickoffs.
What makes Hester so dangerous is his how fast he is. He's really quick, but he also has great vision. I would say his vision is actually his best quality as a returner, with speed being second. When you have speed, quickness and vision – you're just a really tough guy to bring down in the open field.
But I have 100 percent confidence in my coverage units. All I can do is go out on the field, kick the ball the best I can and give them a chance to make a play for me. The best way I can set them up is by giving them a nice ball with hang time. Doing that lets them get down the field and cover. I'll say it again, I have 100 percent confidence that we'll do our job well and we'll do a great job at it.
The last couple of weeks we've really been able to step our coverage game up and I've gotten into a nice rhythm with my punts. At this point of the season, I've had plenty of punts and I've gotten into a nice rhythm on the field. From my experiences, when you keep striking the ball well, you get into a good mental state and you're able to perform.
You're not out there over-thinking, you're just going out there and kicking the ball. That's when everything starts to happen for you out there as a punter. Right now, I'm just going out there relaxed and doing whatever I can to hit the best ball I can.
I'd imagine Chicago's kicker and punter try to treat things the same way. Robbie Gould, their kicker, is a great kicker and has done a nice job for them over the years. He hits the ball well and does a great job considering the windy climate he plays his home games in.
Brad Maynard, their punter, is a great directional punter. He's been in the league for awhile and when I was younger, I kind of watched a lot of film on him. The thing that most people don't realize about punting is how it takes great footwork and I watched Brad a lot because of his footwork. He's got great technique and that's what has kept him in the NFL for so long.
The biggest thing we have to accomplish as a special teams unit this week is winning the field position battle. We need to have great field position for our offense because of our returns, whether it comes on a punt of kickoff. On the flipside of that, we have to cover the ball well. I already spoke about Hester and Manning, so limiting the field position they can create is important too.
The bottom line is we need to give our offense less field to work with and their offense more field to work with.
With this being a night game, I don't expect it to make too much of a difference in the kicking game. The only thing it really changes is my preparation throughout the day.
Because the day is longer when you're playing at night instead of in the afternoon, you really have to make sure you don't get too lackadaisical. You can't be lying around too much. You definitely want to be off your feet, but you don't want to just be tired all day and then suddenly get your body ready to go.
There's a little bit of an adjustment that comes with playing at night, but not too much of a difference. When I'm on the field, my focus remains the same.