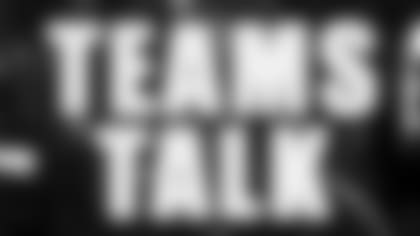 For the second year in a row, we'll feature Teams Talk, a 49ers.com column dedicated to special teams and those who play on them. These teamers will share their breakdowns of the upcoming opponent and give you some insight on some aspects of special teams you might not be too familiar with. This weekend's special teams captain, Jeff Ulbrich, checks in to share details about the matchup against the New England Patriots.**
New England's kicker, Stephen Gostowski is definitely a good kicker. He's 7 of 7 this season on field goals. He's accurate and 7 of 7, says a lot in this league.
But at the same time, I think our field goal rush has been one of our stronger teams this year, and hopefully we can take his perfect kicking stats away from him this week. I've felt like we could have blocked a kick in each game this year so far. We've been very close.
Chris Hanson is in his 10th year of punting. Anytime you have a guy with that much experience and poise, his kicks will be accurate and placed in the spots he wants them to be.
The Patriots coverage teams are fast, physical and obviously disciplined. You can tell they're coached very well and they're very knowledgeable about their return stuff. Their return teams have done very well this year and their coverage teams have also been very good. I think it's a combination of good scheme and good personnel. It's going to be our biggest challenge by far.
Some of their core guys on special teams are well known in the National Football League. Everybody knows linebacker Larry Izzo. But they also have guys like defensive back Ray Ventrone, who is also a name to know. They play very well together and play with lots of energy. You can tell those guys who are given roles on the team as specialists take a lot of pride in it. I think that's one of the reasons the Patriots have been as good as they've been. It's one of the things that's always overlooked about them, but they've always had good special teams, and this year's team is no exception.
Ellis Hobbs, New England's kick returner, is a good player. He's one of those guys who is not going to dance when he gets the ball. He's going to take what you give him and he's going to run hard. If you make a mistake, he can exploit it. We have to be disciplined and go get him.
Their punt returners whether it be running back Kevin Faulk or cornerback Deltha O'Neal are both dangerous. Faulk is a stronger, stouter guy and can break some tackles. O'Neals is more of a speed guy and a touchdown threat. Both of them are definitely going to present a challenge for us.
I felt last week our own kick return game looked the best it has looked maybe since I've been on the 49ers. And that's quite a while. It was exciting to see how we performed on kickoff return, and I think we can build off that this Sunday.
I also felt like we tightened up our coverage units and we punted the ball really well. Andy Lee did a great job of getting hang time on his kicks. Reggie Bush, one of the top return guys out there, to hold him to 0 yards – that's saying something.
This Sunday will be no different than most games. I feel like every game is determined by field position, and special teams has a big say in that. I think if you can give this offense that we have more opportunities to be in better field position, they are going to score. And I think they've proven that this year.
And if you put our defense in a situation where the other team has to drive the entire field to score, they're never going to score as far as I'm concerned.
So I think we can be a big part of this win, and I'm looking forward to Sunday.