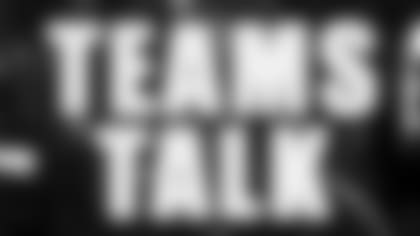 For the second year in a row, we'll feature Teams Talk, a 49ers.com column dedicated to special teams and those who play on them. These teamers will share their breakdowns of the upcoming opponent and give you some insight on some aspects of special teams you might not be too familiar with. This week, one of our special teams representatives, Manny Lawson, checks in to share details about this weekend's road game against the New Orleans Saints.**
The Saints kicker Martin Gramatica is really a pinpoint kicker with great accuracy. He has a strong foot and he's one of those guys when the game is on the line that you want up there. He's won a Super Bowl ring with Tampa Bay back in 2002, so he's played in some big games before.
I've seen on film that Steve Weatherford, the Saints punter, is a very quick runner. I'm thinking one of the things we have to key on our punt return team is that when he's back there to make sure he doesn't get around our edge guys. That's probably one of the punt fakes that they will have. That's definitely something that we're going to have to key.
Their coverage teams feature a combination of both speed and size. They're made up of tight ends, receivers, defensive backs and linebackers. So you have your typical hitters, your speed guys, your coverage guys and it's going to be a good battle.
New Orleans special teams are led by running back Aaron Stecker, who is in his ninth season, and is one of the best special teams players in the National Football League. I know he's been injured, but I can tell you right now, their kickoff return team is ridiculous, especially their back two returners in Stecker and running back Pierre Thomas.
Thomas, their returner and running back has great vision and good feet. If they have wide receiver Lance Moore back there, we'll be ready for him too. He also looks like a good runner. He's got good vision and he makes plays. He wants to be a play-maker and he wants to make plays. All in all their core guys, their return guys are play-makers and are tough guys.
Safety Chris Reis and cornerback Usama Young are also pretty good special teams. I think Young has the most tackles for them right now, and I know Reis is also legit. They also have Josh Bullocks. He has started for them before on defense, but he's always been a pretty good special teamer.
Now that I've been getting more playing time on special teams, I prefer running down the field to get somebody. I don't see myself as too much of a blocker, I will do it, but I much rather prefer to tackle someone. That I've been doing for as long as I can remember.
I've also been pretty close to making a big play on special teams myself. I got a picture from a fan, who actually got a really close picture of the field goal I almost blocked against Seattle. It looks like the ball was right there on my shoulder pads. That's just more work I have to do as far as getting the right angle, watching the kicker and how he kicks, and just putting my hand on the ball.
For this Sunday's game, I think the key on special teams is to really get after it and compete. We have to make every special teams play we have better than what they are able to do against us. So whatever kind of return we give up to them on a punt or a kickoff, we want to make sure our returns are better, and on down the line. We really have to be better than them in all phases of special teams to win the game.