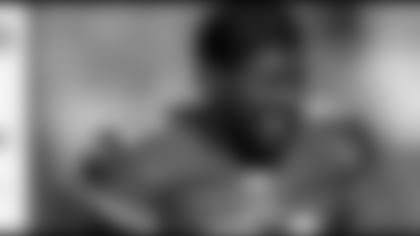 Each week 49ers.com will feature a column dedicated to special teams and those who play on them. These teamers will share their breakdowns of the upcoming opponent and give you some insight on some aspects of special teams you might not be too familiar with. In the twelfth Teams Talk installment of the 2009 season, wide receiver Brandon Jones shares his thoughts on the 49ers Sunday road matchup against the Seattle Seahawks.**
I think my background in baseball has helped me a lot with fielding punts, especially because I played as a center fielder. Without my experience as a center fielder, I think it would be a lot more difficult catching punts. I feel like my baseball days have helped me a lot in returning punts.
When you're back there all alone to field a punt, there's so much to think about. You have to focus on the football, you have to watch the rotation of the punt and really you have to be aware of so much at once. You have to account for the wind too. But mostly, I focus on how the punter kicks the ball.
To me, it's just like watching the ball come off a baseball bat. Up close, it looks a certain way. Everybody thinks it's a hard-hit ball. But sometimes by following the ball the entire time, you can tell how hard he kicks it. It's just like watching how a batter hits a baseball.
I've returned punts all my life, but in the league I've only done it a couple of times. I've been a backup in the past, and coaches have called on me in big situations to make sure the ball is caught in a big game. I have a couple of punts now under my belt, so I've grown even more comfortable this year. I don't have a lot of experience, but I've gotten better at it.
I try to be aggressive with my punt returns. I approach each opportunity like it's the last punt I'll ever get to return. That's the way you have to look at it I think. I want to do the best I possibly can and do whatever I can with the ball to help my team.
As a returner, you want to help your team by taking it to the end zone every time, but that's not realistic. Overall, it's really important to maintain possession. You have to catch the punt, secure the ball before you can even get somewhere.
The stadium we're playing in this weekend up in Seattle is known for how loud it gets, but I'm not going to let that affect me on the field when I'm returning punts. You can't let crowd noise affect you if you're in the NFL. There are things that go on in the game that can become distractions for you, but at the end of the day, you have to be a player and just make the plays you need to make. The noise is going to be a distraction, but you can't let that bother you.
At the end of the day, you still have to play football and focus on what you have to do.
When you look at this game in particular, I think we really have to dominate the punt game. Our punt return and punt coverage units have to be solid. Seattle has a great returner in Nate Burleson, who is a receiver like myself. We have to stop him so he doesn't set his offense up with good field position.
On our end, we have to make plays on our punt return team too. But we have to make plays on every special teams unit. We have to put our offense and defense in the best possible situation they can be in every time they step on the field to help the team win.
We always want to make a difference in helping us win every game. We know at this point of the season every game is crucial and we feel like it's our time to step up and make plays.
We've made some big plays, but they haven't been big enough. We need to put points on the board and create game-changing plays because of our special teams. It's really big for us to give our offense or defense a break any way that we can this Sunday.