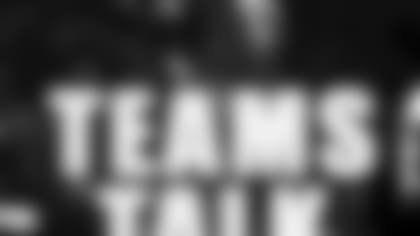 In this week's Teams Talk, cornerback Donald Strickland checks in to share details about the home matchup against the New York Jets as it relates to special teams. **
The Jets signed Reggie Hodges to take over their punting duties, which makes it harder on us to game plan for him. But with our special teams coach Al Everest, he'll make sure we're ready to go on Sunday. And he'll make sure we know what to expect from him. He does a great job of getting us prepared in all phases of special teams.
If Hodges punts the ball well, we have to dominate the gunners on the outside. That's going to be a big key for us, because that will allow our returner to have a chance to return the ball and set our offense up with nice field position. If he shanks it, that will still help us out. If that's the case, our returner will give us a signal so we know to stay away from the ball.
As for their kicker, Jay Feely, he likes to make tackles on their kickoff team. We've seen that he's capable of making some plays, so we'll be ready for him. If he wants to make tackles, he can get blocked.
What makes the Jets special teams really special is their returner, Leon Washington. He handles both kick and punt return duties for them, and I think he does a great job for them. Our kickoff coverage will have to get down to him fast, so we can eliminate his big return yards.
It all comes down to tackling. Washington's bulky for a shorter guy, but we're definitely going to have to wrap him up. Another thing I've seen from him is that he doesn't waste time getting up the field. He really hits the open hole. He doesn't try and shake-and-bake you, he really tries to get through you. So that makes it important for us to be sound on our assignments, on both kick and punt return.
The Jets have some good athletes on their coverage units. Brad Smith, a wide receiver for them, is a guy who I'm familiar with from playing against in college. He was a quarterback at Missouri, so he's an excellent athlete. Anytime you can switch from quarterback to wide receiver, you have to be a great athlete. As a whole, they use a lot of defensive players. But they have skilled athletes like Smith, who can make plays for them.
This week, we're not sure who will be returning punts for us, because we've had a number of injuries to our returners. But no matter who gets the call to go back there, we know they will get the job done and we'll have faith in them. The bottom line is we're going to make it work.
On kick returns, Delanie Walker has done a great job filling in for Allen Rossum. He's a big, fast tight end. And he's been big in the return game for us a couple of times. He showed in the preseason that he can return a kick to the house. So all we have to do is to continue to block and he can punish defenders who try to tackle him. Delanie doesn't like to go down, he keeps his legs going constantly – and that's a good thing.
Overall, creating great field position will be the biggest key of this week's game in terms of special teams. When we get the opportunity to keep them inside the 20-yard line, it really helps our defense. And if we're able to break a big return it gives a lot of momentum to our team and helps our offense go a shorter distance to score a touchdown. So we need to execute in all phases and try to limit their return yardage in order to be successful on Sunday.