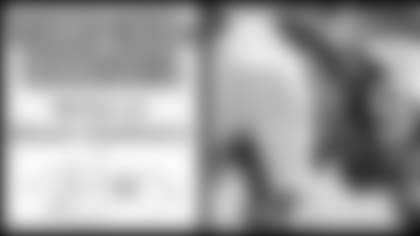 Each week 49ers.com will feature a column dedicated to special teams and those who play on them. These teamers will share their breakdowns of the upcoming opponent and give you some insight on some aspects of special teams you might not be too familiar with. In the third Teams Talk installment of the 2009 season, long snapper Brian Jennings shares his thoughts on Sunday's matchup with the Minnesota Vikings.**Last week I was given our special teams "Top Gun" award as our top special teams performer and it felt awesome. I've been given game balls in the past, but I've never been our special teams point leader. I had a productive game with a couple of tackles, but it was even better to get the win.
One thing that is unique to my position is the type of jersey I need to wear in order to snap the ball successfully. It was a challenge in the preseason to get the perfect uniform tailored specifically the way I needed it to be. But now I have one that I'm happy with and it hasn't hampered me at all this season.
I need a normal tight end jersey for the body of it, but then I need quarterback sleeves because I need room for arm movement. Last but not least, I need the neck to be fitted like a jersey for an offensive lineman so I can clearly see Andy Lee before I snap the ball on punts or field goals.
Not a lot of people know that my jersey is custom-made and sometimes it takes awhile to get it right with the new uniform design this season, but I'm happy with the end result.
All of our specialists have had a good start to the season so far, I think we just need to get Allen Rossum free for a big return. We'd really like to get our return game going. We had a punt return for a touchdown called back last week because of a penalty, so we'd like to have that success again this Sunday, just without the flags.
Other than that, being solid across the board on special teams every week is what we try to do. We want to win the field position battle every week and that never changes.
Minnesota has a physical team. On offense they run the ball well. On defense, they bring a lot of pressure with speed and power. And the same thing is true for their special teams. Their scheme is pretty straight forward, but they do it very well. They fly around, they're intense and they're physical guys. That makes for a pretty good matchup in my eyes. It should be a good test for us.
Tackling Percy Harvin, the Vikings return specialist should also be a challenge as well. He and the other returners are all aggressive. They do a lot of middle returns to pick up yards. And those are effective because all of a sudden it doesn't look like a big return, but if you make a guy miss and dive forward it can be over a 10-yard return. That's a big deal and they do a great job of getting up the field on their returns.
Statistically, Minnesota's kicker Ryan Longwell and punter Chris Kluwe have done a good job to start the season from what I've seen. But hopefully they don't have a career-day like the last couple weeks where we've faced kickers and punters who have. If they have anything like a normal day, hopefully we'll be able to get the best of them on teams.
If you look at it, the last couple of weeks the kickers and punters we've faced have taken us out of our return game really.
Unfortunately for us, it seems like the other teams is always having 60-yard punts that stop at our 1-yard line. That's a big swing in field position if it does roll into the end zone. We haven't had those breaks. But hopefully they don't have a career day this Sunday and we're able to impact the game with our return yards and overall play.