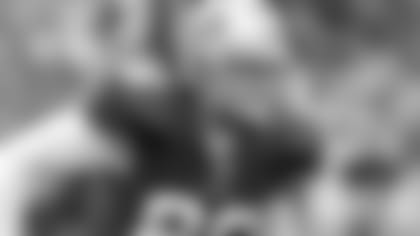 In this week's Teams Talk column, veteran long snapper Brian Jennings shares his thoughts on the special teams aspect of the 49ers upcoming season finale against the Arizona Cardinals.**When I look back on our special teams unit this season, we had a lot of turnover with the players in that group. It seems like just as guys started to get the feel of special teams, sometimes they're asked to play more offense and defense and we get new guys working with us. I know it's all for the betterment of the team, but I'm selfish and I don't want to lose quality football players off of special teams.
A prime example of that is with Anthony Dixon. He went from being a core special teams guy to our No. 2 tailback. And while I wish he was still on every special teams unit, you're happy for him at the same time. He's a guy who definitely showed signs of improvement and was an impact player on special teams before we lost him to the offense.
Still though, despite the turnover in our personnel I believe we have improved every week this season. These young guys are hungry to become better football players, and they've really taken to special teams. I don't know if very many of them played special teams before this season, but they're great special teamers now.
We're facing Arizona for the second time this season this Sunday, and when you play those division rivals the second time around you have a better feel for what they're trying to do. One thing I took away from the last game is that their special teams is a dangerous group. Their field goal rush is good and they do a good job trying to block those. Also, they have a couple of good returners in LaRod Stephens-Howling and Andre Roberts, both of those guys are definitely big threats. Overall they're just a solid group, but we'll be prepared.
I know their long snapper Mike Leach pretty well, but when you've been in the league as long as me you tend to know all of the tenured guys. I'll talk to them before and after games and all get along fairly well. Leach was in Denver for a long time before he went to the Cardinals. Now he's in Arizona – that's where I'm from and went to college there at Arizona State too – and he has a good punter and kicker to work with. Mike is doing a good job for them. He has a great situation with the dome, and they're doing great.
One thing people always say about special teams is that it's one-third of the game. But as a guy who has been playing special teams for 11 seasons, I'd say it's about one-fifth of the game. However, every special teams play is a big play. As far as yards per play, each one is huge.
When you think about it, a big play on offense is anything more than 20 yards, and if you're on defense and you let up a play of 20 yards you're pretty disappointed. Well we punt the ball 50 yards every time and we kick the ball 65 yards on kickoffs. So these are big chunks of yards and that's why we take it so seriously. I believe special teams is only one-fifth of the game, but if just one special teams play goes wrong it can have a huge impact on the final score.
Since I did my last Teams Talk column, one thing that changed for us is having Jeff Reed and our kicker because Joe Nedney went down with an injury. That doesn't change a whole lot for me, but one of the biggest things for a long snapper is knowing a guy's pre-kick routine. With Joe, we worked together for a long time and I know how he works pretty quickly in pregame and during drills. He just lines it up and kicks it and goes from one to the next.
With Jeff, I'd say he is a little more methodical between kicks. He takes his time and makes sure everything is right. That translates to game day with me not wanting to rush him when we take the field for a field goal. I want to make sure that he feels that he is able to get his entire pre-kick routine in. Things like that, I just have to learn them. A guy can't really explain it to me. He just does what he has to does to get ready to go and I can't interfere with that. I just observe. I want his inner clock to be comfortable, then I just snap the ball the best I can.
Andy Lee does a good job of solving problems for us too because he's a great holder. He finds the best spot to put the ball down and makes sure he gets the laces out every time. Andy does a great job making everyone feel comfortable.
I talked about big plays in special teams earlier, and we got the biggest play last week when Ted Ginn Jr. finally took a punt back for a touchdown. I'll admit we all got a little frustrated knowing we have a guy as good as him back there and we hadn't gotten a touchdown. He had been close, so to finally get it last week was great. Hopefully he can get another one Sunday and we end the season the right way.